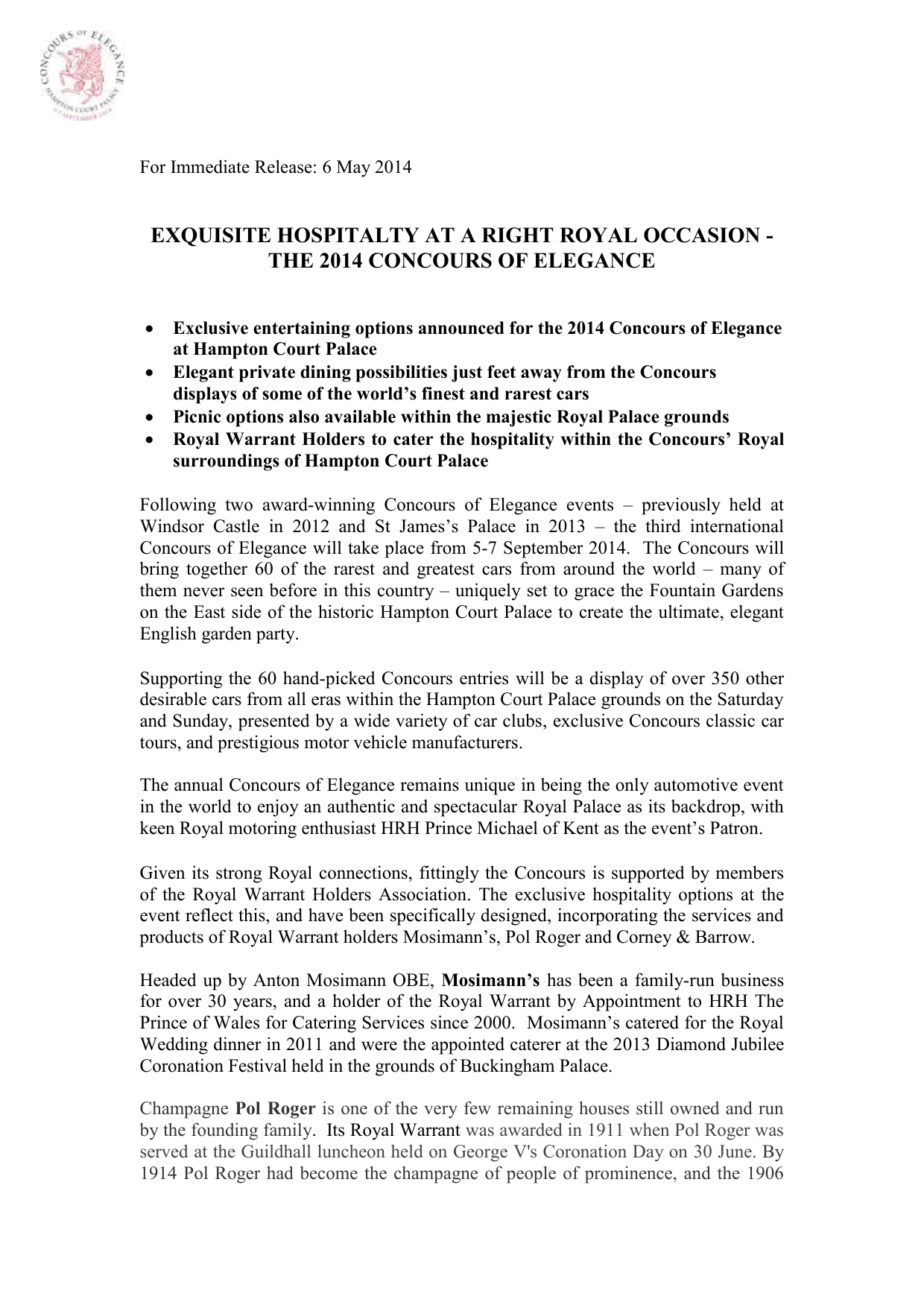 For Immediate Release: 6 May 2014
EXQUISITE HOSPITALTY AT A RIGHT ROYAL OCCASION THE 2014 CONCOURS OF ELEGANCE




Exclusive entertaining options announced for the 2014 Concours of Elegance
at Hampton Court Palace
Elegant private dining possibilities just feet away from the Concours
displays of some of the world's finest and rarest cars
Picnic options also available within the majestic Royal Palace grounds
Royal Warrant Holders to cater the hospitality within the Concours' Royal
surroundings of Hampton Court Palace
Following two award-winning Concours of Elegance events – previously held at
Windsor Castle in 2012 and St James's Palace in 2013 – the third international
Concours of Elegance will take place from 5-7 September 2014. The Concours will
bring together 60 of the rarest and greatest cars from around the world – many of
them never seen before in this country – uniquely set to grace the Fountain Gardens
on the East side of the historic Hampton Court Palace to create the ultimate, elegant
English garden party.
Supporting the 60 hand-picked Concours entries will be a display of over 350 other
desirable cars from all eras within the Hampton Court Palace grounds on the Saturday
and Sunday, presented by a wide variety of car clubs, exclusive Concours classic car
tours, and prestigious motor vehicle manufacturers.
The annual Concours of Elegance remains unique in being the only automotive event
in the world to enjoy an authentic and spectacular Royal Palace as its backdrop, with
keen Royal motoring enthusiast HRH Prince Michael of Kent as the event's Patron.
Given its strong Royal connections, fittingly the Concours is supported by members
of the Royal Warrant Holders Association. The exclusive hospitality options at the
event reflect this, and have been specifically designed, incorporating the services and
products of Royal Warrant holders Mosimann's, Pol Roger and Corney & Barrow.
Headed up by Anton Mosimann OBE, Mosimann's has been a family-run business
for over 30 years, and a holder of the Royal Warrant by Appointment to HRH The
Prince of Wales for Catering Services since 2000. Mosimann's catered for the Royal
Wedding dinner in 2011 and were the appointed caterer at the 2013 Diamond Jubilee
Coronation Festival held in the grounds of Buckingham Palace.
Champagne Pol Roger is one of the very few remaining houses still owned and run
by the founding family. Its Royal Warrant was awarded in 1911 when Pol Roger was
served at the Guildhall luncheon held on George V's Coronation Day on 30 June. By
1914 Pol Roger had become the champagne of people of prominence, and the 1906
vintage sealed this position, being consumed at many royal functions. Sir Winston
Churchill, being one of its most illustrious devotees, was honoured by having a Pol
Roger Champagne named in his honour.
Corney & Barrow has been refreshing the City of London since 1780 and is the
proud holder of not one, but two, Royal Warrants. Many will be familiar with its
infamous City bars, but less will be aware of its rich heritage as international wine
merchants. All the wines to be served at this year's Concours of Elegance have been
specifically chosen by Corney & Barrow's wine experts.
Enjoying full hospitality within the spectacular grounds of Hampton Court Palace
helps to make a memorable and entertaining day, or weekend, at the Concours of
Elegance even more entertaining.
An exclusive hospitality enclosure will offer badge holders a private dining area
where they can relax in comfort and enjoy all day refreshments, whilst still having
direct views of the Concours displays just a few feet away.
The exclusive Concours of Elegance Hospitality Package includes:
•
•
•
•
•
•
•
•
•
•
Complimentary day admission to the Concours of Elegance
All day entrance into the private hospitality enclosure
Private or shared tables of four, eight or ten
Morning coffee and tea served with a selection of freshly baked pastries
Champagne Reception with three-course lunch, selected wines, coffee and petit
fours
Afternoon Cream Tea
All day complimentary bar serving wine and soft drinks
Reserved car parking
A copy of the hardback 2014 Souvenir Catalogue (one between two)
Complimentary admission ticket to visit the Hampton Court Palace State
Apartments and gardens
All hospitality guests will have complimentary admission into Hampton Court Palace
and, by prior arrangement, guests may join in on some of the small tours around the
Palace and grounds that are being put together specifically for the event.
Concours visitors wanting a more flexible option are able order exquisite, freshly
prepared Mosimann picnics, which can be collected on the day and enjoyed anywhere
on the East Front Lawns within the Palace grounds. For an additional cost, guests
may take their picnic into the private hospitality enclosure where a table in the garden
area can be reserved.
Entry to the 2014 Concours of Elegance at Hampton Court Palace is strictly by
advance ticket only, with adult entry tickets available to purchase now from £25 per
person, per day.
Ticket details, plus more information on the entertaining opportunities at the
Concours - including menus, tailor-made hospitality and picnicking packages - are
detailed
in
the
new
Concours
of
Elegance
website
(www.
http://concoursofelegance.co.uk/ ).
For further information, contact:
Media enquiries and Accreditation Applications:
Gary Axon, Head of Automotive and Classic Car PR, and/or
Adam Tait, Senior Press Officer, Influence Associates
Tel: +44 (0)2072 879 610 or +44 (0)7780 543 255
Email: [email protected] and/or [email protected]
Hospitality information:
Rachel Rouillier, Thorough Events Ltd – [email protected]
General information:
Iain Campbell, Thorough Events Ltd – [email protected]
For regular updates and ticket sales:
For more information, ticket purchase details and regular Concours of Elegance
updates, please visit www. http://concoursofelegance.co.uk/
Facebook: www.facebook.com/concoursofelegance
Twitter: www.twitter.com/ConcoursUK
About the Concours of Elegance:
Established in 2012, the inaugural Concours of Elegance was held within the private
grounds of Windsor Castle to mark the diamond jubilee of Her Majesty the Queen's
reign. Organised by Thorough Events, the first Concours of Elegance set a new
global benchmark for a classic car concours; winning prestigious awards in the
process; unheard of for a 'start-up' event in its first year. The second Concours of
Elegance was held in 2013 to equal fanfare and acclaim at the historic Royal Palace of
St James in London. Only the highest caliber of cars are invited to the Concours of
Elegance, event, with the rarest cars in the world, from all over the world,
painstakingly selected by the Concours Steering Committee; a respected team of
authoritative historic car experts. A key objective of the annual Concours of Elegance
is to raise significant sums for charity, with the 2013 event at St James's Palace
generating in excess of £250,000.