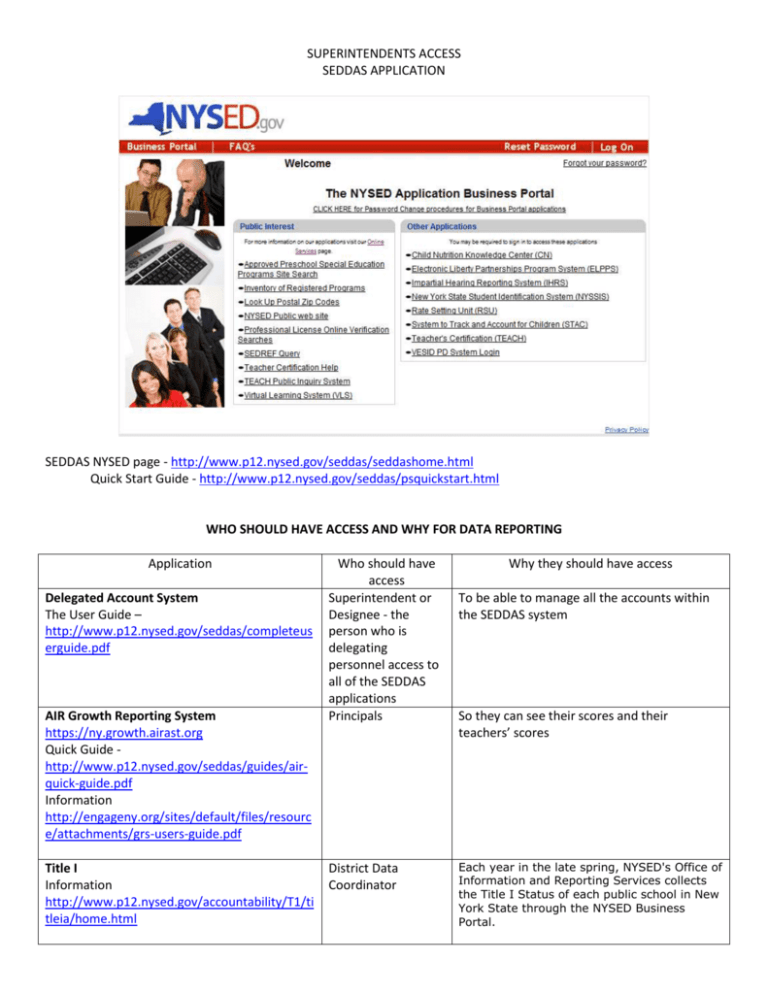 SUPERINTENDENTS ACCESS
SEDDAS APPLICATION
SEDDAS NYSED page - http://www.p12.nysed.gov/seddas/seddashome.html
Quick Start Guide - http://www.p12.nysed.gov/seddas/psquickstart.html
WHO SHOULD HAVE ACCESS AND WHY FOR DATA REPORTING
Application
Delegated Account System
The User Guide –
http://www.p12.nysed.gov/seddas/completeus
erguide.pdf
AIR Growth Reporting System
https://ny.growth.airast.org
Quick Guide http://www.p12.nysed.gov/seddas/guides/airquick-guide.pdf
Information
http://engageny.org/sites/default/files/resourc
e/attachments/grs-users-guide.pdf
Title I
Information
http://www.p12.nysed.gov/accountability/T1/ti
tleia/home.html
Who should have
access
Superintendent or
Designee - the
person who is
delegating
personnel access to
all of the SEDDAS
applications
Principals
District Data
Coordinator
Why they should have access
To be able to manage all the accounts within
the SEDDAS system
So they can see their scores and their
teachers' scores
Each year in the late spring, NYSED's Office of
Information and Reporting Services collects
the Title I Status of each public school in New
York State through the NYSED Business
Portal.
L0HIST Level 0 Historical
Quick Guide –
http://www.p12.nysed.gov/seddas/guides/l0his
t-quick-guide.pdf
District Data
Coordinator
To make changes in historical data
Mandated Services
http://www.p12.nysed.gov/nonpub/mandateds
ervices/home.html
Superintendent,
District Data
Coordinator,
Business Official
Education Law Reporting
Information
http://www.p12.nysed.gov/mgtserv/2053/me
mo083110.html
Superintendent or
Designee
Mandated Services Aid (MSA) is a New York
State funded reimbursement program for
nonpublic schools. The schools receive
reimbursement for the state mandates that
they have met in the prior school year (July 1
to June 30). In order to receive
reimbursement, the school must have met
the requirements of the mandate and have
documentation to support it. The
reimbursement request, or claim, must be
processed via our online system.
School Districts and BOCES may now file their
reports pursuant to Education Law §2053
using the electronic filing system created by
the State Education Department, Office of the
Attorney General and Office of the State
Comptroller.
L2RPT Level 2 Reporting
https://dataview.wnyric.org/default.aspx
pick L2RPT Button
Quick Guide –
http://www.p12.nysed.gov/seddas/guides/l2rp
t-quick-guide.pdf
All building
administrators
Teacher Student Reporting
http://www.p12.nysed.gov/irs/teacher/
Teachers
Examination Request System
http://www.p12.nysed.gov/assessment/
Principals
To request examinations
ARRA Reporting System
http://usny.nysed.gov/arra/
District
Administrators
responsible for
reporting ARRA
activities for a
district
Impartial Hearing
Officers
To report expenditures of ARRA funds.
Impartial Hearing Reporting System
http://www.p12.nysed.gov/specialed/dueproce
ss/IHRS.htm
This information is the actual data that goes
into the school report card.
This is where you go to verify:
 Demographics
 Enrollment
 Program services
 Assessments
 Teacher-Student Data Linkage
NOTE: You cannot change any information in
this Level
Allows teachers to verify their class rosters for
students they are accountable for.
IHRS is a web-based data collection system
designed to record information about the
special education impartial hearing process
at critical points, beginning with the initial
written request for a hearing and ending
with the issuance of the IHO's decision. IHRS
is a "real time" system and is used to
monitor New York State's due process
system to ensure that impartial hearings are
completed within the time periods required
by federal and State law and regulation.
To do near matches of New York State IDs of
students between districts
NYSSIS
Quick Guide
http://www.p12.nysed.gov/irs/sirs/documentat
ion/nyssisguide.pdf
District Data
Coordinator
IRS Portal
http://www.p12.nysed.gov/irs/irs-portal/
Quick Guide –
http://www.p12.nysed.gov/irs/irsportal/irsportal-directions20101003.pdf
District Data
Coordinator,
Director of
Curriculum and
Instruction
This portal is a storehouse of data reports sent
by NYSED back to districts.
Child Nutrition Knowledge System
http://portal.nysed.gov/portal/page/pref/CNKC
Business Official
To find Direct Certification reports from the
state that identifies food stamp and welfare
recipients -necessary to match to Lunch
system records of direct cert, free lunch, and
reduced lunch students
Teacher Certification (TEACH)
http://www.highered.nysed.gov/tcert/teach/
Human Resources
Director
School Employers
TEACH Resources for School Employers

View an employee/prospective
employee's certification,
fingerprinting, and employment
history

Enter Superintendent Statements for
a supplementary certificate,
temporary coaching licenses, adult
education certificates, verification of
mentoring, permits, visiting lecturer,
teaching assistant level 1 renewal,
and limited certificates

Obtain application status updates on
current or potential employees

Submit a request for fingerprint
clearance for a prospective employee

Report the termination of an
employee

View a report of fingerprint clearances
requested

View/add professional development
hours completed by teachers they
employ
VESID PD System
https://eservices.nysed.gov/pdsystem/
Information
http://www.p12.nysed.gov/sedcar/
Special Education
Directors
Here you can review, revise and submit your
PD data, submit your Self Review Checklist
Data, or review your Special Education
Verification Reports
State Aid Management System
https://stateaid.nysed.gov/sams/sams_info.ht
m
District Data
Coordinator, Grants
Director, Business
Official
The State Aid Management System (SAMS) is
a secure information system that facilitates
the collection and processing of data required
by the New York State Education Department
(NYSED) to distribute annual state aid to all
New York school districts. SAMS is accessible
to authorized users from each school district,
staff from the State Aid unit of the Education
Department, and other authorized users from
various state agencies.