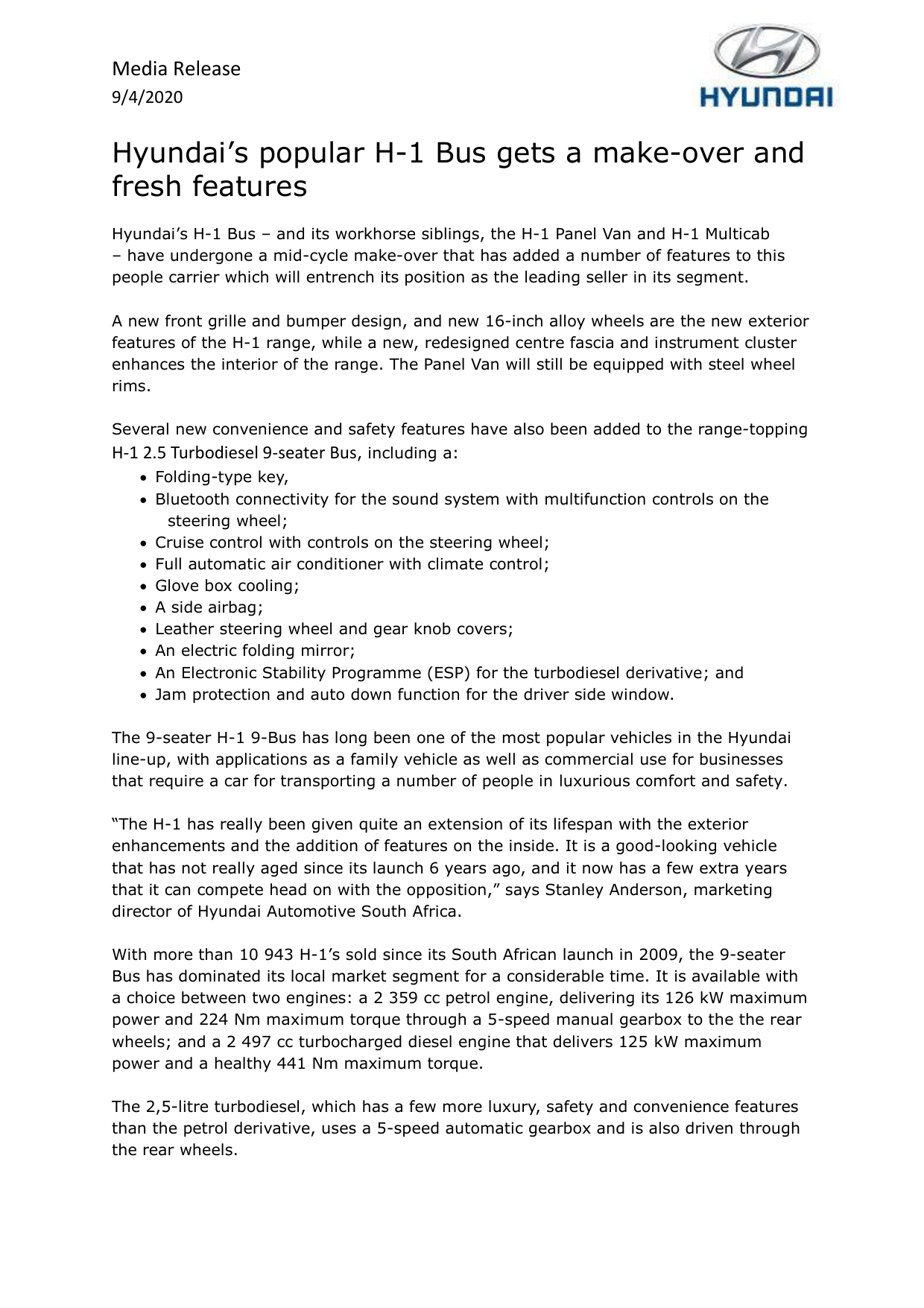 Media Release
9/2/2016
Hyundai's popular H-1 Bus gets a make-over and
fresh features
Hyundai's H-1 Bus – and its workhorse siblings, the H-1 Panel Van and H-1 Multicab
– have undergone a mid-cycle make-over that has added a number of features to this
people carrier which will entrench its position as the leading seller in its segment.
A new front grille and bumper design, and new 16-inch alloy wheels are the new exterior
features of the H-1 range, while a new, redesigned centre fascia and instrument cluster
enhances the interior of the range. The Panel Van will still be equipped with steel wheel
rims.
Several new convenience and safety features have also been added to the range-topping
H-1 2.5 Turbodiesel 9-seater Bus, including a:
 Folding-type key,
 Bluetooth connectivity for the sound system with multifunction controls on the
steering wheel;
 Cruise control with controls on the steering wheel;
 Full automatic air conditioner with climate control;
 Glove box cooling;
 A side airbag;
 Leather steering wheel and gear knob covers;
 An electric folding mirror;
 An Electronic Stability Programme (ESP) for the turbodiesel derivative; and
 Jam protection and auto down function for the driver side window.
The 9-seater H-1 9-Bus has long been one of the most popular vehicles in the Hyundai
line-up, with applications as a family vehicle as well as commercial use for businesses
that require a car for transporting a number of people in luxurious comfort and safety.
"The H-1 has really been given quite an extension of its lifespan with the exterior
enhancements and the addition of features on the inside. It is a good-looking vehicle
that has not really aged since its launch 6 years ago, and it now has a few extra years
that it can compete head on with the opposition," says Stanley Anderson, marketing
director of Hyundai Automotive South Africa.
With more than 10 943 H-1's sold since its South African launch in 2009, the 9-seater
Bus has dominated its local market segment for a considerable time. It is available with
a choice between two engines: a 2 359 cc petrol engine, delivering its 126 kW maximum
power and 224 Nm maximum torque through a 5-speed manual gearbox to the the rear
wheels; and a 2 497 cc turbocharged diesel engine that delivers 125 kW maximum
power and a healthy 441 Nm maximum torque.
The 2,5-litre turbodiesel, which has a few more luxury, safety and convenience features
than the petrol derivative, uses a 5-speed automatic gearbox and is also driven through
the rear wheels.
Media Release
9/2/2016
Whatever the role, a genuine ability to carry eight people and their luggage over long
distances (or nine if the seat between the driver and front passenger is deployed) is its
key strength: it isn't an MPV and does not suffer from that category's shortcoming of
having minimal luggage space once the rearmost seats are in use. Adding to its appeal
in a working application is the 1 500 kg towing capacity of the two-pedal turbodiesel.
The 2,4-litre petrol H-1 9-seater Bus boasts a new design alloy wheel, leather trim for
the steering wheel and gear lever knob, a folding type key, Bluetooth connectivity for the
sound system with control switches on the steering wheel for the telephone, and glove
box cooling.
Handling characteristics of the H-1 are car-like, with confidence-inspiring road holding.
Rack and pinion steering ensures crisp responses while hydraulic assistance reduces the
effort required in tight situations. In fact, drivers will find the H-1 Bus easy to park and
along with the generous glass area and substantial mirrors, there is of course the PDC
system fitted to the rear bumper.
The other two models in the H-1 range – the versatile 6-seater Multicab and the Panel
Van, with its huge load-carrying capacity – have also received a new grille and front
bumper, while the Multicab also benefits from new design alloy wheels. Cruise control
has also been added as a convenience feature to both the Multicab and the Panel Van, as
well as a folding type key. The Multicab also gets Bluetooth connectivity added to its list
of features.
The H-1 series is equipped with McPherson type strut with gas shock absorbers for its
front suspension, and for the H-1 9-seater Bus a rigid axle 5-link rear suspension with
oil-filled shock absorbers ensures a comfortable ride.
Dual leaf springs are used as rear suspension for the Multicab and Panel Van, giving
them a rating to carry
1 100 kg and tow up to 1 500 kg.
The prices of the H-1 range are:
H-1 2.5 Turbodiesel 9-seater Bus (auto)
H-1 2.4 Petrol 9-seater Bus (manual)
H-1 2.5 Turbodiesel 6-seater Multicab
H-1 2.5 Turbodiesel 3-seater Panel Van
R579 900
R482 900
R492 900
R441 900
Pricing includes Hyundai's 5-year/150 000 km warranty and roadside assistance plan, as well
as a 5-year/90 000 km service plan.
For further information contact:
Deon Sonnekus
General Manager: Corporate Communications
Hyundai Automotive South Africa
Media Release
9/2/2016
+27 (0)10 248 8000
+27 (0)61 355 1153
[email protected]
About Hyundai Motor Company:
Established in 1967, Hyundai Motor Company is committed to becoming a lifetime partner in automobiles and
beyond. The company, which leads the Hyundai Motor Group, an innovative business structure capable of
circulating resources from molten iron to finished cars, offers top-quality and award-winning cars such as the
Elantra and ix35. Hyundai Motor has seven manufacturing bases and seven design and technical centers
outside of South Korea and in 2014, sold 4,96 million vehicles globally. With almost 100 000 employees
worldwide, Hyundai Motor continues to enhance its product line-up with localized models and strives to
strengthen its leadership in clean technology, starting with the world's first mass-produced hydrogen-powered
vehicle, ix35 Fuel Cell.
More information about Hyundai Motor and its products can be found at: http://worldwide.hyundai.com or
http://www.hyundaiglobalnews.com
About Hyundai Automotive South Africa:
Hyundai Automotive South Africa, an entity of the Hyundai Motor Company, forms part of the Associated
Motor Holdings group, which is a subsidiary of the Imperial Group. Since inception, Hyundai Automotive
SA has established a network of over 100 dealerships in Southern Africa, including Namibia, Swaziland
and Botswana. Hyundai Automotive SA, which offers a wide range of products and maintains high
customer service standards, has established a strong brand following in South Africa. Further information
about Hyundai Automotive SA and its products is available at www.hyundai.co.za.