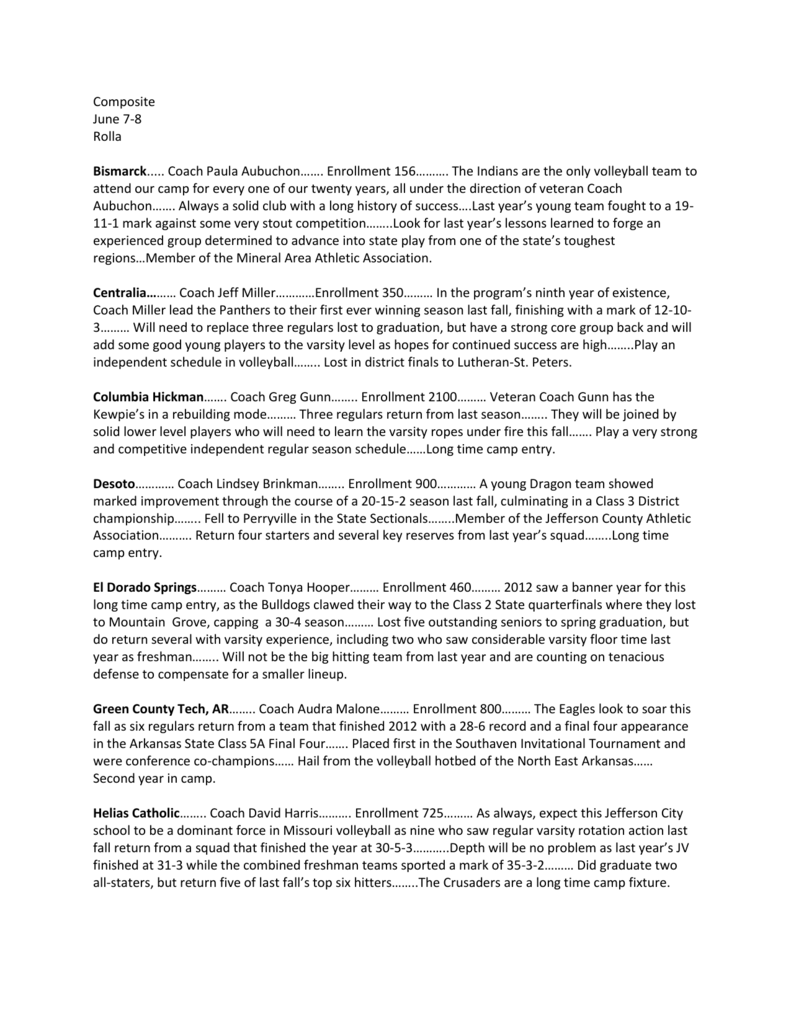 Composite
June 7-8
Rolla
Bismarck..... Coach Paula Aubuchon……. Enrollment 156………. The Indians are the only volleyball team to
attend our camp for every one of our twenty years, all under the direction of veteran Coach
Aubuchon……. Always a solid club with a long history of success….Last year's young team fought to a 1911-1 mark against some very stout competition……..Look for last year's lessons learned to forge an
experienced group determined to advance into state play from one of the state's toughest
regions…Member of the Mineral Area Athletic Association.
Centralia……… Coach Jeff Miller…………Enrollment 350……… In the program's ninth year of existence,
Coach Miller lead the Panthers to their first ever winning season last fall, finishing with a mark of 12-103……… Will need to replace three regulars lost to graduation, but have a strong core group back and will
add some good young players to the varsity level as hopes for continued success are high……..Play an
independent schedule in volleyball…….. Lost in district finals to Lutheran-St. Peters.
Columbia Hickman……. Coach Greg Gunn…….. Enrollment 2100……… Veteran Coach Gunn has the
Kewpie's in a rebuilding mode……… Three regulars return from last season…….. They will be joined by
solid lower level players who will need to learn the varsity ropes under fire this fall……. Play a very strong
and competitive independent regular season schedule……Long time camp entry.
Desoto………… Coach Lindsey Brinkman…….. Enrollment 900………… A young Dragon team showed
marked improvement through the course of a 20-15-2 season last fall, culminating in a Class 3 District
championship…….. Fell to Perryville in the State Sectionals……..Member of the Jefferson County Athletic
Association………. Return four starters and several key reserves from last year's squad……..Long time
camp entry.
El Dorado Springs……… Coach Tonya Hooper……… Enrollment 460……… 2012 saw a banner year for this
long time camp entry, as the Bulldogs clawed their way to the Class 2 State quarterfinals where they lost
to Mountain Grove, capping a 30-4 season……… Lost five outstanding seniors to spring graduation, but
do return several with varsity experience, including two who saw considerable varsity floor time last
year as freshman…….. Will not be the big hitting team from last year and are counting on tenacious
defense to compensate for a smaller lineup.
Green County Tech, AR…….. Coach Audra Malone……… Enrollment 800……… The Eagles look to soar this
fall as six regulars return from a team that finished 2012 with a 28-6 record and a final four appearance
in the Arkansas State Class 5A Final Four……. Placed first in the Southaven Invitational Tournament and
were conference co-champions…… Hail from the volleyball hotbed of the North East Arkansas……
Second year in camp.
Helias Catholic…….. Coach David Harris………. Enrollment 725……… As always, expect this Jefferson City
school to be a dominant force in Missouri volleyball as nine who saw regular varsity rotation action last
fall return from a squad that finished the year at 30-5-3………..Depth will be no problem as last year's JV
finished at 31-3 while the combined freshman teams sported a mark of 35-3-2……… Did graduate two
all-staters, but return five of last fall's top six hitters……..The Crusaders are a long time camp fixture.
Holt……….. Coach Kristina Kanallakan………. Enrollment 1770………. The Indians will return to our camp
fold this summer after a several year's hiatus……… Hail from the western suburbs of St. Louis……A young
team last fall endured to a final mark of 12-16…….Starting lineup returns in tact this fall and hopes are
for a above .500 season and progress to the higher levels of the district tournament and the Gateway
Athletic Conference standings.,
Mexico……. Coach Rachel Leu……. Enrollment 800……… The program building process has been a slow
but steady one for the Bulldogs………Last year's two win total does not tell the story have much more
competitive the young squad was competing in the very strong North Central Missouri Conference…….
The entire roster returns for 2013 and the climb to the .500 mark should continue.
Mountain Home, AR………. Coach Lindsey Leonard……….. Enrollment 900……… The Bombers will make
their initial appearance in our camp this summer…… Finished a stellar year last fall with a 21-8 mark and
advanced to the semi-finals of the Class 6 State Tournament……… Lost some crucial team members to
graduation, but do return an All-State Outside hitter……… If holes can be filled this off-season, 2013
could field a team ready to compete for top state honors.
Northwest…….. Coach Debra Fortner………… Enrollment 2100……… What would have not too long ago
been considered a great season – a final mark of 12-15 - is now classified as a rebuilding year for the
Lions……..Three regulars return and will welcome to the varsity ranks a highly acclaimed sophomore
class……… Members of the Suburban West Conference……..Long time camp entry.
Quincy, IL………Coach Barb Crist……… Enrollment 1500………. The Blue Devils under Coach Crist have
become a region wide power over the last decade, exemplified by last year's 35-2 mark……… Feel in the
Regionals to Edwardsville……… Member of the Western Big 6 Conference………. Must fill some key slots
vacated by graduation, but return two mainstays from last season and potential talent is in abundance
and ready to move up from sub-varsity levels……..Long time camp entry.
Payson, IL……… Coach Rita Speckhart………. Enrollment 158……… The Indians are long time entries in our
summer camp program…….. Champions of the West Central Conference, they also won the Regional
crown before falling in the Sectional finals to cap an outstanding 25-11 season……. Expect another
strong contingent to take the floor this fall as four regulars return and will be supplemented by
members of last year's JV moving up to the varsity level.
Pea Ridge, AR…….. Coach Jessica Woods………. Enrollment 450………… 2012 was a high water mark for
the Blackhawk volleyball program as a 17-14 season was capped off with the Razorback state school's
first trip to the state tournament………. Lost in the first round at state, but with six regulars returning,
this second year camp entry has plans for a longer state stay this November.
Potosi……. Coach Gary Mims……… Enrollment 660………… A program that hit a high water mark under
Coach Mims last fall, the Trojans finished with an outstanding mark of 21-5-2……… A talented group of
senior s were lost to graduation, with only one returning regular, a rebuilding job will be needed in 2013,
but younger players are talented and the winning attitude of last year's team should carry over to this
fall…….Member of the Mineral Area Athletic Association………Long time camp entry.
Rock Port………. Coach Jennifer Geib…………. Enrollment 156………… The Blue Jays will return four players
this fall from last year's 12-12-1 team………. Incoming freshman bring both quantity and quality to the
program……… Beat Tarkio to win the district tournament and advance to the Class 1 Sectional round
where the 275-Conference member lost to a three game match to West Platte.
Rolla………. Coach Julie Carver……….. Enrollment 1000……… Volleyball excitement abounds in the Bulldog
camp this summer as veteran Coach Julie Carver's first year at the helm last season of the Ozark
Conference member produced the most success in recent memory……. Four regulars return from last
year's 13-17 team…….. Off season participation from younger players shows signs of both talent and
interest moving up through the program's ranks……….. Play a very competitive regulars season
schedule……..Long time camp entry.
Salem……… Coach Diana Bermudez……… Enrollment 650……….. The Tigers will depend on a young group
moving up from the lower levels as only three return from last year's 2-27-1 team………Younger players
have potential but will need time to develop under fire on the varsity level…….Member of the South
Central Association…….Long time camp entry.
Skiatook, OK…………. Coach Stacey Tracy………… Enrollment 750………..This long time camp entry will
bring an experienced contingent to Rolla this summer as four regulars return from last year's 12-19
team……. The Bulldogs are members of the volleyball strong Metro Lakes Conference……..Younger
players moving up to the varsity will need to develop this off-season if the goal of reaching the .500
mark is to be achieved.
West Plains………. Coach Erin Lovelace…….. Enrollment 1100………. The Ozark Conference entry will
depend heavily upon some talented but untested by varsity level competition as they strive to improve
on last year's final mark of 9-16………. Two regulars do return to help with the rebuilding process……Long
time entries in our camps.
Winona……… Coach Francie McBride…….. Enrollment 150……….. A long time power from the south
central Ozark Hills of Missouri. The Wildcats claimed another state title last November as the rolled
unscathed thought the Class 1 Final Four…….. Expect more of the same for the Big Springs Conference
school this fall as four regulars return, along with the always steady load of talent ready to move up
from the sub-varsity level…..Finished last year with a 32-7-1 mark.