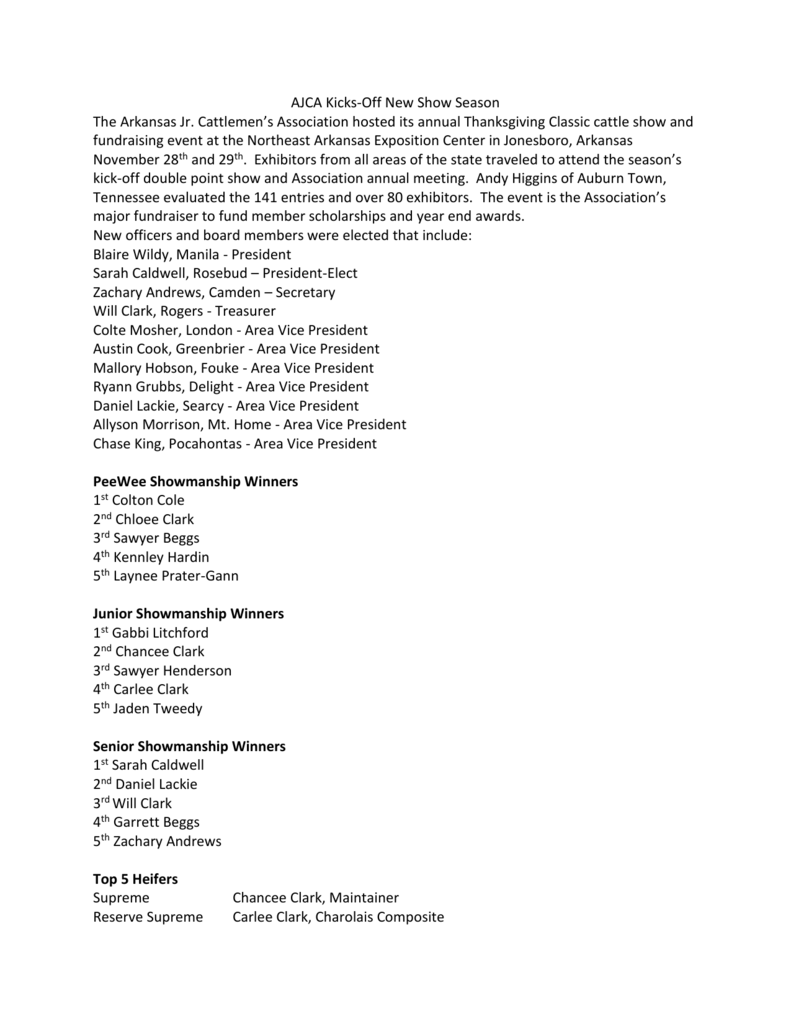 AJCA Kicks-Off New Show Season
The Arkansas Jr. Cattlemen's Association hosted its annual Thanksgiving Classic cattle show and
fundraising event at the Northeast Arkansas Exposition Center in Jonesboro, Arkansas
November 28th and 29th. Exhibitors from all areas of the state traveled to attend the season's
kick-off double point show and Association annual meeting. Andy Higgins of Auburn Town,
Tennessee evaluated the 141 entries and over 80 exhibitors. The event is the Association's
major fundraiser to fund member scholarships and year end awards.
New officers and board members were elected that include:
Blaire Wildy, Manila - President
Sarah Caldwell, Rosebud – President-Elect
Zachary Andrews, Camden – Secretary
Will Clark, Rogers - Treasurer
Colte Mosher, London - Area Vice President
Austin Cook, Greenbrier - Area Vice President
Mallory Hobson, Fouke - Area Vice President
Ryann Grubbs, Delight - Area Vice President
Daniel Lackie, Searcy - Area Vice President
Allyson Morrison, Mt. Home - Area Vice President
Chase King, Pocahontas - Area Vice President
PeeWee Showmanship Winners
1st Colton Cole
2nd Chloee Clark
3rd Sawyer Beggs
4th Kennley Hardin
5th Laynee Prater-Gann
Junior Showmanship Winners
1st Gabbi Litchford
2nd Chancee Clark
3rd Sawyer Henderson
4th Carlee Clark
5th Jaden Tweedy
Senior Showmanship Winners
1st Sarah Caldwell
2nd Daniel Lackie
3rd Will Clark
4th Garrett Beggs
5th Zachary Andrews
Top 5 Heifers
Supreme
Reserve Supreme
Chancee Clark, Maintainer
Carlee Clark, Charolais Composite
3rd Overall
4th Overall
5th Overall
Amanda Bacon, Hereford
Chloee Clark, Maintainer
Colton Cole, Angus
Top 5 Bulls
Supreme
Reserve Supreme
3rd Overall
4th Overall
5th Overall
Brayden Drum, Hereford
Laykyn Rainbolt, Angus
Carley Morgan, Santa Gertrudis
Colton Reeves, Brangus
Austin Seagraves, Hereford
Top 5 Steers
Grand Champion Steer
Reserve Champion Steer
3rd Overall
4th Overall
5th Overall
Carlee Clark
Blaire Wildy
McKenzie Piker
Amanda Bacon
Blaine Wildy
AJCA expresses much gratitude to the all our Association sponsors, silent auction donors,
bidders and buyers, the Northeast Arkansas Exposition Center and the Wildy family for
coordinating the arrangements as well as sponsoring the exhibitor gift for this year's event. The
deadline to request to sanction a show for the 2015 season is January 1, 2015. AJCA looks
forward to another great show season for its members.