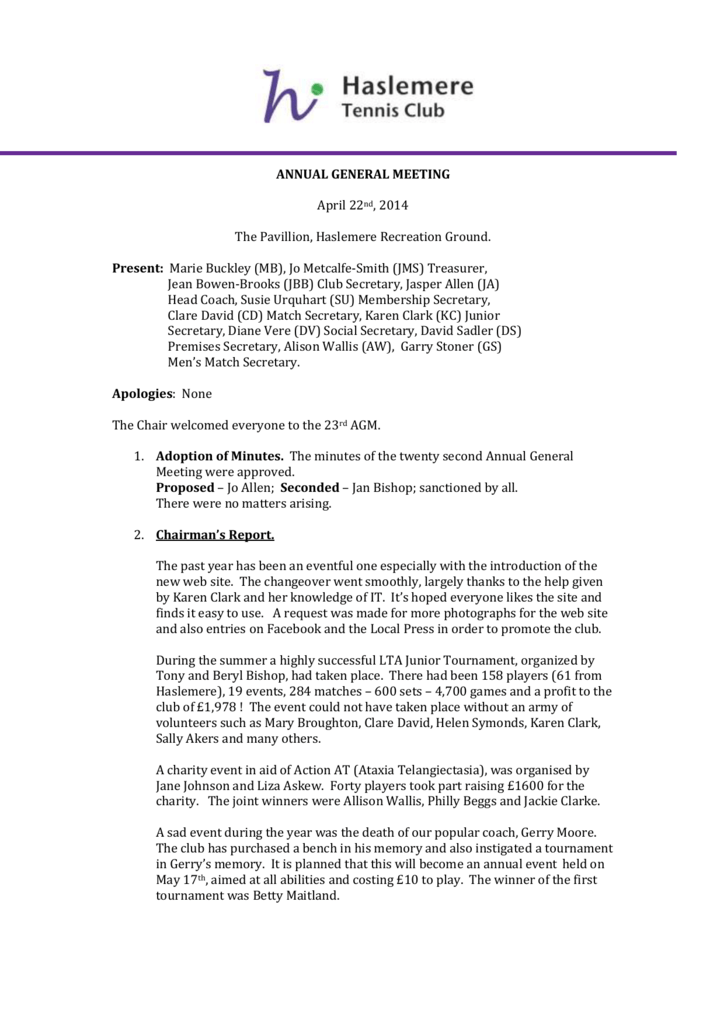 ANNUAL GENERAL MEETING
April 22nd, 2014
The Pavillion, Haslemere Recreation Ground.
Present: Marie Buckley (MB), Jo Metcalfe-Smith (JMS) Treasurer,
Jean Bowen-Brooks (JBB) Club Secretary, Jasper Allen (JA)
Head Coach, Susie Urquhart (SU) Membership Secretary,
Clare David (CD) Match Secretary, Karen Clark (KC) Junior
Secretary, Diane Vere (DV) Social Secretary, David Sadler (DS)
Premises Secretary, Alison Wallis (AW), Garry Stoner (GS)
Men's Match Secretary.
Apologies: None
The Chair welcomed everyone to the 23rd AGM.
1. Adoption of Minutes. The minutes of the twenty second Annual General
Meeting were approved.
Proposed – Jo Allen; Seconded – Jan Bishop; sanctioned by all.
There were no matters arising.
2. Chairman's Report.
The past year has been an eventful one especially with the introduction of the
new web site. The changeover went smoothly, largely thanks to the help given
by Karen Clark and her knowledge of IT. It's hoped everyone likes the site and
finds it easy to use. A request was made for more photographs for the web site
and also entries on Facebook and the Local Press in order to promote the club.
During the summer a highly successful LTA Junior Tournament, organized by
Tony and Beryl Bishop, had taken place. There had been 158 players (61 from
Haslemere), 19 events, 284 matches – 600 sets – 4,700 games and a profit to the
club of £1,978 ! The event could not have taken place without an army of
volunteers such as Mary Broughton, Clare David, Helen Symonds, Karen Clark,
Sally Akers and many others.
A charity event in aid of Action AT (Ataxia Telangiectasia), was organised by
Jane Johnson and Liza Askew. Forty players took part raising £1600 for the
charity. The joint winners were Allison Wallis, Philly Beggs and Jackie Clarke.
A sad event during the year was the death of our popular coach, Gerry Moore.
The club has purchased a bench in his memory and also instigated a tournament
in Gerry's memory. It is planned that this will become an annual event held on
May 17th, aimed at all abilities and costing £10 to play. The winner of the first
tournament was Betty Maitland.
The Monthly Club Tournaments and Social Tennis Challenge had proved very
popular usually resulting in the use of all the courts.
The East Hants summer league is due to start shortly.
The Winter results are as follows –
Ladies A team was 3rd in Division 1.
Ladies B team came top of the 2nd and now in Division 1.
Ladies C team came 3rd in Division 3.
The Men's team was 3rd in Division 1.
The Mixed doubles was 2nd in Division 2.
Peter Teague entered a men's over 70s team in the LTA Nationwide
Tournament. The club wishes Peter the best of luck.
A Vet entry had not been possible as a Captain is needed for this team.
On the social side the highlight of the year was the Christmas Party organized by
Di Vere and held at the Lythe Hill Hotel. Over 70 members and guests attended
the event. Di Vere has also persuaded the Lythe Hill to host a cream tea on
Wimbledon Men's Finals Day when the event will be shown on a large TV
screen.
Looking ahead to 2014/15 there will be much happening and many challenges.
Membership needs to be increased and costs kept down. The club needs to be
given more publicity and kept vibrant with fresh ideas. The club has much to
offer – free lights, balls, regular competitions, teas, coffees. It is very good value.
A new mini membership has been introduced costing £20 and as a special offer
the joining fee has been waived until the end of April.
New also for the coming year will be clothing bearing the club logo. This will be
displayed on the web site and members invited to place orders with Di Vere.
It has been decided that it is time to resurface the courts. They have been well
maintained and so have lasted longer than expected. In order to minimize
disruption the work will be carried out following the LTA Junior Summer
Tournament. Courts 1 and 2 will be attended to this year and 3 and 4 next year.
Four firms were invited to tender for the work and Housden's were appointed,
their final figure being £43,250 which includes the replacement of some
sections of the chain link fence. This work is essential and therefore must be
carried out. It is hoped that members will be cooperative and flexible with the
reduced court availability.
The chairman thanked the committee.
3. Treasurers Report
Membership has fallen back and as a consequence, income has fallen by 7.5%.
However, expenses have also fallen by 13.8% therefore giving a surplus of
£5,560. £5,000 has been transferred to the capital reserve.
The total bank balance is £74,553, £47,000 in capital reserve and £27,553
recently received from subscriptions. Most of the £47,000 will be wiped out by
the resurfacing.
Another reason for the fall in income has been the popularity of the early
payment discount, which has been taken up by the vast majority of members.
Whilst it helps subscription administration it results in a considerable loss of
revenue for the club. We are effectively paying less now for membership than
we did 6/7 years ago. It may be necessary to review membership fees next year.
Financial Details are in Appendix 1
4. Head Coach Report – see Appendix 2
5. Election of Officers.
The chair announced that Allison Wallis is standing down and thanked her for
all she has done and for her sound, balanced advice and practical help.
Peter Howard will be standing down at the end of this year and therefore a new
Auditor must be found. Likewise, the Chairman's term has also only one more
year to run.
Attention was drawn to the need for someone to fill a PR role which need not be
a committee position. The promotion of the club is vital and so liaison with the
press is needed to provide them with stories and photographs: also banners for
the club and any other artwork to encourage membership. Potential volunteers
for any of the positions were asked to speak with a member of the committee.
The committee members are all midterm and would be continuing unless an
objection is raised.
Re-election of Officers and Committee Members for 2014/2015
Treasurer
Secretary
Premises Secretary
Membership Secretary
Match Secretary
Junior Secretary
Men's Secretary
Premises Secretary
Jo Metcalfe-Smith
Jean Bowen-Brooks
David Sadler
Susie Urquhart
Clare David
Karen Clark
Garry Stoner
David Sadler
Block reelection – Proposed -Jenny Smart, Seconded – Suzanne Riley.
Re-election of directors of Haslemere Lawn Tennis Club Ltd.
For 2014/2015
Chairman
Treasurer
Secretary
Marie Buckley
Clive Reay
Jean Bowen-Brooks
Block approval – Proposed - Clare David, Seconded – Lauren Walker
Re-appointment of Peter Howard as Auditor
Proposed – Jo Metcalfe-Smith, Seconded – Nigel Bishop
6. AOB
The issue of resurfacing the public courts was raised. The surface has generally
deteriorated and tree roots are causing further problems. It was understood
that Waverley Council have agreed to clean the courts but are highly unlikely to
fund resurfacing owing to Council budget cuts. It was suggest that individual
pressure should be put on the council and support could be gained from
members by raising the issue on the Club web site. It was further suggested by
Rafal Koscielski that a petition might be helpful and he offered to organise one if
the matter couldn't be progressed with the council.
The meeting closed at approx..9.30 pm.
JBB
28/04/2014
Appendix 1
HASLEMERE LAWN TENNIS CLUB
INCOME AND EXPENDITURE OVER LAST 4 YEARS
2014
2013
2012
INCOME
Subscriptions ( adults and juniors)
Junior income
Adults, tournaments, match fees, court hire
Interest received
33,115
6,288
520
763
35,815
9,309
435
371
36,180
11,359
846
456
TOTAL INCOME
40,686
45,930
48,841
5,539
280
1,065
6,900
400
2,947
3,808
851
1,090
750
418
1,772
697
3,061
1,456
6,125
9,232
1,202
1,459
8,183
400
1,534
1,033
1,090
750
400
1,482
677
4,890
1,412
7,018
11,437
327
1,847
8,250
434
826
618
48
1,090
750
100
1,457
648
4,168
1,328
7,813
37,159
40,762
41,141
3,527
5,168
7,700
EXPENSES
Juniors - tournaments, match costs etc
Adults, tournaments, match costs
Tennis Balls
Club Coach
Surrey LTA
Stationery, Postage, Committee & Sundries
Web/IT costs
Socials
Rent
Haslemere Recreation Association
Rates
Electricity
Insurance
Repairs and maintenance
Cleaning
Depreciation
TOTAL EXPENDITURE
Surplus
Appendix 2
We have had a busy year with lots of tennis taking place for adults and juniors. To summarise
here are a few snippets:
1. Talent ID Day
Over 60 local children; mostly non members, aged from between 5 to 10 years old
attended.
For 2 hours the children were coached and assessed in a variety of tennis skills and
drills.
Six children won free tennis coaching for one term.
2.
Performance Coaching 7th June
Opportunity to take part in an afternoon of performance coaching
Watch a doubles exhibition match with former Davis Cup players
Places for 36 adults and 54 juniors to take part
Last charity fund raising event raised enough money to offer:Four 5 week course of free adult cardio lessons. Allowing 40 adults to benefit
(members and non members)
Eight 4 or 5 week free coaching courses for juniors aged between 5 and 11. Allowing
160 local children to benefit. (members and non members)
3.
Junior Tennis
ADLTA Winter 2012/2013 13U boys won their league. Eliza Shaw captain.
Aegon Summer 2013 12U girls won their division. Gareth Jones captain.
Further opportunities for juniors to play include:May Half Term championships – singles and doubles for junior members only
Sunday match play – very popular with both club members and those from other clubs.
Free play
LTA tournaments
Regular coaching sessions
4.
Winners
Stevens Main
Stevens Plate
Winter Mixed
Adult Monthly League
Most Improved
Winners
Stephane + Marie
Runners Up
Yeside + Jonathan
Winners
Garry + Catherine
Runners Up
Mick + Kate
Winners
Will + Marie
Runners Up
Mick + Laurance
Mens Winner
Peter Teauge 20
Ladies Winner
Catherine Neagle 11
Male
Rafal Koscielski
Female
Helen Jamieson
The club has now followed the same procedure as other local tennis clubs and all engraving of
trophies and shields is to be arranged and paid for by the winner or winners. It has been done
this way in the past and will be the same for all adult and junior events going forward.
We have just announced a new ladies morning session where you can enjoy a nice game of
tennis and have a nice cup of coffee with some nice people, Monday mornings 9.30-11am £5 per
session which starts next week (28th April).