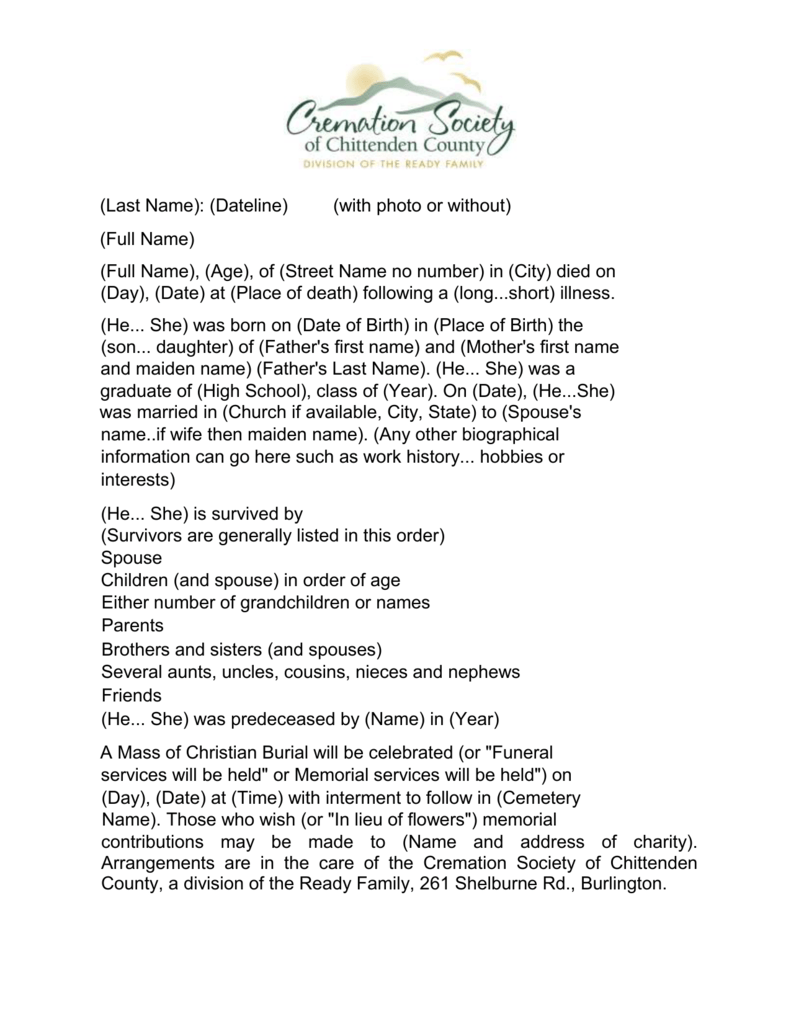 (Last Name): (Dateline)
(with photo or without)
(Full Name)
(Full Name), (Age), of (Street Name no number) in (City) died on
(Day), (Date) at (Place of death) following a (long...short) illness.
(He... She) was born on (Date of Birth) in (Place of Birth) the
(son... daughter) of (Father's first name) and (Mother's first name
and maiden name) (Father's Last Name). (He... She) was a
graduate of (High School), class of (Year). On (Date), (He...She)
was married in (Church if available, City, State) to (Spouse's
name..if wife then maiden name). (Any other biographical
information can go here such as work history... hobbies or
interests)
(He... She) is survived by
(Survivors are generally listed in this order)
Spouse
Children (and spouse) in order of age
Either number of grandchildren or names
Parents
Brothers and sisters (and spouses)
Several aunts, uncles, cousins, nieces and nephews
Friends
(He... She) was predeceased by (Name) in (Year)
A Mass of Christian Burial will be celebrated (or "Funeral
services will be held" or Memorial services will be held") on
(Day), (Date) at (Time) with interment to follow in (Cemetery
Name). Those who wish (or "In lieu of flowers") memorial
contributions may be made to (Name and address of charity).
Arrangements are in the care of the Cremation Society of Chittenden
County, a division of the Ready Family, 261 Shelburne Rd., Burlington.