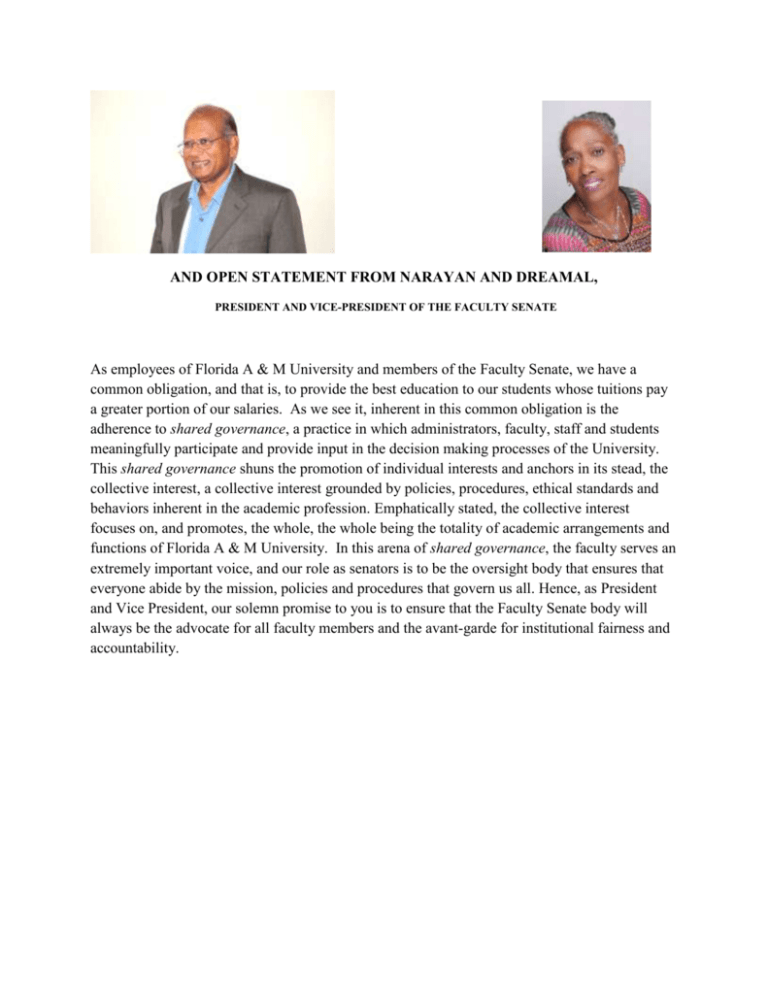 AND OPEN STATEMENT FROM NARAYAN AND DREAMAL,
PRESIDENT AND VICE-PRESIDENT OF THE FACULTY SENATE
As employees of Florida A & M University and members of the Faculty Senate, we have a
common obligation, and that is, to provide the best education to our students whose tuitions pay
a greater portion of our salaries. As we see it, inherent in this common obligation is the
adherence to shared governance, a practice in which administrators, faculty, staff and students
meaningfully participate and provide input in the decision making processes of the University.
This shared governance shuns the promotion of individual interests and anchors in its stead, the
collective interest, a collective interest grounded by policies, procedures, ethical standards and
behaviors inherent in the academic profession. Emphatically stated, the collective interest
focuses on, and promotes, the whole, the whole being the totality of academic arrangements and
functions of Florida A & M University. In this arena of shared governance, the faculty serves an
extremely important voice, and our role as senators is to be the oversight body that ensures that
everyone abide by the mission, policies and procedures that govern us all. Hence, as President
and Vice President, our solemn promise to you is to ensure that the Faculty Senate body will
always be the advocate for all faculty members and the avant-garde for institutional fairness and
accountability.