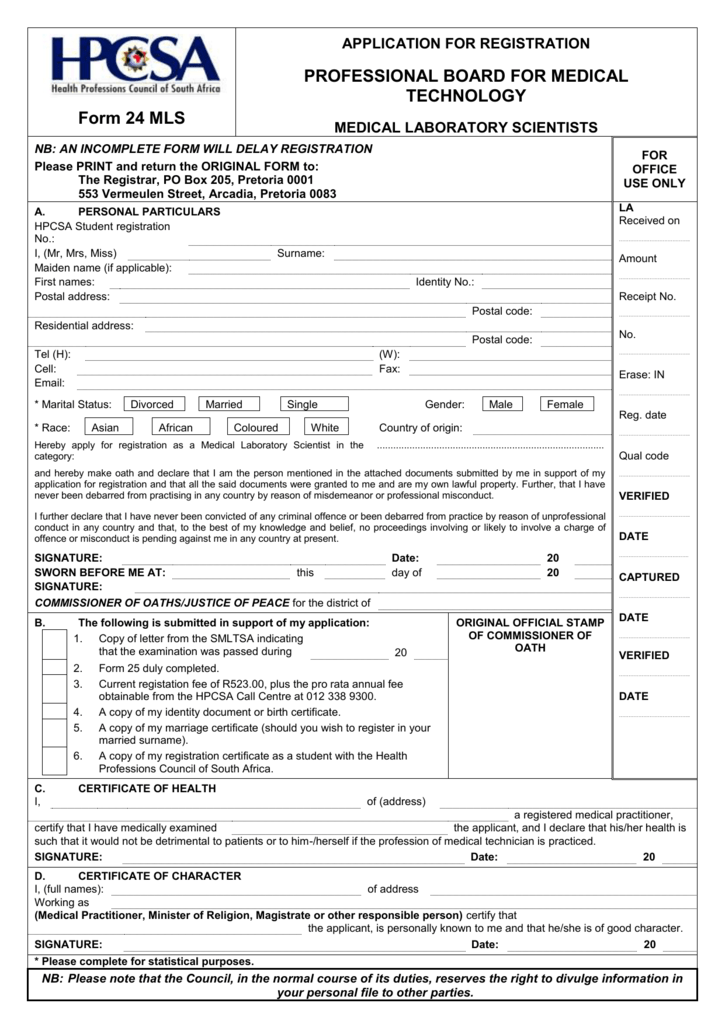 APPLICATION FOR REGISTRATION
PROFESSIONAL BOARD FOR MEDICAL
TECHNOLOGY
Form 24 MLS
MEDICAL LABORATORY SCIENTISTS
NB: AN INCOMPLETE FORM WILL DELAY REGISTRATION
Please PRINT and return the ORIGINAL FORM to:
The Registrar, PO Box 205, Pretoria 0001
553 Vermeulen Street, Arcadia, Pretoria 0083
FOR
OFFICE
USE ONLY
LA
Received on
A.
PERSONAL PARTICULARS
HPCSA Student registration
No.:
I, (Mr, Mrs, Miss)
Maiden name (if applicable):
First names:
Postal address:
……………………………………..
Surname:
Amount
……………………………………..
Identity No.:
Receipt No.
Postal code:
……………………………………..
Residential address:
No.
Postal code:
Tel (H):
Cell:
Email:
(W):
Fax:
……………………………………..
Erase: IN
……………………………………..
* Marital Status:
Divorced
Married
Single
Gender:
Male
Female
Reg. date
* Race:
Asian
African
Coloured
White
Country of origin:
Hereby apply for registration as a Medical Laboratory Scientist in the
category:
……………………………………..
....................................................................................
Qual code
and hereby make oath and declare that I am the person mentioned in the attached documents submitted by me in support of my
application for registration and that all the said documents were granted to me and are my own lawful property. Further, that I have
never been debarred from practising in any country by reason of misdemeanor or professional misconduct.
……………………………………..
VERIFIED
I further declare that I have never been convicted of any criminal offence or been debarred from practice by reason of unprofessional
conduct in any country and that, to the best of my knowledge and belief, no proceedings involving or likely to involve a charge of
offence or misconduct is pending against me in any country at present.
……………………………………..
SIGNATURE:
SWORN BEFORE ME AT:
this
SIGNATURE:
COMMISSIONER OF OATHS/JUSTICE OF PEACE for the district of
…………………………………….
B.
The following is submitted in support of my application:
1. Copy of letter from the SMLTSA indicating
that the examination was passed during
2.
3.
4.
5.
6.
C.
I,
Date:
day of
20
20
DATE
CAPTURED
……………………………………..
20
ORIGINAL OFFICIAL STAMP
OF COMMISSIONER OF
OATH
Form 25 duly completed.
Current registation fee of R523.00, plus the pro rata annual fee
obtainable from the HPCSA Call Centre at 012 338 9300.
A copy of my identity document or birth certificate.
A copy of my marriage certificate (should you wish to register in your
married surname).
A copy of my registration certificate as a student with the Health
Professions Council of South Africa.
DATE
……………………………………..
VERIFIED
……………………………………..
DATE
……………………………………..
CERTIFICATE OF HEALTH
of (address)
a registered medical practitioner,
certify that I have medically examined
the applicant, and I declare that his/her health is
such that it would not be detrimental to patients or to him-/herself if the profession of medical technician is practiced.
SIGNATURE:
Date:
20
D.
CERTIFICATE OF CHARACTER
I, (full names):
of address
Working as
(Medical Practitioner, Minister of Religion, Magistrate or other responsible person) certify that
the applicant, is personally known to me and that he/she is of good character.
SIGNATURE:
Date:
20
* Please complete for statistical purposes.
NB: Please note that the Council, in the normal course of its duties, reserves the right to divulge information in
your personal file to other parties.