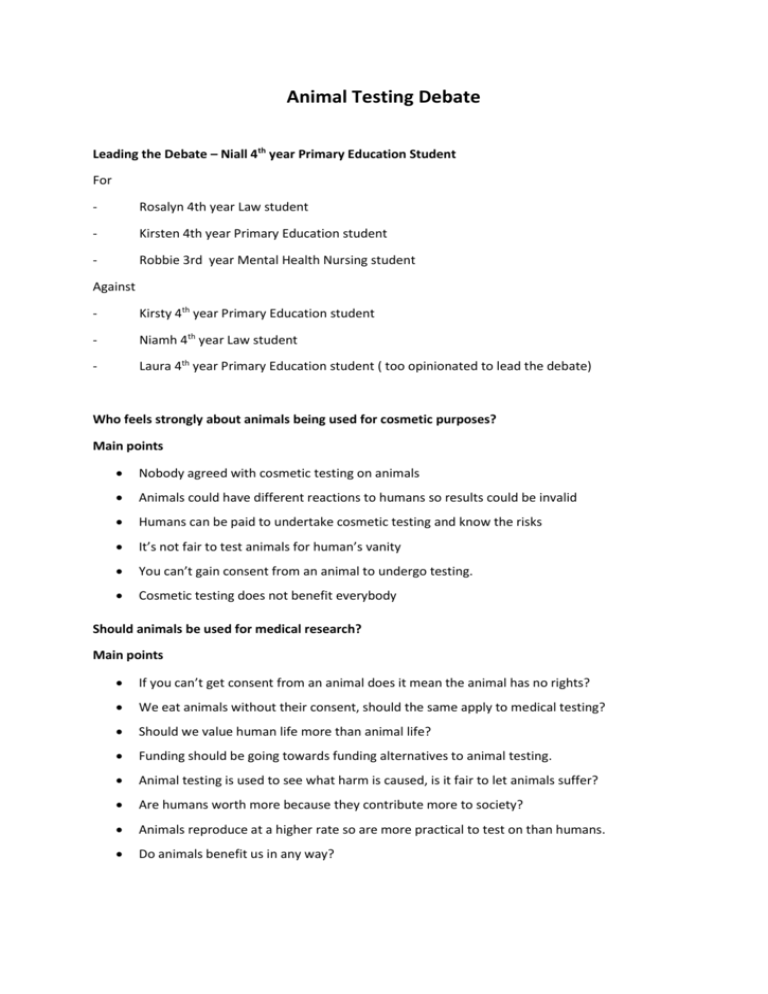 Animal Testing Debate
Leading the Debate – Niall 4th year Primary Education Student
For
-
Rosalyn 4th year Law student
-
Kirsten 4th year Primary Education student
-
Robbie 3rd year Mental Health Nursing student
Against
-
Kirsty 4th year Primary Education student
-
Niamh 4th year Law student
-
Laura 4th year Primary Education student ( too opinionated to lead the debate)
Who feels strongly about animals being used for cosmetic purposes?
Main points

Nobody agreed with cosmetic testing on animals

Animals could have different reactions to humans so results could be invalid

Humans can be paid to undertake cosmetic testing and know the risks

It's not fair to test animals for human's vanity

You can't gain consent from an animal to undergo testing.

Cosmetic testing does not benefit everybody
Should animals be used for medical research?
Main points

If you can't get consent from an animal does it mean the animal has no rights?

We eat animals without their consent, should the same apply to medical testing?

Should we value human life more than animal life?

Funding should be going towards funding alternatives to animal testing.

Animal testing is used to see what harm is caused, is it fair to let animals suffer?

Are humans worth more because they contribute more to society?

Animals reproduce at a higher rate so are more practical to test on than humans.

Do animals benefit us in any way?

Should animals be treated with experimental drugs as opposed to those which are proven to
work?

Technology isn't advanced enough yet to find alternatives to animal testing such as testing
on lab grown cells and organisms.

Is it ethical to insert a disease into a healthy animal?
Conclusion
The overall final viewpoint was that whilst it is not acceptable to test animal for cosmetic
purposes, the benefits for animal testing in medical research outweigh the negatives.
Whilst members of the group felt that human life shouldn't be valued over animal life the agreed
consensus was that until there are viable alternatives to animal testing for medical purposes the
practice of animal testing should continue.