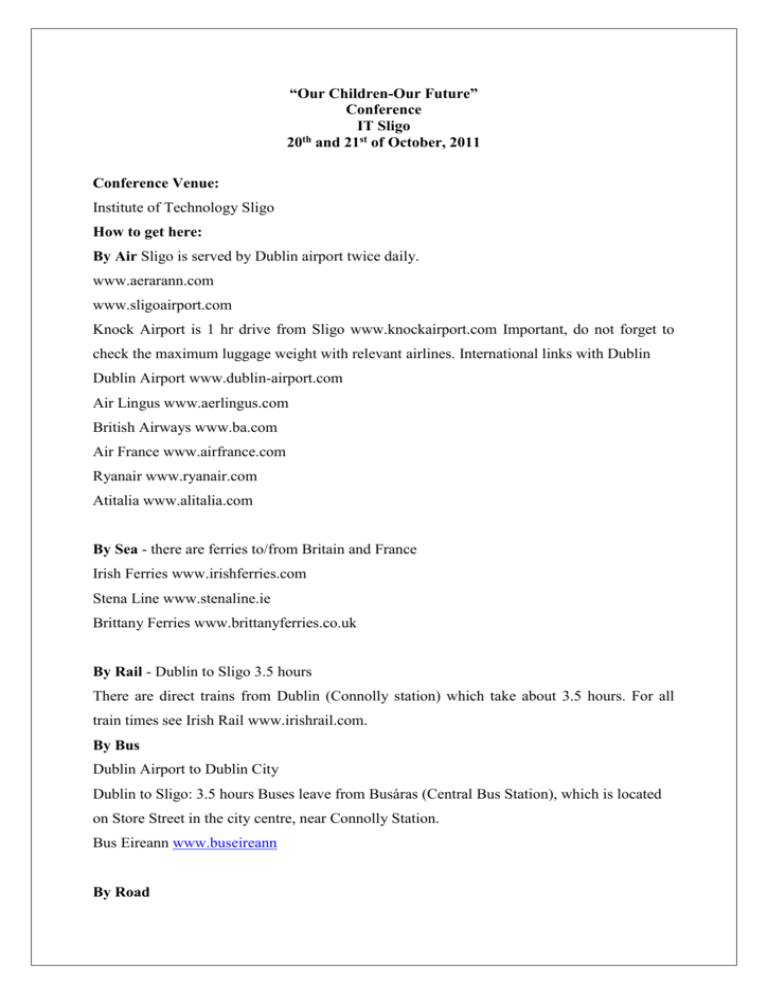 "Our Children-Our Future"
Conference
IT Sligo
th
20 and 21st of October, 2011
Conference Venue:
Institute of Technology Sligo
How to get here:
By Air Sligo is served by Dublin airport twice daily.
www.aerarann.com
www.sligoairport.com
Knock Airport is 1 hr drive from Sligo www.knockairport.com Important, do not forget to
check the maximum luggage weight with relevant airlines. International links with Dublin
Dublin Airport www.dublin-airport.com
Air Lingus www.aerlingus.com
British Airways www.ba.com
Air France www.airfrance.com
Ryanair www.ryanair.com
Atitalia www.alitalia.com
By Sea - there are ferries to/from Britain and France
Irish Ferries www.irishferries.com
Stena Line www.stenaline.ie
Brittany Ferries www.brittanyferries.co.uk
By Rail - Dublin to Sligo 3.5 hours
There are direct trains from Dublin (Connolly station) which take about 3.5 hours. For all
train times see Irish Rail www.irishrail.com.
By Bus
Dublin Airport to Dublin City
Dublin to Sligo: 3.5 hours Buses leave from Busáras (Central Bus Station), which is located
on Store Street in the city centre, near Connolly Station.
Bus Eireann www.buseireann
By Road
Car Hire is available at all airports. The North West Region is serviced by major trunk roads
from and between the principle entry points, cities and towns. Sligo Car Hire Avis Car
Rental Mc Govern Coaches Sligo Airport Sligo Co Sligo Tel.: 071 9176677 Tel.:
0719168386.