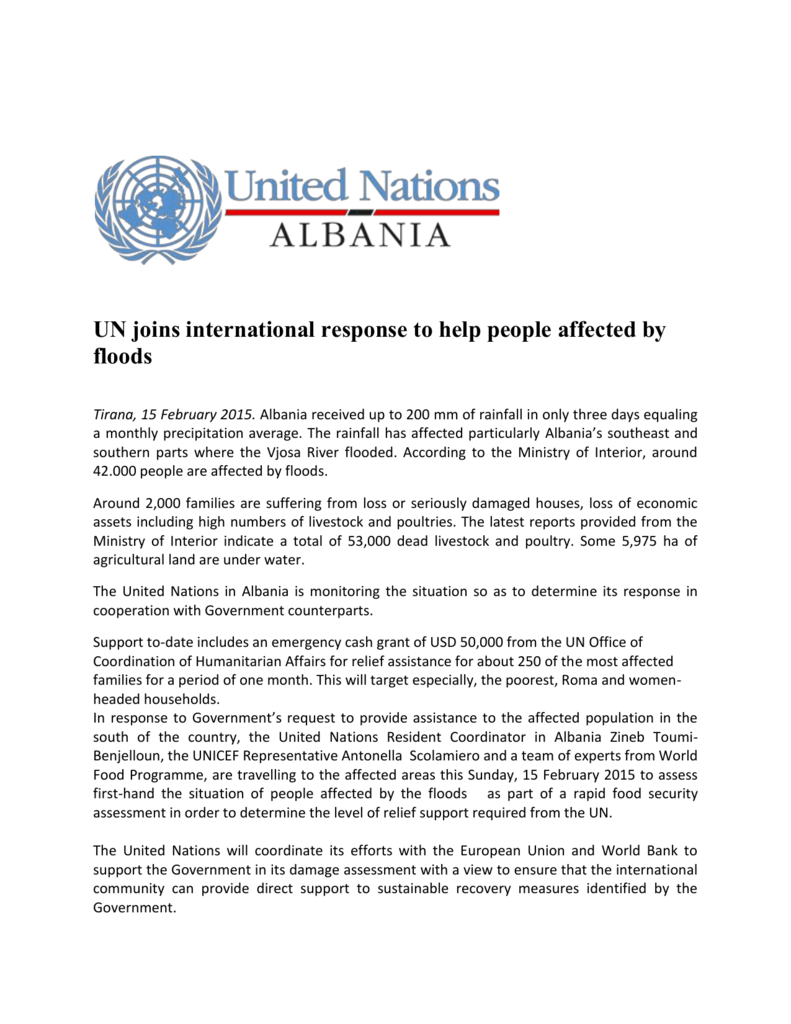 UN joins international response to help people affected by
floods
Tirana, 15 February 2015. Albania received up to 200 mm of rainfall in only three days equaling
a monthly precipitation average. The rainfall has affected particularly Albania's southeast and
southern parts where the Vjosa River flooded. According to the Ministry of Interior, around
42.000 people are affected by floods.
Around 2,000 families are suffering from loss or seriously damaged houses, loss of economic
assets including high numbers of livestock and poultries. The latest reports provided from the
Ministry of Interior indicate a total of 53,000 dead livestock and poultry. Some 5,975 ha of
agricultural land are under water.
The United Nations in Albania is monitoring the situation so as to determine its response in
cooperation with Government counterparts.
Support to-date includes an emergency cash grant of USD 50,000 from the UN Office of
Coordination of Humanitarian Affairs for relief assistance for about 250 of the most affected
families for a period of one month. This will target especially, the poorest, Roma and womenheaded households.
In response to Government's request to provide assistance to the affected population in the
south of the country, the United Nations Resident Coordinator in Albania Zineb ToumiBenjelloun, the UNICEF Representative Antonella Scolamiero and a team of experts from World
Food Programme, are travelling to the affected areas this Sunday, 15 February 2015 to assess
first-hand the situation of people affected by the floods as part of a rapid food security
assessment in order to determine the level of relief support required from the UN.
The United Nations will coordinate its efforts with the European Union and World Bank to
support the Government in its damage assessment with a view to ensure that the international
community can provide direct support to sustainable recovery measures identified by the
Government.