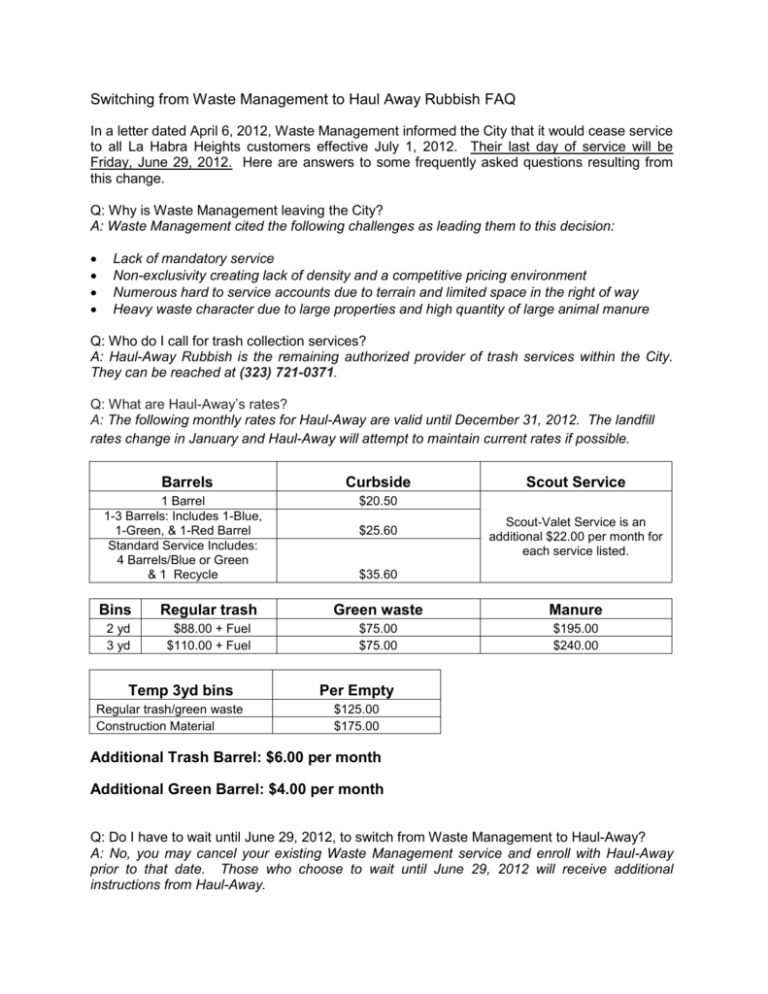 Switching from Waste Management to Haul Away Rubbish FAQ
In a letter dated April 6, 2012, Waste Management informed the City that it would cease service
to all La Habra Heights customers effective July 1, 2012. Their last day of service will be
Friday, June 29, 2012. Here are answers to some frequently asked questions resulting from
this change.
Q: Why is Waste Management leaving the City?
A: Waste Management cited the following challenges as leading them to this decision:




Lack of mandatory service
Non-exclusivity creating lack of density and a competitive pricing environment
Numerous hard to service accounts due to terrain and limited space in the right of way
Heavy waste character due to large properties and high quantity of large animal manure
Q: Who do I call for trash collection services?
A: Haul-Away Rubbish is the remaining authorized provider of trash services within the City.
They can be reached at (323) 721-0371.
Q: What are Haul-Away's rates?
A: The following monthly rates for Haul-Away are valid until December 31, 2012. The landfill
rates change in January and Haul-Away will attempt to maintain current rates if possible.
Barrels
1 Barrel
1-3 Barrels: Includes 1-Blue,
1-Green, & 1-Red Barrel
Standard Service Includes:
4 Barrels/Blue or Green
& 1 Recycle
Curbside
Scout Service
$20.50
$25.60
Scout-Valet Service is an
additional $22.00 per month for
each service listed.
$35.60
Bins
Regular trash
Green waste
Manure
2 yd
3 yd
$88.00 + Fuel
$110.00 + Fuel
$75.00
$75.00
$195.00
$240.00
Temp 3yd bins
Regular trash/green waste
Construction Material
Per Empty
$125.00
$175.00
Additional Trash Barrel: $6.00 per month
Additional Green Barrel: $4.00 per month
Q: Do I have to wait until June 29, 2012, to switch from Waste Management to Haul-Away?
A: No, you may cancel your existing Waste Management service and enroll with Haul-Away
prior to that date. Those who choose to wait until June 29, 2012 will receive additional
instructions from Haul-Away.
Q: Will my trash pick-up day remain the same?
A: Once Haul-Away has analyzed the Waste Management accounts, they will plan new routes
which in turn may result in changed pick-up days for some residents. Haul-Away will notify you
if it does change.
Q: How do I get Haul-Away trash bins? How do I return Waste Management's bins?
A: To ease transition Haul-Away agreed to collect Waste Management's bins from the homes
of residents and deliver the bins to Waste Management. Haul-Away will deliver new bins to
former Waste Management residents.