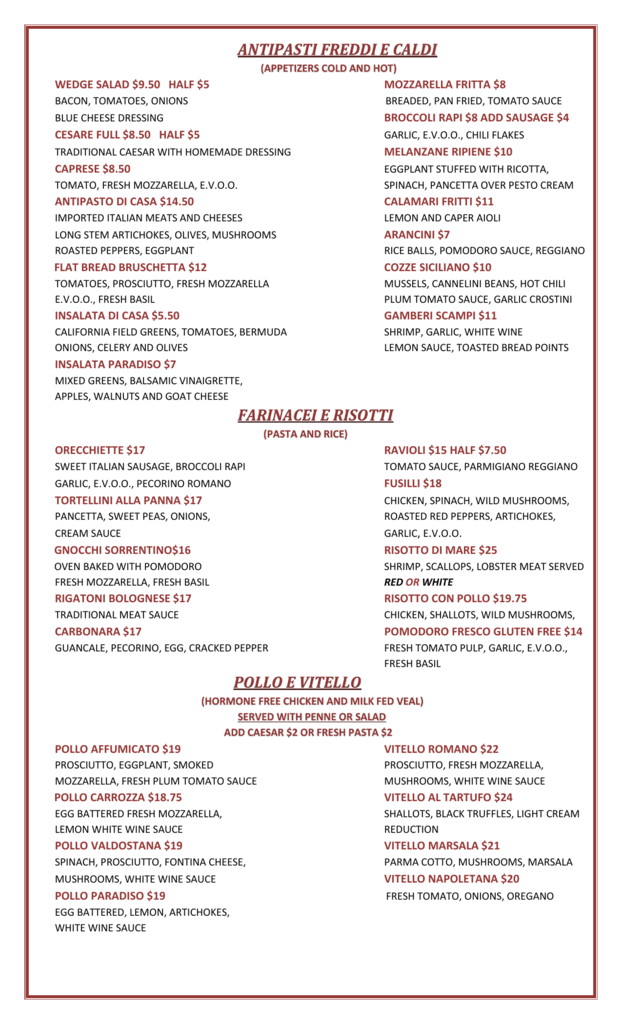 ANTIPASTI FREDDI E CALDI
(APPETIZERS COLD AND HOT)
WEDGE SALAD $9.50 HALF $5
MOZZARELLA FRITTA $8
BACON, TOMATOES, ONIONS
BLUE CHEESE DRESSING
BREADED, PAN FRIED, TOMATO SAUCE
BROCCOLI RAPI $8 ADD SAUSAGE $4
CESARE FULL $8.50 HALF $5
GARLIC, E.V.O.O., CHILI FLAKES
TRADITIONAL CAESAR WITH HOMEMADE DRESSING
MELANZANE RIPIENE $10
CAPRESE $8.50
TOMATO, FRESH MOZZARELLA, E.V.O.O.
EGGPLANT STUFFED WITH RICOTTA,
SPINACH, PANCETTA OVER PESTO CREAM
ANTIPASTO DI CASA $14.50
CALAMARI FRITTI $11
IMPORTED ITALIAN MEATS AND CHEESES
LONG STEM ARTICHOKES, OLIVES, MUSHROOMS
ROASTED PEPPERS, EGGPLANT
LEMON AND CAPER AIOLI
FLAT BREAD BRUSCHETTA $12
COZZE SICILIANO $10
TOMATOES, PROSCIUTTO, FRESH MOZZARELLA
E.V.O.O., FRESH BASIL
MUSSELS, CANNELINI BEANS, HOT CHILI
PLUM TOMATO SAUCE, GARLIC CROSTINI
INSALATA DI CASA $5.50
GAMBERI SCAMPI $11
CALIFORNIA FIELD GREENS, TOMATOES, BERMUDA
ONIONS, CELERY AND OLIVES
SHRIMP, GARLIC, WHITE WINE
LEMON SAUCE, TOASTED BREAD POINTS
ARANCINI $7
RICE BALLS, POMODORO SAUCE, REGGIANO
INSALATA PARADISO $7
MIXED GREENS, BALSAMIC VINAIGRETTE,
APPLES, WALNUTS AND GOAT CHEESE
FARINACEI E RISOTTI
(PASTA AND RICE)
ORECCHIETTE $17
RAVIOLI $15 HALF $7.50
SWEET ITALIAN SAUSAGE, BROCCOLI RAPI
TOMATO SAUCE, PARMIGIANO REGGIANO
GARLIC, E.V.O.O., PECORINO ROMANO
FUSILLI $18
TORTELLINI ALLA PANNA $17
PANCETTA, SWEET PEAS, ONIONS,
CREAM SAUCE
CHICKEN, SPINACH, WILD MUSHROOMS,
ROASTED RED PEPPERS, ARTICHOKES,
GARLIC, E.V.O.O.
GNOCCHI SORRENTINO$16
RISOTTO DI MARE $25
OVEN BAKED WITH POMODORO
FRESH MOZZARELLA, FRESH BASIL
SHRIMP, SCALLOPS, LOBSTER MEAT SERVED
RED OR WHITE
RIGATONI BOLOGNESE $17
RISOTTO CON POLLO $19.75
TRADITIONAL MEAT SAUCE
CHICKEN, SHALLOTS, WILD MUSHROOMS,
CARBONARA $17
POMODORO FRESCO GLUTEN FREE $14
GUANCALE, PECORINO, EGG, CRACKED PEPPER
FRESH TOMATO PULP, GARLIC, E.V.O.O.,
FRESH BASIL
POLLO E VITELLO
(HORMONE FREE CHICKEN AND MILK FED VEAL)
SERVED WITH PENNE OR SALAD
ADD CAESAR $2 OR FRESH PASTA $2
POLLO AFFUMICATO $19
VITELLO ROMANO $22
PROSCIUTTO, EGGPLANT, SMOKED
MOZZARELLA, FRESH PLUM TOMATO SAUCE
PROSCIUTTO, FRESH MOZZARELLA,
MUSHROOMS, WHITE WINE SAUCE
POLLO CARROZZA $18.75
VITELLO AL TARTUFO $24
EGG BATTERED FRESH MOZZARELLA,
LEMON WHITE WINE SAUCE
SHALLOTS, BLACK TRUFFLES, LIGHT CREAM
REDUCTION
POLLO VALDOSTANA $19
VITELLO MARSALA $21
SPINACH, PROSCIUTTO, FONTINA CHEESE,
MUSHROOMS, WHITE WINE SAUCE
PARMA COTTO, MUSHROOMS, MARSALA
POLLO PARADISO $19
FRESH TOMATO, ONIONS, OREGANO
EGG BATTERED, LEMON, ARTICHOKES,
WHITE WINE SAUCE
VITELLO NAPOLETANA $20
PARMIGIANE
(ENTREES)
SERVED WITH HOMEMADE FUSILLI OR RIGATONI OR A SALAD
VEAL PARMIGIANA $21
CHICKEN PARMIGIANA $18
ADD EGGPLANT $2
ADD EGGPLANT $2
EGGPLANT PARMIGIANA $16.50
CARNE
(MEAT)
SERVED WITH A SALAD
CAESAR SALAD ADD $2
AGNELLO SCOTTADITO $25
BISTECCA ALLA GRIGLIA $26
GRILLED AUSTRALIAN LAMB CHOPS, ROSEMARY
RED WINE REDUCTION, W/ ROASTED EGGPLANT,
BROCCOLI RAPI
14 OZ. BLACK ANGUS RIBEYE, POTATO,
VEGETABLE OF THE DAY
PESCE
(FISH)
SERVED WITH A SALAD
CAESAR SALAD ADD $2
SALMONE ALLA GRIGLIA $21
SALMONE ARROSTITO $22
GRILLED, SERVED OVER CANNELINI BEANS AND
SPINACH, DRIZZLED WITH BASIL OIL & LEMON
CEDAR PLANK OVEN ROASTED, LEMON
GINGER TERIYAKI GLAZE, POTATO,
VEGETABLE OF THE DAY
BAKED HADDOCK $21
GAMBERI ALLA GRIGLIA $22
SEAFOOD RITZ CRACKER STUFFING,
BROCCOLI AGLIO E OLIO, POTATO
GRILLED SHRIMP, BROCCOLI RAPI,
CITRUS BALSAMIC GLAZE
PIZZETTE
(12" PIZZA)
CAPRICCIOSA $13
MARGHERITA $11
ROASTED EGGPLANT, ARTICHOKES, RED PEPPERS
PROVOLONE, MOZZARELLA, BASIL OIL
FRESH ROMA TOMATOES, FRESH BASIL,
MOZZARELLA
POLLO $13
SALSICCIA $12
ROSEMARY GRILLED CHICKEN, SPINACH, MOZZARELLA
SWEET ITALIAN SAUSAGE, TOMATO SAUCE,
MOZZARELLA
PARMA COTTA $14.50
CIPOLLE E FUNGHI $12
PROSCIUTTO DI PARMA COTTO, MOZZARELLA
HOMEMADE RICOTTA, BASIL, E.V.O.O.
CARMELIZED ONIONS, WILD MUSHROOMS,
TOMATO SAUCE, MOZZARELLA
PIATTINI PER BAMBINI
RAVIOLI $7
CHICKEN PARMIGIANA $8
(CHILDREN 12 YEARS AND UNDER)
CHICKEN FINGERS AND FRIES $7
PENNE WITH BUTTER $5
WITH PENNE
CONTORNI
(SIDES)
FRESH PASTA $5.75
GLUTEN FREE PASTA $5
GNOCCHI $6
WHOLE WHEAT PASTA $5
MEATBALL $2.75 EACH
GRILLED ITALIAN SAUSAGE $4
GRILLED CHICKEN $5
BROCCOLI $4
VEGETABLE OF THE DAY $4
POTATO OF THE DAY $3
SPINACH $4
*CONSUMING RAW OR UNDERCOOKED MEATS, POULTRY, SEAFOOD, SHELLFISH, OR EGGS MAY INCREASE YOUR RISK OF FOODBORNE ILLNESS.
*$5 SPLIT ENTRÉE FEE. *MENU AND PRICES SUBJECT TO CHANGE. *20% GRATUITY APPLIED TO PARTIES 6 OR MORE.*NO SUBSTITUTIONS.