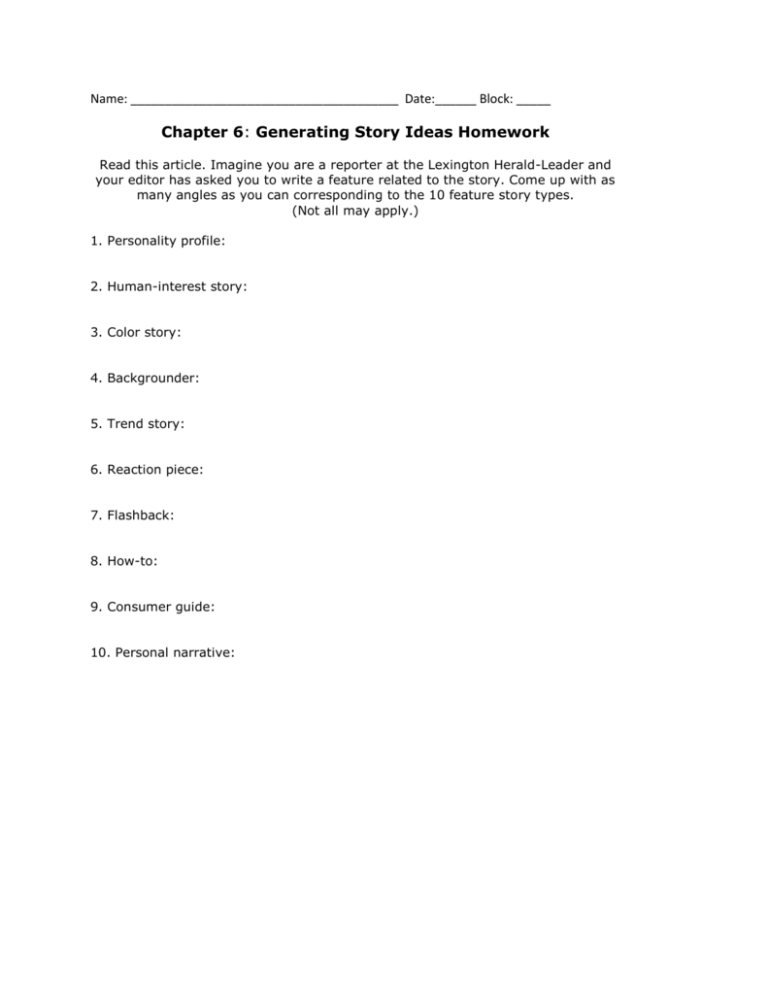 Name: _______________________________________ Date:______ Block: _____
Chapter 6: Generating Story Ideas Homework
Read this article. Imagine you are a reporter at the Lexington Herald-Leader and
your editor has asked you to write a feature related to the story. Come up with as
many angles as you can corresponding to the 10 feature story types.
(Not all may apply.)
1. Personality profile:
2. Human-interest story:
3. Color story:
4. Backgrounder:
5. Trend story:
6. Reaction piece:
7. Flashback:
8. How-to:
9. Consumer guide:
10. Personal narrative:
Murderer caught in Texas 15 years after escape
By Linda J. Johnson
Ralph Robert Annis, an escaped murderer who had eluded Kentucky police since
1990, was arrested yesterday in Corpus Christi, Texas. The arrest came just weeks
after the Herald-Leader began questioning state officials about their failure to close
the case.
Annis, who has been living under the alias Michael Winters, was convicted in 1979
of strangling his girlfriend's 10-month-old baby, Melanie Kaye Gifford, in Cynthiana.
Two months before a scheduled parole hearing, he fled while on a furlough from the
Marion Adjustment Center. At the time he had more than 10 years left on his
sentence.
"Oh God. I am so glad," said Cathy Moore, Melanie's mother. She said she feels a
huge sense of relief that he is back behind bars.
"It's good for Melanie, too," she said. "He did this, and he escaped, and now I feel
like she can rest."
Police had made little or no progress in finding Annis until a former sister-in-law
contacted authorities after she was interviewed recently by the Herald-Leader.
"We owe you one," Detective Sgt. Bobby Sullivan of the state police told a reporter.
"I'm just glad to catch him."
Lt. Eric Wolford, the investigating detective at the state police's Columbia post, said
last night that he was at a loss to explain why they hadn't been able to find Annis.
"I don't know," he said. "We should have been diligently looking for this guy, in my
opinion."
They "probably should have been" using the Internet, and he did some searching in
the last couple of weeks, but that wasn't until after he was contacted by the
newspaper.
Clues on the Web
In a matter of days, the Herald-Leader located a man in Texas using the first five
digits of Annis' Social Security number and the name Michael Winters. Wolford
provided the alias to the paper, which was looking into escaped prisoners in
Kentucky.
The paper used information serv-ices such as Lexis-Nexis and Autotrak, Internet
telephone directories, people-finders and other tools. That particular Michael
Winters had no driver's license and did not own a home or a car, which can be
unusual unless someone is trying to hide their identity. Neighbors at a former
address identified an old prison photo of Annis that the paper sent them.
Wolford, who transferred to the Columbia post last fall, has had the case for only a
few months, and he declined to speculate on how things were handled in the past.
"It's an old case, there's not a lot of hard leads," he said in January. But there was
nothing in the file showing where Annis' family or his wife's family had been
contacted.
"I just think there's been a lack of documentation in the file," he said. "I've seen it
before in some of these older cases."
Disappeared with wife, her son
Annis, 53, was the only Kentucky murderer imprisoned by the state who had never
been caught or otherwise accounted for by officials -- until now.
He escaped from Marion while on a 48-hour furlough with his wife, Jane Reichert
Annis. Before leaving the prison, he closed a small bank account there, and sold a
television for cash while on the furlough. Then he, his wife and her teenage son left
the area for Texas.
He has been in the Corpus Christi area at least 12 years, possibly longer, working in
construction and roofing, something he had done in Cynthiana before the murder.
Jane Reichert Annis died in 2000, but they had not been together since the early
1990s.
The tip that resulted in the Texas arrest came from Judy Mace, Annis' former sisterin-law. She contacted local police in Indiana shortly after she was interviewed by
the Herald-Leader.
She said last night that she contacted police because she hoped it would bring her
mother some peace of mind.
The best information the Kentucky police ever had on Annis came in 1993, when
they received an anonymous tip that he was living in a hotel room in Corpus Christi
and using the alias Michael Winters.
"It was not an ambiguous tip," Wolford said in the January interview. "It was very
specific. 'Ralph Annis is here, is living in Corpus Christi at this address.'"
But when Kentucky officials contacted Corpus Christi police with the information,
they did not find Annis at that address.
They apparently looked no further.
Annis lived at several addresses in Corpus Christi and in nearby Bayside, Texas,
and his last known workplace was in Bayside.
Wolford didn't think Annis would show up after all this time, unless there was a tip
or he was arrested somewhere and fingerprinted.
The officer in Indiana did some searching on his own after Mace gave him the alias
and Annis' Social Security number, which she found about 10 years ago while trying
to find her sister. The Indiana officer then contacted the police in Texas, who called
the Kentucky State Police.
It panned out
About a week ago, the Nueces County Sheriff's Department contacted Detective
Sgt. Bobby Sullivan at the Columbia post of the state police, asking for Annis' file.
He e-mailed it to them and didn't hear anything back. "I kind of figured it didn't pan
out," he said last night.
Yesterday, Corpus Christi officials called Sullivan to tell him Annis had been
arrested.
He had changed one date on his birthday and his Social Security number by two
digits, Sullivan said.
Annis is being held in the Nueces County jail on a charge of escape. He is being
held without bond and was to appear before a magistrate this morning.
If Annis waives extradition, Wolford said, he should be back in Kentucky fairly
quickly. If not, it could take a few weeks.
He faces an additional sentence of one to five years for the escape, in addition to
serving out the remainder of his sentence.