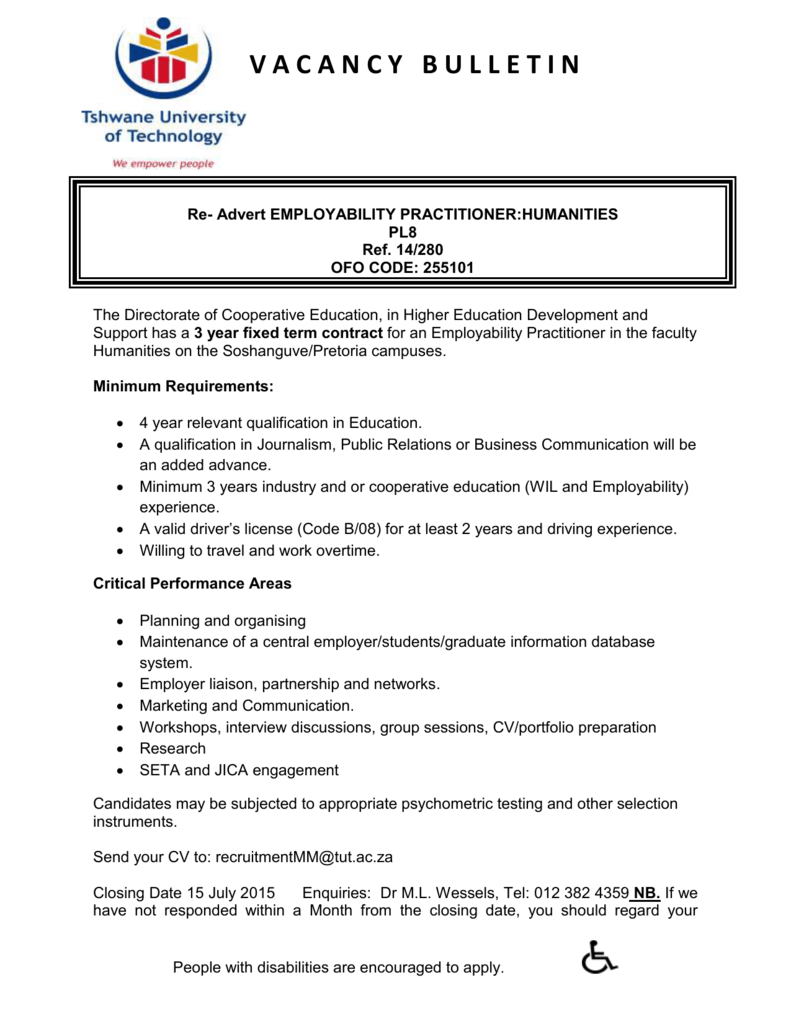 VACANCY BULLETIN
Re- Advert EMPLOYABILITY PRACTITIONER:HUMANITIES
PL8
Ref. 14/280
OFO CODE: 255101
The Directorate of Cooperative Education, in Higher Education Development and
Support has a 3 year fixed term contract for an Employability Practitioner in the faculty
Humanities on the Soshanguve/Pretoria campuses.
Minimum Requirements:





4 year relevant qualification in Education.
A qualification in Journalism, Public Relations or Business Communication will be
an added advance.
Minimum 3 years industry and or cooperative education (WIL and Employability)
experience.
A valid driver's license (Code B/08) for at least 2 years and driving experience.
Willing to travel and work overtime.
Critical Performance Areas







Planning and organising
Maintenance of a central employer/students/graduate information database
system.
Employer liaison, partnership and networks.
Marketing and Communication.
Workshops, interview discussions, group sessions, CV/portfolio preparation
Research
SETA and JICA engagement
Candidates may be subjected to appropriate psychometric testing and other selection
instruments.
Send your CV to: [email protected]
Closing Date 15 July 2015
Enquiries: Dr M.L. Wessels, Tel: 012 382 4359 NB. If we
have not responded within a Month from the closing date, you should regard your
People with disabilities are encouraged to apply.
VACANCY BULLETIN
application as unsuccessful. Correspondence will only be
entered into with short-listed candidates.
The University
reserves the right not to make an appointment. It is the
intention of the University to promote representation in respect of
race, gender and disability through the filling of these posts.
Preference will be given to candidates from the designated groups.
People with disabilities are encouraged to apply.