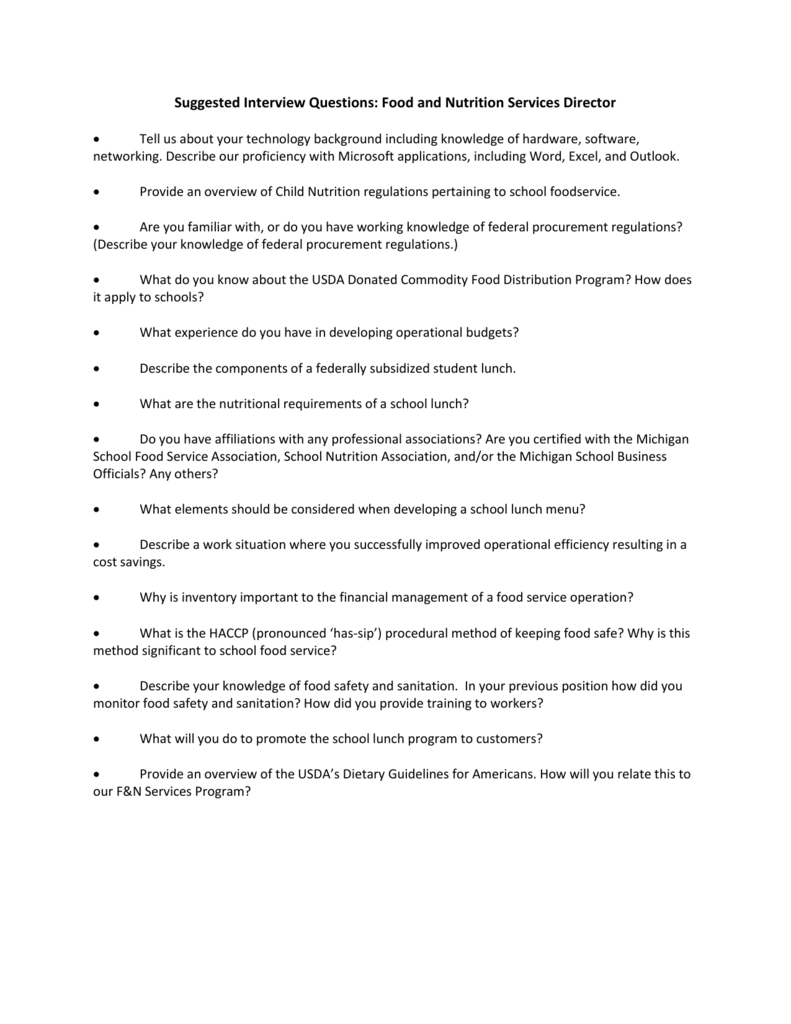 Suggested Interview Questions: Food and Nutrition Services Director

Tell us about your technology background including knowledge of hardware, software,
networking. Describe our proficiency with Microsoft applications, including Word, Excel, and Outlook.

Provide an overview of Child Nutrition regulations pertaining to school foodservice.

Are you familiar with, or do you have working knowledge of federal procurement regulations?
(Describe your knowledge of federal procurement regulations.)

What do you know about the USDA Donated Commodity Food Distribution Program? How does
it apply to schools?

What experience do you have in developing operational budgets?

Describe the components of a federally subsidized student lunch.

What are the nutritional requirements of a school lunch?

Do you have affiliations with any professional associations? Are you certified with the Michigan
School Food Service Association, School Nutrition Association, and/or the Michigan School Business
Officials? Any others?

What elements should be considered when developing a school lunch menu?

Describe a work situation where you successfully improved operational efficiency resulting in a
cost savings.

Why is inventory important to the financial management of a food service operation?

What is the HACCP (pronounced 'has-sip') procedural method of keeping food safe? Why is this
method significant to school food service?

Describe your knowledge of food safety and sanitation. In your previous position how did you
monitor food safety and sanitation? How did you provide training to workers?

What will you do to promote the school lunch program to customers?

Provide an overview of the USDA's Dietary Guidelines for Americans. How will you relate this to
our F&N Services Program?