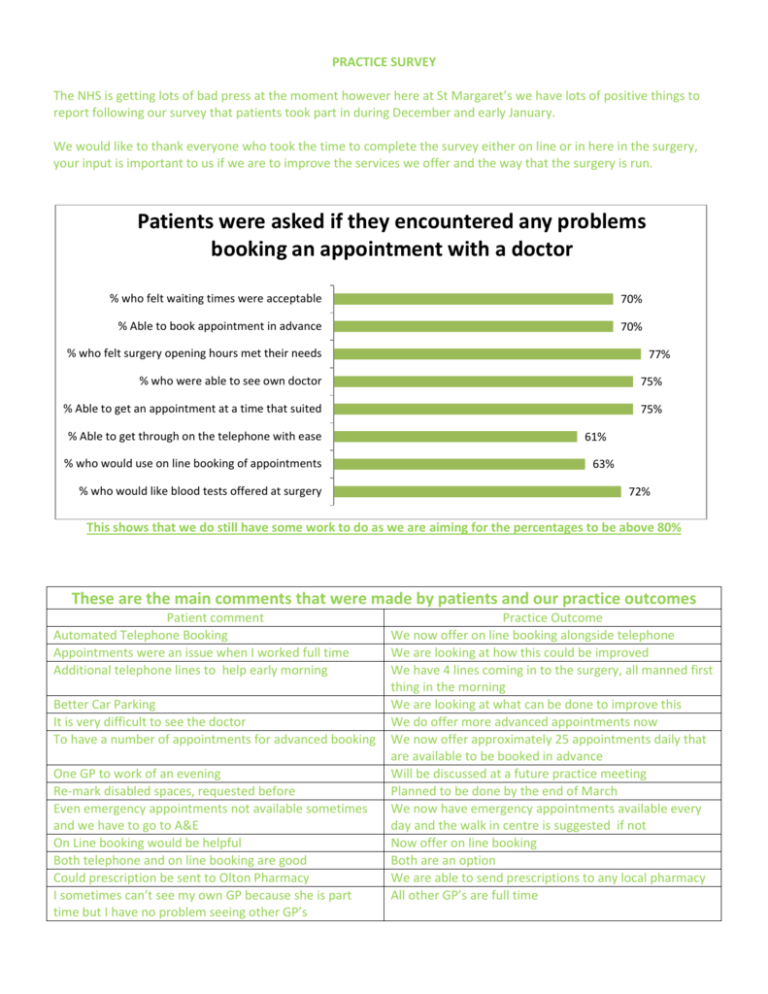 PRACTICE SURVEY
The NHS is getting lots of bad press at the moment however here at St Margaret's we have lots of positive things to
report following our survey that patients took part in during December and early January.
We would like to thank everyone who took the time to complete the survey either on line or in here in the surgery,
your input is important to us if we are to improve the services we offer and the way that the surgery is run.
Patients were asked if they encountered any problems
booking an appointment with a doctor
% who felt waiting times were acceptable
70%
% Able to book appointment in advance
70%
% who felt surgery opening hours met their needs
77%
% who were able to see own doctor
75%
% Able to get an appointment at a time that suited
75%
% Able to get through on the telephone with ease
% who would use on line booking of appointments
% who would like blood tests offered at surgery
61%
63%
72%
This shows that we do still have some work to do as we are aiming for the percentages to be above 80%
These are the main comments that were made by patients and our practice outcomes
Patient comment
Automated Telephone Booking
Appointments were an issue when I worked full time
Additional telephone lines to help early morning
Better Car Parking
It is very difficult to see the doctor
To have a number of appointments for advanced booking
One GP to work of an evening
Re-mark disabled spaces, requested before
Even emergency appointments not available sometimes
and we have to go to A&E
On Line booking would be helpful
Both telephone and on line booking are good
Could prescription be sent to Olton Pharmacy
I sometimes can't see my own GP because she is part
time but I have no problem seeing other GP's
Practice Outcome
We now offer on line booking alongside telephone
We are looking at how this could be improved
We have 4 lines coming in to the surgery, all manned first
thing in the morning
We are looking at what can be done to improve this
We do offer more advanced appointments now
We now offer approximately 25 appointments daily that
are available to be booked in advance
Will be discussed at a future practice meeting
Planned to be done by the end of March
We now have emergency appointments available every
day and the walk in centre is suggested if not
Now offer on line booking
Both are an option
We are able to send prescriptions to any local pharmacy
All other GP's are full time
HERE IS A SELECTION OF POSITIVE COMMENTS THAT WE HAD ABOUT THE PRACTICE:
Does not need improvement I have
been a patient for 7 years and have
always felt respected
No suggestion for
improvement
I am very happy with the
efficiency and the way I am
dealt with
The service has improved over
the last few months
You do marvellous!
OK as it is
Telephone appointments are
helpful
Doing fine as it
is thank you
Receptionists, nurses and doctors
at practice are very kind and
helpful
These results are available in full at the practice and will also be available to view on line
very shortly.