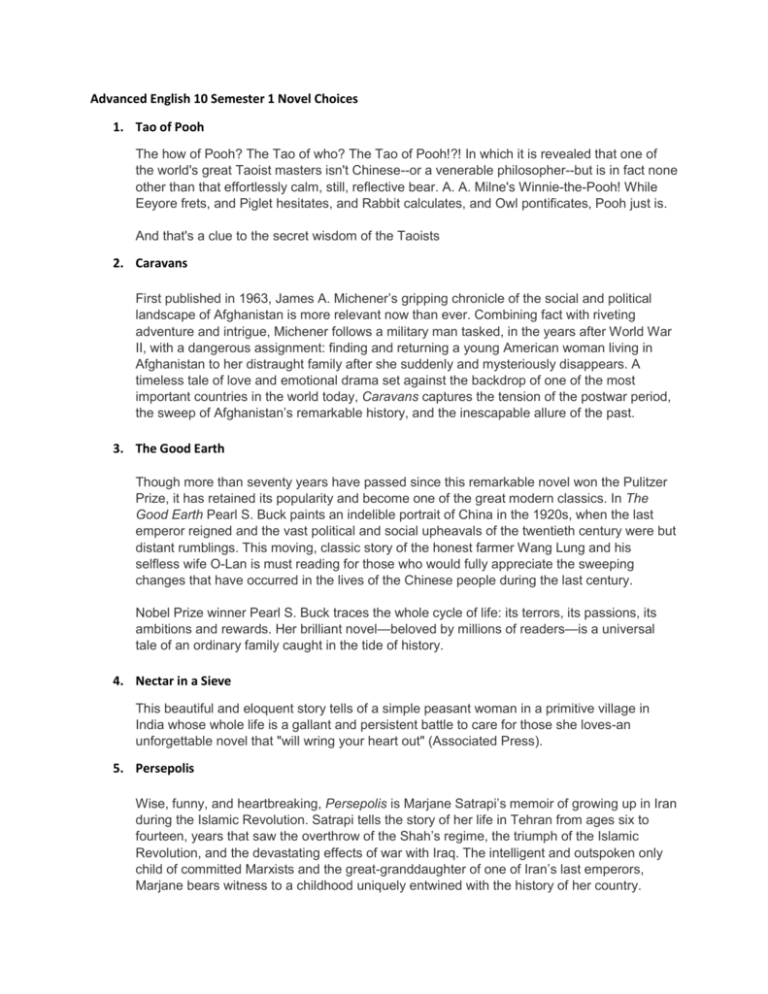 Advanced English 10 Semester 1 Novel Choices
1. Tao of Pooh
The how of Pooh? The Tao of who? The Tao of Pooh!?! In which it is revealed that one of
the world's great Taoist masters isn't Chinese--or a venerable philosopher--but is in fact none
other than that effortlessly calm, still, reflective bear. A. A. Milne's Winnie-the-Pooh! While
Eeyore frets, and Piglet hesitates, and Rabbit calculates, and Owl pontificates, Pooh just is.
And that's a clue to the secret wisdom of the Taoists
2. Caravans
First published in 1963, James A. Michener's gripping chronicle of the social and political
landscape of Afghanistan is more relevant now than ever. Combining fact with riveting
adventure and intrigue, Michener follows a military man tasked, in the years after World War
II, with a dangerous assignment: finding and returning a young American woman living in
Afghanistan to her distraught family after she suddenly and mysteriously disappears. A
timeless tale of love and emotional drama set against the backdrop of one of the most
important countries in the world today, Caravans captures the tension of the postwar period,
the sweep of Afghanistan's remarkable history, and the inescapable allure of the past.
3. The Good Earth
Though more than seventy years have passed since this remarkable novel won the Pulitzer
Prize, it has retained its popularity and become one of the great modern classics. In The
Good Earth Pearl S. Buck paints an indelible portrait of China in the 1920s, when the last
emperor reigned and the vast political and social upheavals of the twentieth century were but
distant rumblings. This moving, classic story of the honest farmer Wang Lung and his
selfless wife O-Lan is must reading for those who would fully appreciate the sweeping
changes that have occurred in the lives of the Chinese people during the last century.
Nobel Prize winner Pearl S. Buck traces the whole cycle of life: its terrors, its passions, its
ambitions and rewards. Her brilliant novel—beloved by millions of readers—is a universal
tale of an ordinary family caught in the tide of history.
4. Nectar in a Sieve
This beautiful and eloquent story tells of a simple peasant woman in a primitive village in
India whose whole life is a gallant and persistent battle to care for those she loves-an
unforgettable novel that "will wring your heart out" (Associated Press).
5. Persepolis
Wise, funny, and heartbreaking, Persepolis is Marjane Satrapi's memoir of growing up in Iran
during the Islamic Revolution. Satrapi tells the story of her life in Tehran from ages six to
fourteen, years that saw the overthrow of the Shah's regime, the triumph of the Islamic
Revolution, and the devastating effects of war with Iraq. The intelligent and outspoken only
child of committed Marxists and the great-granddaughter of one of Iran's last emperors,
Marjane bears witness to a childhood uniquely entwined with the history of her country.
Persepolis paints an unforgettable portrait of daily life in Iran and of the bewildering
contradictions between home life and public life. Marjane's child's-eye view of dethroned
emperors, state-sanctioned whippings, and heroes of the revolution allows us to learn as she
does the history of this fascinating country and of her own extraordinary family. Intensely
personal, profoundly political, and wholly original, Persepolis is at once a story of growing up
and a reminder of the human cost of war and political repression. It shows how we carry on,
with laughter and tears, in the face of absurdity. And, finally, it introduces us to an irresistible
little girl with whom we cannot help but fall in love.
6. House on Mango Street
Acclaimed by critics, beloved by readers of all ages, taught everywhere from inner-city grade
schools to universities across the country, and translated all over the world, The House on
Mango Street is the remarkable story of Esperanza Cordero.
Told in a series of vignettes – sometimes heartbreaking, sometimes deeply joyous – it is the
story of a young Latina girl growing up in Chicago, inventing for herself who and what she
will become. Few other books in our time have touched so many readers.