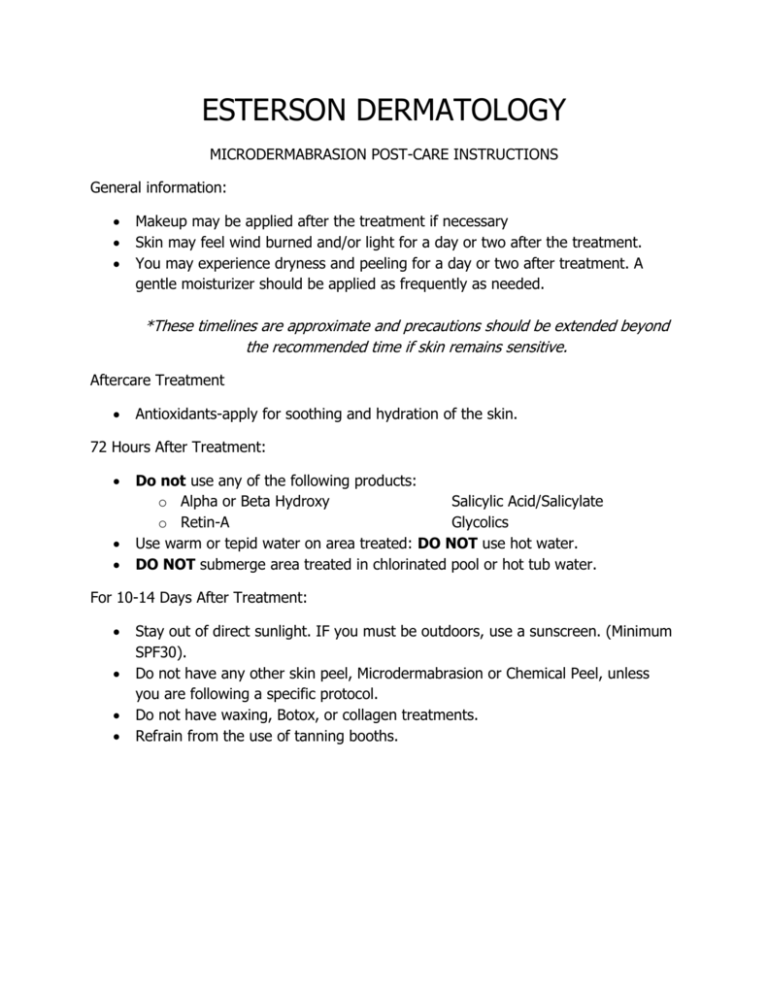 ESTERSON DERMATOLOGY
MICRODERMABRASION POST-CARE INSTRUCTIONS
General information:



Makeup may be applied after the treatment if necessary
Skin may feel wind burned and/or light for a day or two after the treatment.
You may experience dryness and peeling for a day or two after treatment. A
gentle moisturizer should be applied as frequently as needed.
*These timelines are approximate and precautions should be extended beyond
the recommended time if skin remains sensitive.
Aftercare Treatment

Antioxidants-apply for soothing and hydration of the skin.
72 Hours After Treatment:



Do not use any of the following products:
o Alpha or Beta Hydroxy
Salicylic Acid/Salicylate
o Retin-A
Glycolics
Use warm or tepid water on area treated: DO NOT use hot water.
DO NOT submerge area treated in chlorinated pool or hot tub water.
For 10-14 Days After Treatment:




Stay out of direct sunlight. IF you must be outdoors, use a sunscreen. (Minimum
SPF30).
Do not have any other skin peel, Microdermabrasion or Chemical Peel, unless
you are following a specific protocol.
Do not have waxing, Botox, or collagen treatments.
Refrain from the use of tanning booths.