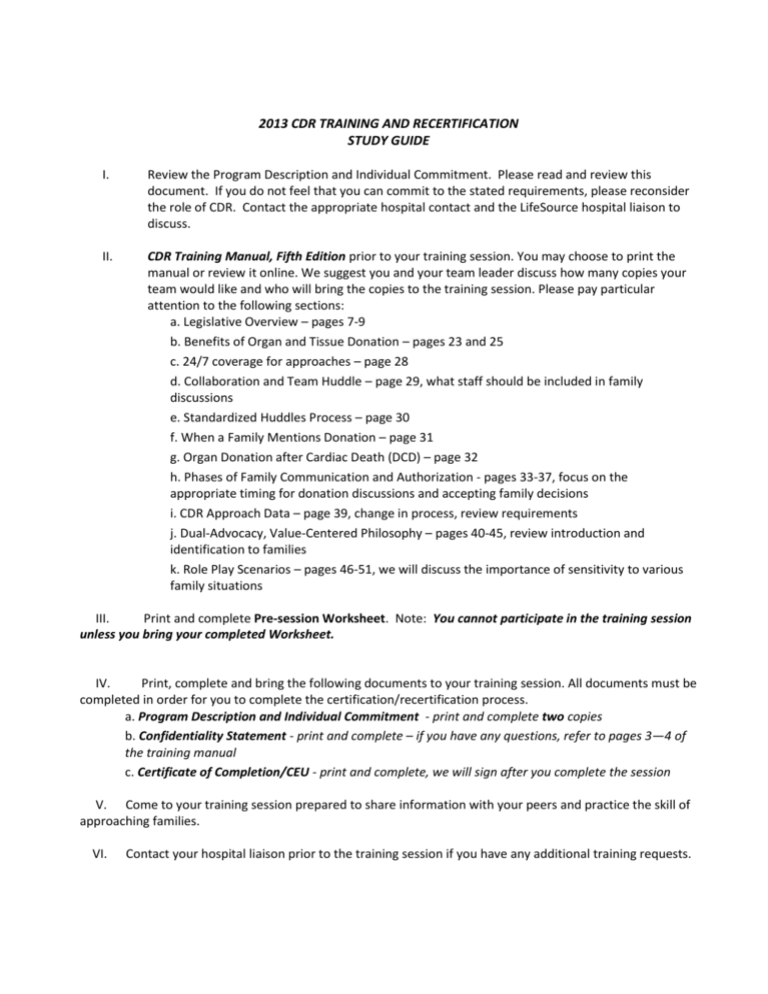 2013 CDR TRAINING AND RECERTIFICATION
STUDY GUIDE
I.
Review the Program Description and Individual Commitment. Please read and review this
document. If you do not feel that you can commit to the stated requirements, please reconsider
the role of CDR. Contact the appropriate hospital contact and the LifeSource hospital liaison to
discuss.
II.
CDR Training Manual, Fifth Edition prior to your training session. You may choose to print the
manual or review it online. We suggest you and your team leader discuss how many copies your
team would like and who will bring the copies to the training session. Please pay particular
attention to the following sections:
a. Legislative Overview – pages 7-9
b. Benefits of Organ and Tissue Donation – pages 23 and 25
c. 24/7 coverage for approaches – page 28
d. Collaboration and Team Huddle – page 29, what staff should be included in family
discussions
e. Standardized Huddles Process – page 30
f. When a Family Mentions Donation – page 31
g. Organ Donation after Cardiac Death (DCD) – page 32
h. Phases of Family Communication and Authorization - pages 33-37, focus on the
appropriate timing for donation discussions and accepting family decisions
i. CDR Approach Data – page 39, change in process, review requirements
j. Dual-Advocacy, Value-Centered Philosophy – pages 40-45, review introduction and
identification to families
k. Role Play Scenarios – pages 46-51, we will discuss the importance of sensitivity to various
family situations
III.
Print and complete Pre-session Worksheet. Note: You cannot participate in the training session
unless you bring your completed Worksheet.
IV.
Print, complete and bring the following documents to your training session. All documents must be
completed in order for you to complete the certification/recertification process.
a. Program Description and Individual Commitment - print and complete two copies
b. Confidentiality Statement - print and complete – if you have any questions, refer to pages 3—4 of
the training manual
c. Certificate of Completion/CEU - print and complete, we will sign after you complete the session
V. Come to your training session prepared to share information with your peers and practice the skill of
approaching families.
VI.
Contact your hospital liaison prior to the training session if you have any additional training requests.