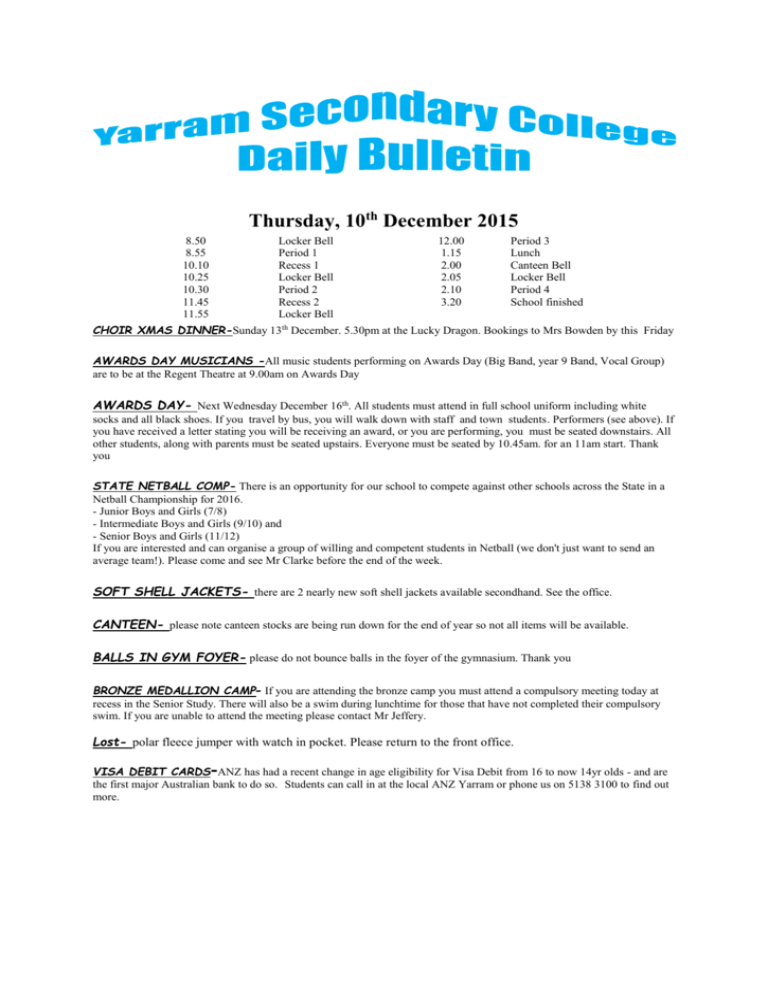 Thursday, 10th December 2015
8.50
8.55
10.10
10.25
10.30
11.45
11.55
Locker Bell
Period 1
Recess 1
Locker Bell
Period 2
Recess 2
Locker Bell
12.00
1.15
2.00
2.05
2.10
3.20
Period 3
Lunch
Canteen Bell
Locker Bell
Period 4
School finished
CHOIR XMAS DINNER-Sunday 13th December. 5.30pm at the Lucky Dragon. Bookings to Mrs Bowden by this Friday
AWARDS DAY MUSICIANS -All music students performing on Awards Day (Big Band, year 9 Band, Vocal Group)
are to be at the Regent Theatre at 9.00am on Awards Day
AWARDS DAY- Next Wednesday December 16th. All students must attend in full school uniform including white
socks and all black shoes. If you travel by bus, you will walk down with staff and town students. Performers (see above). If
you have received a letter stating you will be receiving an award, or you are performing, you must be seated downstairs. All
other students, along with parents must be seated upstairs. Everyone must be seated by 10.45am. for an 11am start. Thank
you
STATE NETBALL COMP- There is an opportunity for our school to compete against other schools across the State in a
Netball Championship for 2016.
- Junior Boys and Girls (7/8)
- Intermediate Boys and Girls (9/10) and
- Senior Boys and Girls (11/12)
If you are interested and can organise a group of willing and competent students in Netball (we don't just want to send an
average team!). Please come and see Mr Clarke before the end of the week.
SOFT SHELL JACKETS- there are 2 nearly new soft shell jackets available secondhand. See the office.
CANTEEN- please note canteen stocks are being run down for the end of year so not all items will be available.
BALLS IN GYM FOYER- please do not bounce balls in the foyer of the gymnasium. Thank you
BRONZE MEDALLION CAMP- If you are attending the bronze camp you must attend a compulsory meeting today at
recess in the Senior Study. There will also be a swim during lunchtime for those that have not completed their compulsory
swim. If you are unable to attend the meeting please contact Mr Jeffery.
Lost- polar fleece jumper with watch in pocket. Please return to the front office.
VISA DEBIT CARDS-ANZ has had a recent change in age eligibility for Visa Debit from 16 to now 14yr olds - and are
the first major Australian bank to do so. Students can call in at the local ANZ Yarram or phone us on 5138 3100 to find out
more.