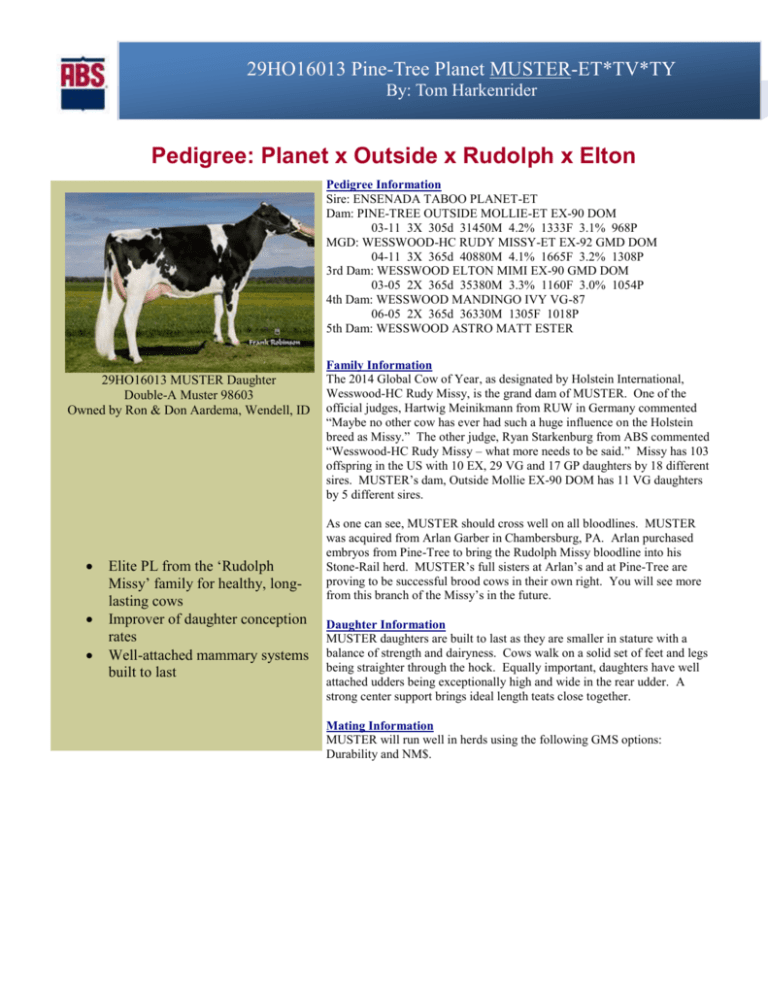 29HO16013 Pine-Tree Planet MUSTER-ET*TV*TY
By: Tom Harkenrider
Pedigree: Planet x Outside x Rudolph x Elton
Pedigree Information
Sire: ENSENADA TABOO PLANET-ET
Dam: PINE-TREE OUTSIDE MOLLIE-ET EX-90 DOM
03-11 3X 305d 31450M 4.2% 1333F 3.1% 968P
MGD: WESSWOOD-HC RUDY MISSY-ET EX-92 GMD DOM
04-11 3X 365d 40880M 4.1% 1665F 3.2% 1308P
3rd Dam: WESSWOOD ELTON MIMI EX-90 GMD DOM
03-05 2X 365d 35380M 3.3% 1160F 3.0% 1054P
4th Dam: WESSWOOD MANDINGO IVY VG-87
06-05 2X 365d 36330M 1305F 1018P
5th Dam: WESSWOOD ASTRO MATT ESTER
29HO16013 MUSTER Daughter
Double-A Muster 98603
Owned by Ron & Don Aardema, Wendell, ID



Elite PL from the 'Rudolph
Missy' family for healthy, longlasting cows
Improver of daughter conception
rates
Well-attached mammary systems
built to last
Family Information
The 2014 Global Cow of Year, as designated by Holstein International,
Wesswood-HC Rudy Missy, is the grand dam of MUSTER. One of the
official judges, Hartwig Meinikmann from RUW in Germany commented
"Maybe no other cow has ever had such a huge influence on the Holstein
breed as Missy." The other judge, Ryan Starkenburg from ABS commented
"Wesswood-HC Rudy Missy – what more needs to be said." Missy has 103
offspring in the US with 10 EX, 29 VG and 17 GP daughters by 18 different
sires. MUSTER's dam, Outside Mollie EX-90 DOM has 11 VG daughters
by 5 different sires.
As one can see, MUSTER should cross well on all bloodlines. MUSTER
was acquired from Arlan Garber in Chambersburg, PA. Arlan purchased
embryos from Pine-Tree to bring the Rudolph Missy bloodline into his
Stone-Rail herd. MUSTER's full sisters at Arlan's and at Pine-Tree are
proving to be successful brood cows in their own right. You will see more
from this branch of the Missy's in the future.
Daughter Information
MUSTER daughters are built to last as they are smaller in stature with a
balance of strength and dairyness. Cows walk on a solid set of feet and legs
being straighter through the hock. Equally important, daughters have well
attached udders being exceptionally high and wide in the rear udder. A
strong center support brings ideal length teats close together.
Mating Information
MUSTER will run well in herds using the following GMS options:
Durability and NM$.