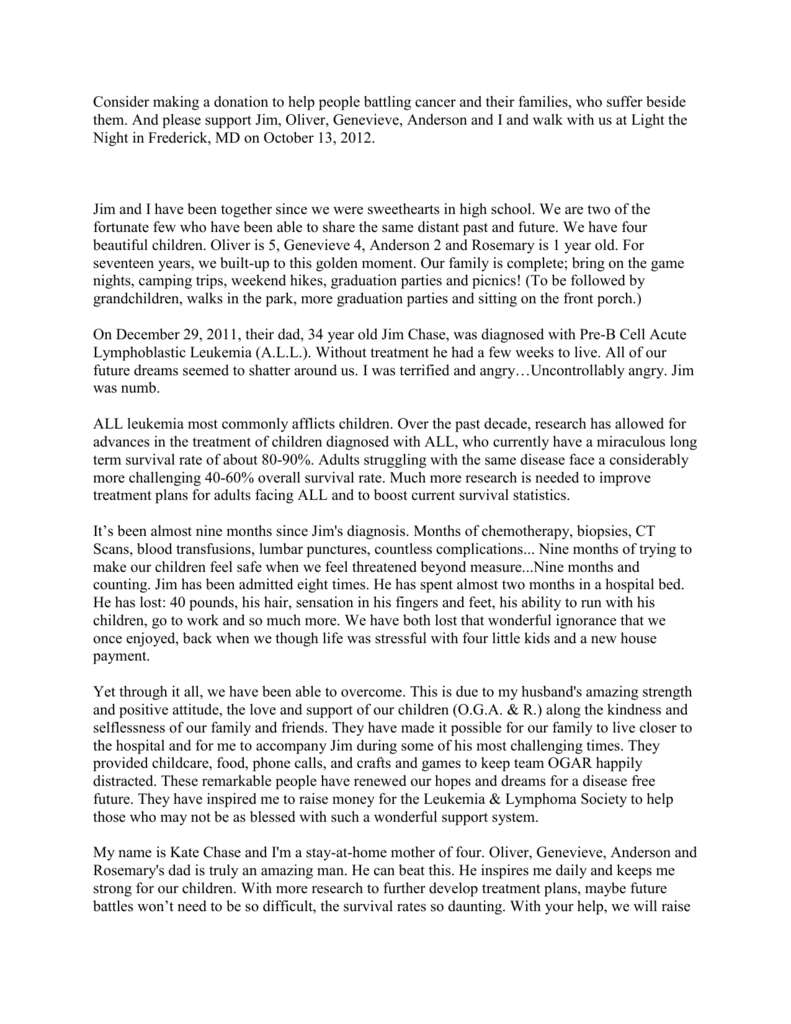 Consider making a donation to help people battling cancer and their families, who suffer beside
them. And please support Jim, Oliver, Genevieve, Anderson and I and walk with us at Light the
Night in Frederick, MD on October 13, 2012.
Jim and I have been together since we were sweethearts in high school. We are two of the
fortunate few who have been able to share the same distant past and future. We have four
beautiful children. Oliver is 5, Genevieve 4, Anderson 2 and Rosemary is 1 year old. For
seventeen years, we built-up to this golden moment. Our family is complete; bring on the game
nights, camping trips, weekend hikes, graduation parties and picnics! (To be followed by
grandchildren, walks in the park, more graduation parties and sitting on the front porch.)
On December 29, 2011, their dad, 34 year old Jim Chase, was diagnosed with Pre-B Cell Acute
Lymphoblastic Leukemia (A.L.L.). Without treatment he had a few weeks to live. All of our
future dreams seemed to shatter around us. I was terrified and angry…Uncontrollably angry. Jim
was numb.
ALL leukemia most commonly afflicts children. Over the past decade, research has allowed for
advances in the treatment of children diagnosed with ALL, who currently have a miraculous long
term survival rate of about 80-90%. Adults struggling with the same disease face a considerably
more challenging 40-60% overall survival rate. Much more research is needed to improve
treatment plans for adults facing ALL and to boost current survival statistics.
It's been almost nine months since Jim's diagnosis. Months of chemotherapy, biopsies, CT
Scans, blood transfusions, lumbar punctures, countless complications... Nine months of trying to
make our children feel safe when we feel threatened beyond measure...Nine months and
counting. Jim has been admitted eight times. He has spent almost two months in a hospital bed.
He has lost: 40 pounds, his hair, sensation in his fingers and feet, his ability to run with his
children, go to work and so much more. We have both lost that wonderful ignorance that we
once enjoyed, back when we though life was stressful with four little kids and a new house
payment.
Yet through it all, we have been able to overcome. This is due to my husband's amazing strength
and positive attitude, the love and support of our children (O.G.A. & R.) along the kindness and
selflessness of our family and friends. They have made it possible for our family to live closer to
the hospital and for me to accompany Jim during some of his most challenging times. They
provided childcare, food, phone calls, and crafts and games to keep team OGAR happily
distracted. These remarkable people have renewed our hopes and dreams for a disease free
future. They have inspired me to raise money for the Leukemia & Lymphoma Society to help
those who may not be as blessed with such a wonderful support system.
My name is Kate Chase and I'm a stay-at-home mother of four. Oliver, Genevieve, Anderson and
Rosemary's dad is truly an amazing man. He can beat this. He inspires me daily and keeps me
strong for our children. With more research to further develop treatment plans, maybe future
battles won't need to be so difficult, the survival rates so daunting. With your help, we will raise
money and awareness for people fighting Acute Lymphoblastic Leukemia, as well as other
cancers. Please consider making a donation to help us and to help others battling ALL. Support
Team OGAR and walk with us at Light the Night in Frederick, MD on October 13, 2012.
Light The Night Walk is The Leukemia & Lymphoma Society's annual fundraising walk to pay
tribute and bring hope to people battling cancer. Hundreds of thousands of participants raise
funds for lifesaving research and patient services.
For more than 60 years, The Leukemia & Lymphoma Society (LLS) has been solely focused on
people with blood cancers. Presently, we have more than $250 million committed to research
across the United States and in ten other countries. Every dollar is provided by concerned
donors. We invest in the best, outcome based science:



Anywhere, with no geographic or institutional boundaries
Without profit incentive
To meet unmet Medicare needs of people with blood cancers
And LLS funded advances are helping patients beyond those for whom they were originally
developed, including people with solid tumors and auto-immune diseases. In the past decade,
nearly 50% (19 out of 39) of the cancer drugs approved by the FDA were approved as treatments
for blood cancer patients. Twelve are already approved for people beyond those for whom they
were first developed. With your help, we are saving lives.




A donation of $30 provides patients and their loved ones with FREE booklets that contain
up-to-date information on their disease and help them make informed decisions about
their treatment options.
A donation of $50 makes possible a Family Support group with a trained facilitator where
comfort can be found and experiences can be shared among patients and family members.
A donation of $100 helps supply laboratory researchers with supplies and materials
critical to carrying out their search for cures.
A donation of $1,000 makes possible one- on-one conversations with health care
specialists who provide patients with information about their disease, treatment options,
and helps prepare them with questions for their health care team.
Please join our team's effort today by registering to walk or by making a donation. Your
participation in the Light The Night Walk will help save lives. Be sure to check our team Web
site frequently to see our progress, and thanks for your support!