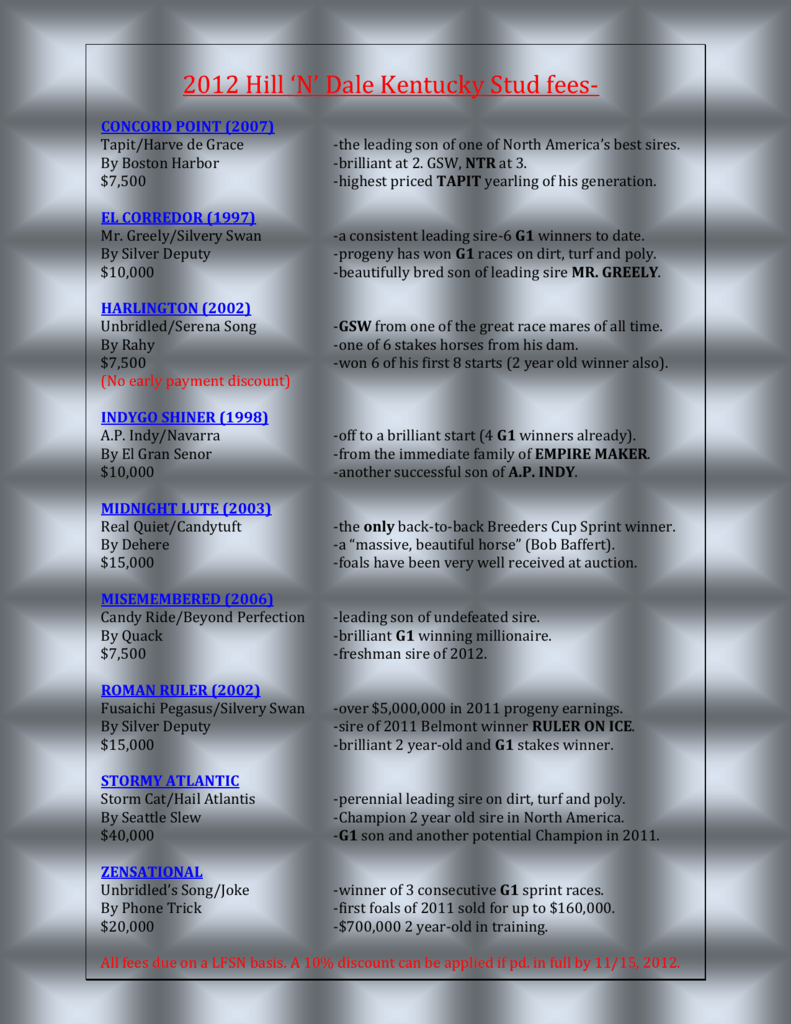 2012 Hill 'N' Dale Kentucky Stud feesCONCORD POINT (2007)
Tapit/Harve de Grace
By Boston Harbor
$7,500
-the leading son of one of North America's best sires.
-brilliant at 2. GSW, NTR at 3.
-highest priced TAPIT yearling of his generation.
EL CORREDOR (1997)
Mr. Greely/Silvery Swan
By Silver Deputy
$10,000
-a consistent leading sire-6 G1 winners to date.
-progeny has won G1 races on dirt, turf and poly.
-beautifully bred son of leading sire MR. GREELY.
HARLINGTON (2002)
Unbridled/Serena Song
By Rahy
$7,500
(No early payment discount)
-GSW from one of the great race mares of all time.
-one of 6 stakes horses from his dam.
-won 6 of his first 8 starts (2 year old winner also).
INDYGO SHINER (1998)
A.P. Indy/Navarra
By El Gran Senor
$10,000
-off to a brilliant start (4 G1 winners already).
-from the immediate family of EMPIRE MAKER.
-another successful son of A.P. INDY.
MIDNIGHT LUTE (2003)
Real Quiet/Candytuft
By Dehere
$15,000
-the only back-to-back Breeders Cup Sprint winner.
-a "massive, beautiful horse" (Bob Baffert).
-foals have been very well received at auction.
MISEMEMBERED (2006)
Candy Ride/Beyond Perfection
By Quack
$7,500
-leading son of undefeated sire.
-brilliant G1 winning millionaire.
-freshman sire of 2012.
ROMAN RULER (2002)
Fusaichi Pegasus/Silvery Swan
By Silver Deputy
$15,000
-over $5,000,000 in 2011 progeny earnings.
-sire of 2011 Belmont winner RULER ON ICE.
-brilliant 2 year-old and G1 stakes winner.
STORMY ATLANTIC
Storm Cat/Hail Atlantis
By Seattle Slew
$40,000
-perennial leading sire on dirt, turf and poly.
-Champion 2 year old sire in North America.
-G1 son and another potential Champion in 2011.
ZENSATIONAL
Unbridled's Song/Joke
By Phone Trick
$20,000
-winner of 3 consecutive G1 sprint races.
-first foals of 2011 sold for up to $160,000.
-$700,000 2 year-old in training.
All fees due on a LFSN basis. A 10% discount can be applied if pd. in full by 11/15, 2012.