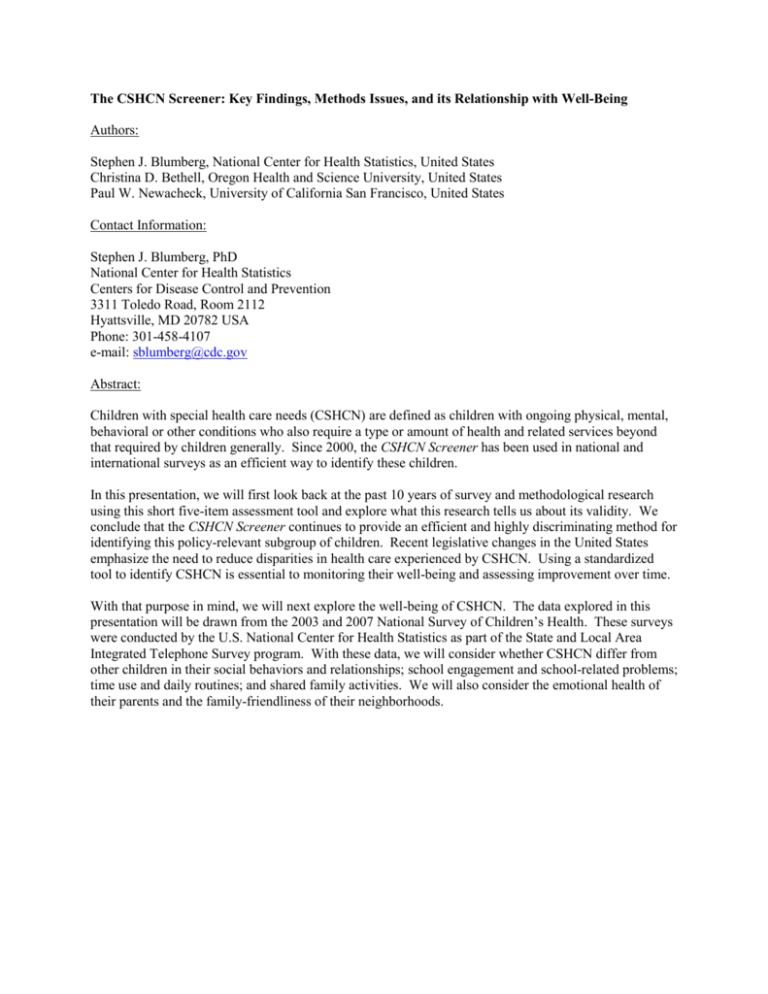 The CSHCN Screener: Key Findings, Methods Issues, and its Relationship with Well-Being
Authors:
Stephen J. Blumberg, National Center for Health Statistics, United States
Christina D. Bethell, Oregon Health and Science University, United States
Paul W. Newacheck, University of California San Francisco, United States
Contact Information:
Stephen J. Blumberg, PhD
National Center for Health Statistics
Centers for Disease Control and Prevention
3311 Toledo Road, Room 2112
Hyattsville, MD 20782 USA
Phone: 301-458-4107
e-mail: sblumberg@cdc.gov
Abstract:
Children with special health care needs (CSHCN) are defined as children with ongoing physical, mental,
behavioral or other conditions who also require a type or amount of health and related services beyond
that required by children generally. Since 2000, the CSHCN Screener has been used in national and
international surveys as an efficient way to identify these children.
In this presentation, we will first look back at the past 10 years of survey and methodological research
using this short five-item assessment tool and explore what this research tells us about its validity. We
conclude that the CSHCN Screener continues to provide an efficient and highly discriminating method for
identifying this policy-relevant subgroup of children. Recent legislative changes in the United States
emphasize the need to reduce disparities in health care experienced by CSHCN. Using a standardized
tool to identify CSHCN is essential to monitoring their well-being and assessing improvement over time.
With that purpose in mind, we will next explore the well-being of CSHCN. The data explored in this
presentation will be drawn from the 2003 and 2007 National Survey of Children's Health. These surveys
were conducted by the U.S. National Center for Health Statistics as part of the State and Local Area
Integrated Telephone Survey program. With these data, we will consider whether CSHCN differ from
other children in their social behaviors and relationships; school engagement and school-related problems;
time use and daily routines; and shared family activities. We will also consider the emotional health of
their parents and the family-friendliness of their neighborhoods.