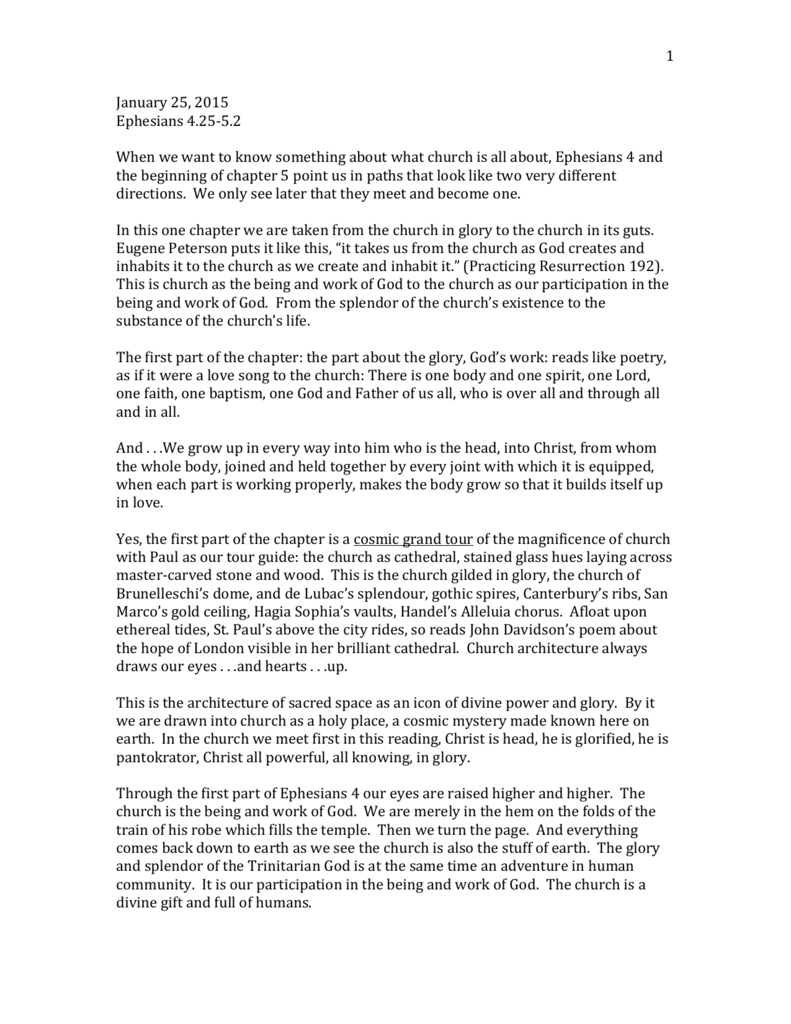 1
January 25, 2015
Ephesians 4.25-5.2
When we want to know something about what church is all about, Ephesians 4 and
the beginning of chapter 5 point us in paths that look like two very different
directions. We only see later that they meet and become one.
In this one chapter we are taken from the church in glory to the church in its guts.
Eugene Peterson puts it like this, "it takes us from the church as God creates and
inhabits it to the church as we create and inhabit it." (Practicing Resurrection 192).
This is church as the being and work of God to the church as our participation in the
being and work of God. From the splendor of the church's existence to the
substance of the church's life.
The first part of the chapter: the part about the glory, God's work: reads like poetry,
as if it were a love song to the church: There is one body and one spirit, one Lord,
one faith, one baptism, one God and Father of us all, who is over all and through all
and in all.
And . . .We grow up in every way into him who is the head, into Christ, from whom
the whole body, joined and held together by every joint with which it is equipped,
when each part is working properly, makes the body grow so that it builds itself up
in love.
Yes, the first part of the chapter is a cosmic grand tour of the magnificence of church
with Paul as our tour guide: the church as cathedral, stained glass hues laying across
master-carved stone and wood. This is the church gilded in glory, the church of
Brunelleschi's dome, and de Lubac's splendour, gothic spires, Canterbury's ribs, San
Marco's gold ceiling, Hagia Sophia's vaults, Handel's Alleluia chorus. Afloat upon
ethereal tides, St. Paul's above the city rides, so reads John Davidson's poem about
the hope of London visible in her brilliant cathedral. Church architecture always
draws our eyes . . .and hearts . . .up.
This is the architecture of sacred space as an icon of divine power and glory. By it
we are drawn into church as a holy place, a cosmic mystery made known here on
earth. In the church we meet first in this reading, Christ is head, he is glorified, he is
pantokrator, Christ all powerful, all knowing, in glory.
Through the first part of Ephesians 4 our eyes are raised higher and higher. The
church is the being and work of God. We are merely in the hem on the folds of the
train of his robe which fills the temple. Then we turn the page. And everything
comes back down to earth as we see the church is also the stuff of earth. The glory
and splendor of the Trinitarian God is at the same time an adventure in human
community. It is our participation in the being and work of God. The church is a
divine gift and full of humans.
2
Everything we know about Christianity follows these same contours. Why are we
surprised each time?
You are holy, now live in holiness.
You are beloved, now live as beloved.
You are forgiven and cleansed, now live in the newness of life
You are the body of Christ, now live as Christ
What is most true about us is declared, done, given and finished. Only then we
realize we are just getting started living into what is most true about us.
Just as no church building is perfectly perfect, neither is any church congregation
perfect. You know it's been said that if you find the perfect church and join it or
become its pastor it's not perfect anymore. There's a lot of wisdom in that.
So we stand there, our little tour group lost in contemplation of the wonders of the
holy one in the architecture of the holy church, until we come to consciousness. Our
intrepid tour guide . . .Paul, reads his name tag, is snapping his fingers, snapping his
fingers at us as if he's impatient with our appreciation of the very beauties he
pointed us toward. All eyes here, he beckons us. Look at me. Don't just look at me. .
. look at one another. He smiles knowingly, as if he's gone through this before with
other little groups just like ours: if you want to see church, don't just look up there.
If you want to see church, look in the eyes, better look in the hearts of the people
sitting around you. If you want to see true beauty . . .the image of God, look there. If
you want to see church, there it is. We look around at one another, and it's like we
see each other for the first time, and suddenly, in the blink of an eye, we aren't under
the magnificent rotunda anymore with heavenly choirs jamming. We are crammed
in a one room house on the edge of town, where everyone is speaking in quiet
voices. We're in Ephesus or Philippi or Beijing or Baghdad or some distant Waco.
Here the once and future church is not in the center square, ruling the skyline, it is
huddled; it's where conviction meets courage and faith involves faithfulness. And
church is absolutely and completely you and the people you're in it with neck deep.
From the glory of church to the guts of the thing. In the second half of the chapter we
see how church is made church. It's a little like making sausage. Sausage is tasty,
but you don't want to see how it's made. Here's how church is made: not with brick
and mortar but with flesh and blood, tears and joys, your life and your neighbors.
Falsehood is overcome with truth
Unrestrained anger overcome with timely reconciliation
Stealing others property is replaced with generous sharing of ones own
Animosity is softened by tenderhearted kindness and forgiveness.
The path that lies ahead for the church in the 21st century is probably less about
soaring cathedral spires and more about communities of people whose common life
together is marked by the simple things: daily prayer, sharing meals, spiritual
3
disciplines, worship together, and love of neighbor: the very practices that bring
about truthtelling, reconciliation, generosity, and forgiveness. It will be a
community of pilgrims grounded in the Tradition with a passion to know God in
reverent belief and humility before the transcendent mystery of God with us. And
that's wonderful but kind of exhausting to carry.
Our tour guide to church, Paul, pauses and looks our little group over again. He
pauses from the lost list of really serious stuff—truthtelling, reconciliation, generous
sharing, forgiveness. He pauses . . .we needed him to pause, it is almost too much to
take in at once. He pauses and says . . . well, it's all a little hard to remember exactly
what he said. We just remember how it felt more than the actual words, he said
something like:
Cheer up. I've never been more excited for church than I am right now. You're
getting simpler again and that's good. You'll grope around for the right language.
Authentic? Intentional? New Monastic? Those words will have their place; they'll
be teachers for you for a while. You'll hear my voice in them; you'll see Christ in
them for sure. Beloved children of God, listen. Don't be overwhelmed by the
failures of your yesterdays and don't just ride your successes either.
I've told you before in many of my letters to imitate me: you hadn't seen many other
Christians and I wanted to be a model for you for how to be one. But now I say this
to you. You're ready to hear it. Be imitators of God. You're part of the family of God
now, imitate God. If that sounds too lofty, it comes down to this. Walk in love as
Christ loved us and gave his life for us as a sacrifice and offering.
Walk in love. Do that everyday, and you're going to be on the right track. Some
people say in life do the thing you do the very best. This is the thing the church can
do the very best: walk in love. . in God's love . . .in love for self and neighbor and
stranger and enemy. That last one is going to take some work, but walk that way.
Walk in love—make it your prayer; Walk in love in all you do and say until you
become who God has already made you to be: beloved children of God who are
known by their love. The way ahead may be unknown: the path ahead is love. It is
the guts and the glory of the church of Jesus Christ.