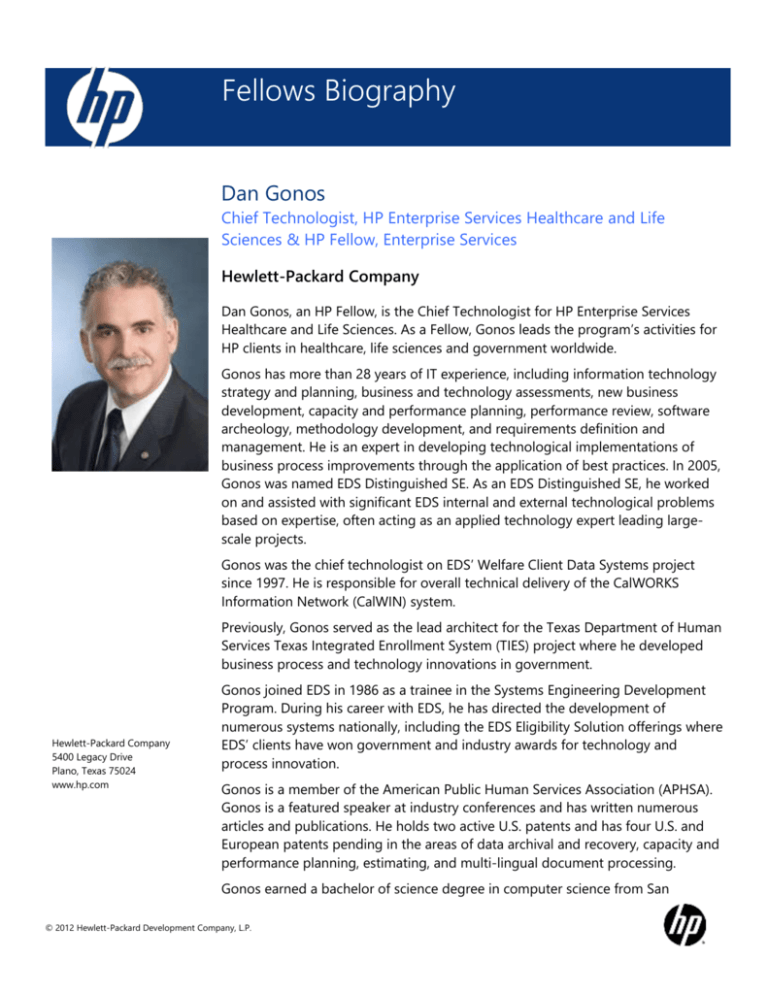 Fellows Biography
Dan Gonos
Chief Technologist, HP Enterprise Services Healthcare and Life
Sciences & HP Fellow, Enterprise Services
Hewlett-Packard Company
Dan Gonos, an HP Fellow, is the Chief Technologist for HP Enterprise Services
Healthcare and Life Sciences. As a Fellow, Gonos leads the program's activities for
HP clients in healthcare, life sciences and government worldwide.
Gonos has more than 28 years of IT experience, including information technology
strategy and planning, business and technology assessments, new business
development, capacity and performance planning, performance review, software
archeology, methodology development, and requirements definition and
management. He is an expert in developing technological implementations of
business process improvements through the application of best practices. In 2005,
Gonos was named EDS Distinguished SE. As an EDS Distinguished SE, he worked
on and assisted with significant EDS internal and external technological problems
based on expertise, often acting as an applied technology expert leading largescale projects.
Gonos was the chief technologist on EDS' Welfare Client Data Systems project
since 1997. He is responsible for overall technical delivery of the CalWORKS
Information Network (CalWIN) system.
Previously, Gonos served as the lead architect for the Texas Department of Human
Services Texas Integrated Enrollment System (TIES) project where he developed
business process and technology innovations in government.
Hewlett-Packard Company
5400 Legacy Drive
Plano, Texas 75024
www.hp.com
Gonos joined EDS in 1986 as a trainee in the Systems Engineering Development
Program. During his career with EDS, he has directed the development of
numerous systems nationally, including the EDS Eligibility Solution offerings where
EDS' clients have won government and industry awards for technology and
process innovation.
Gonos is a member of the American Public Human Services Association (APHSA).
Gonos is a featured speaker at industry conferences and has written numerous
articles and publications. He holds two active U.S. patents and has four U.S. and
European patents pending in the areas of data archival and recovery, capacity and
performance planning, estimating, and multi-lingual document processing.
Gonos earned a bachelor of science degree in computer science from San
© 2012 Hewlett-Packard Development Company, L.P.
Francisco State University.
© 2012 Hewlett-Packard Development Company, L.P.