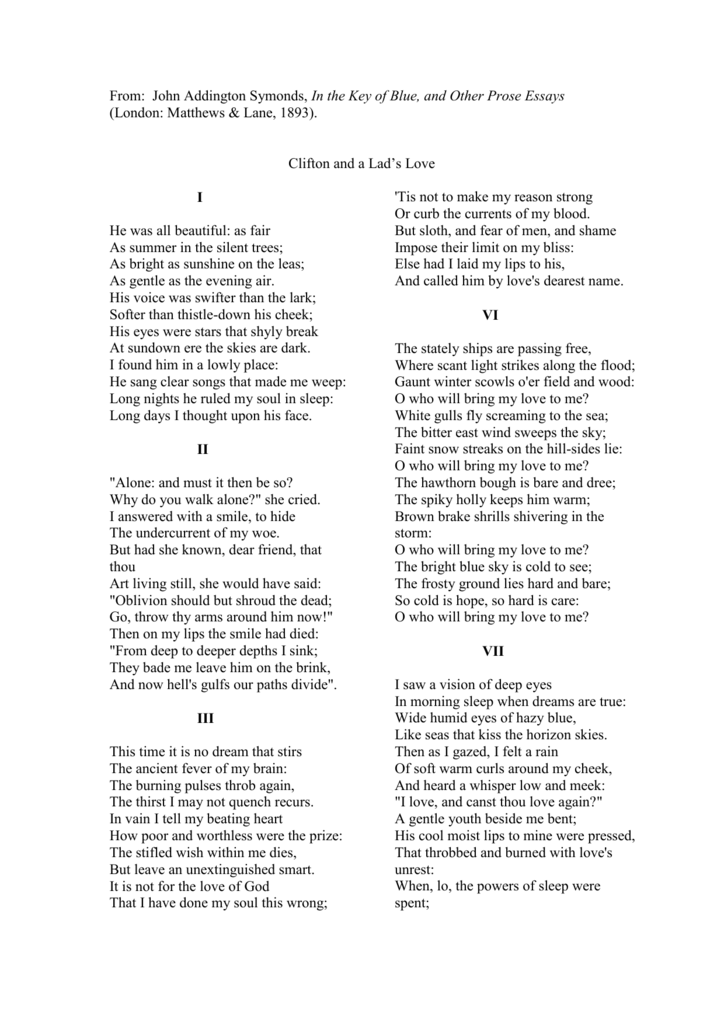 From: John Addington Symonds, In the Key of Blue, and Other Prose Essays
(London: Matthews & Lane, 1893).
Clifton and a Lad's Love
I
He was all beautiful: as fair
As summer in the silent trees;
As bright as sunshine on the leas;
As gentle as the evening air.
His voice was swifter than the lark;
Softer than thistle-down his cheek;
His eyes were stars that shyly break
At sundown ere the skies are dark.
I found him in a lowly place:
He sang clear songs that made me weep:
Long nights he ruled my soul in sleep:
Long days I thought upon his face.
II
"Alone: and must it then be so?
Why do you walk alone?" she cried.
I answered with a smile, to hide
The undercurrent of my woe.
But had she known, dear friend, that
thou
Art living still, she would have said:
"Oblivion should but shroud the dead;
Go, throw thy arms around him now!"
Then on my lips the smile had died:
"From deep to deeper depths I sink;
They bade me leave him on the brink,
And now hell's gulfs our paths divide".
III
This time it is no dream that stirs
The ancient fever of my brain:
The burning pulses throb again,
The thirst I may not quench recurs.
In vain I tell my beating heart
How poor and worthless were the prize:
The stifled wish within me dies,
But leave an unextinguished smart.
It is not for the love of God
That I have done my soul this wrong;
'Tis not to make my reason strong
Or curb the currents of my blood.
But sloth, and fear of men, and shame
Impose their limit on my bliss:
Else had I laid my lips to his,
And called him by love's dearest name.
VI
The stately ships are passing free,
Where scant light strikes along the flood;
Gaunt winter scowls o'er field and wood:
O who will bring my love to me?
White gulls fly screaming to the sea;
The bitter east wind sweeps the sky;
Faint snow streaks on the hill-sides lie:
O who will bring my love to me?
The hawthorn bough is bare and dree;
The spiky holly keeps him warm;
Brown brake shrills shivering in the
storm:
O who will bring my love to me?
The bright blue sky is cold to see;
The frosty ground lies hard and bare;
So cold is hope, so hard is care:
O who will bring my love to me?
VII
I saw a vision of deep eyes
In morning sleep when dreams are true:
Wide humid eyes of hazy blue,
Like seas that kiss the horizon skies.
Then as I gazed, I felt a rain
Of soft warm curls around my cheek,
And heard a whisper low and meek:
"I love, and canst thou love again?"
A gentle youth beside me bent;
His cool moist lips to mine were pressed,
That throbbed and burned with love's
unrest:
When, lo, the powers of sleep were
spent;
And noiseless on the airy wings
That follow after night's dim way,
The beauteous boy was gone for aye,
A theme of vague imaginings.
Yet I can never rest again:
The flocks of morning dreams are true;
And till I find those eyes of blue
And golden curls, I walk in pain.
VIII
Spring comes again: the blushing earth
Will deck herself with bridal flowers:
The birds among the leafy bowers
Will wake dumb winter's woods with
mirth.
But I shall never find him, never:
Though winter's snow dissolve in dew,
And hyacinth's star-spangled blue
'Neath vernal breezes bend and shiver.
The field shall throb with marriage
hymn,
And summer's wealth shall deck the
grove,
Wherethrough my feet must lonely rove,
Disconsolately seeking him.
Seek on, seek on, till autumn dies
Like sunset in drear winter's night;
Seek on, seek on, for thy delight,
A mirage dream, before thee flies.
XIII
Three summers gone: and now once
more
Pale autumn comes to pluck the leaf;
On every hill they bind the sheaf;
The oak-woods redden as of yore.
The woods may bronze; the golden ears
May gladden all the land with grain;
But I shall never feel again
The gladness of those bygone years.
XIV
How coldly steals the journeying night,
How silent sleeps the garden spray:
Far down I hear the watch-dog bay;
I hear the sheep from yonder heights.
Swathed in thick mist the city lies:
Her lamps like myriad jewels peer
Through wreaths of vapour faintly clear;
Her chimes from muffled belfries rise.
Pale as the moon is memory's light,
Those April days as darkly lower,
As looms mid yonder mist the tower,
Which then with rays of morn were
bright.
I hear his voice like yon thin chimes;
As those faint lamps his eyes are dim,
Deep midnight gloom encircles him,
Scarce can I dream of those dear times.
XV
To thee far off, more far than death,
To thee I make my lonely rhyme,
Condemned to see thee not in time,
Though life and love still rule thy breath.
Our pulses beat, our hearts strike on;
They beat, but do not beat together;
Our years are young, but lusty weather
Wakes in our blood no unison.
We pace the self-same field and street,
We hear the same strong organ roll;
No music leaps from soul to soul,
Our paths are near, yet never meet.
Only in visions of the night
I seem with thee to watch the morn;
A tempest swells, and thou art borne
To lands I know not far from sight.