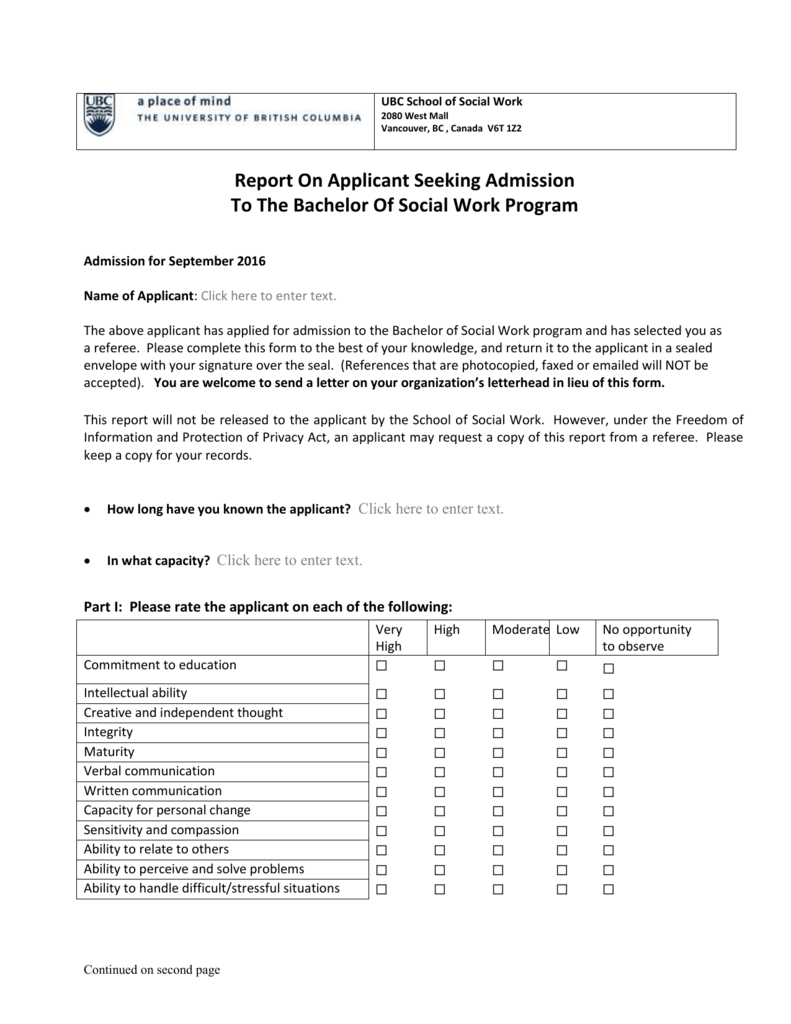 UBC School of Social Work
2080 West Mall
Vancouver, BC , Canada V6T 1Z2
Report On Applicant Seeking Admission
To The Bachelor Of Social Work Program
Admission for September 2016
Name of Applicant: Click here to enter text.
The above applicant has applied for admission to the Bachelor of Social Work program and has selected you as
a referee. Please complete this form to the best of your knowledge, and return it to the applicant in a sealed
envelope with your signature over the seal. (References that are photocopied, faxed or emailed will NOT be
accepted). You are welcome to send a letter on your organization's letterhead in lieu of this form.
This report will not be released to the applicant by the School of Social Work. However, under the Freedom of
Information and Protection of Privacy Act, an applicant may request a copy of this report from a referee. Please
keep a copy for your records.

How long have you known the applicant? Click here to enter text.

In what capacity? Click here to enter text.
Part I: Please rate the applicant on each of the following:
High
Moderate Low
No opportunity
to observe
Commitment to education
Very
High
☐
☐
☐
☐
☐
Intellectual ability
Creative and independent thought
Integrity
Maturity
Verbal communication
Written communication
Capacity for personal change
Sensitivity and compassion
Ability to relate to others
Ability to perceive and solve problems
Ability to handle difficult/stressful situations
☐
☐
☐
☐
☐
☐
☐
☐
☐
☐
☐
☐
☐
☐
☐
☐
☐
☐
☐
☐
☐
☐
☐
☐
☐
☐
☐
☐
☐
☐
☐
☐
☐
☐
☐
☐
☐
☐
☐
☐
☐
☐
☐
☐
☐
☐
☐
☐
☐
☐
☐
☐
☐
☐
☐
Continued on second page
Part II: Please outline the applicant's primary responsibilities at this organization.
Click here to enter text.
Part III: The Admissions Committee would welcome your comments about the applicant's readiness
for the profession of social work.
Click here to enter text.
Name of Referee: ______________________________ ___________________________________
(please print)
(signature)
Position/Title: Click here to enter text.
Daytime phone number: Click here to enter text.
Date: Click here to enter text.
Email address: Click here to enter text.
Thank you for your thoughtful attention to this recommendation.