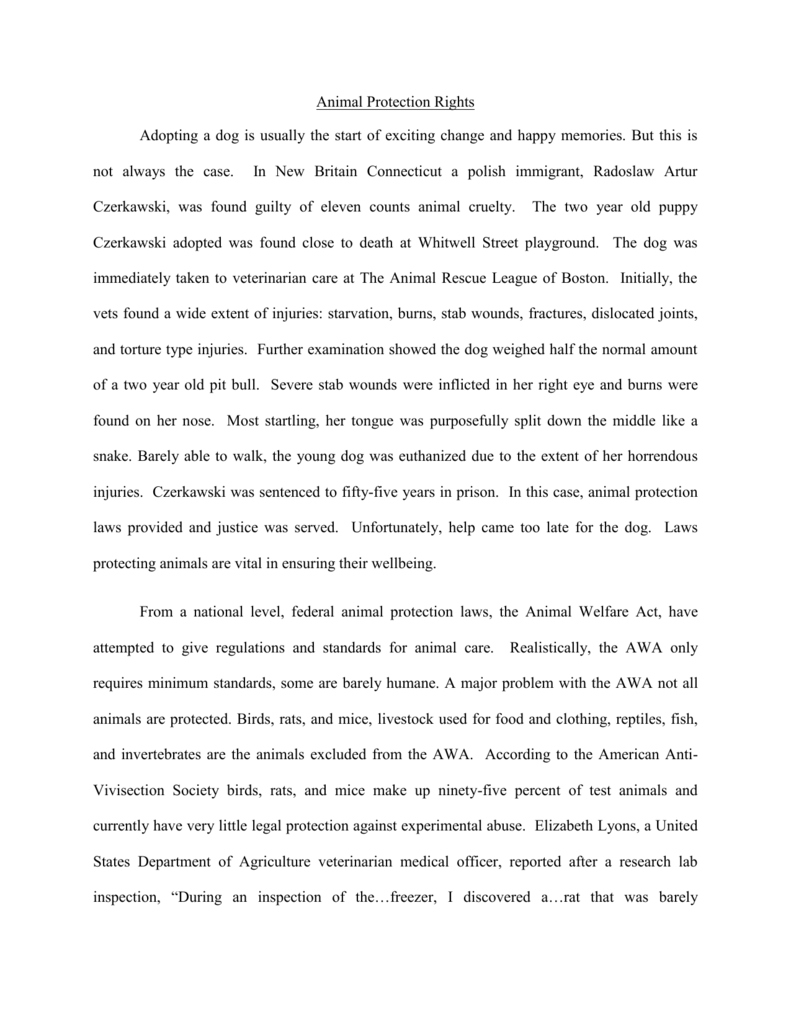 Animal Protection Rights
Adopting a dog is usually the start of exciting change and happy memories. But this is
not always the case.
In New Britain Connecticut a polish immigrant, Radoslaw Artur
Czerkawski, was found guilty of eleven counts animal cruelty.
The two year old puppy
Czerkawski adopted was found close to death at Whitwell Street playground. The dog was
immediately taken to veterinarian care at The Animal Rescue League of Boston. Initially, the
vets found a wide extent of injuries: starvation, burns, stab wounds, fractures, dislocated joints,
and torture type injuries. Further examination showed the dog weighed half the normal amount
of a two year old pit bull. Severe stab wounds were inflicted in her right eye and burns were
found on her nose. Most startling, her tongue was purposefully split down the middle like a
snake. Barely able to walk, the young dog was euthanized due to the extent of her horrendous
injuries. Czerkawski was sentenced to fifty-five years in prison. In this case, animal protection
laws provided and justice was served. Unfortunately, help came too late for the dog. Laws
protecting animals are vital in ensuring their wellbeing.
From a national level, federal animal protection laws, the Animal Welfare Act, have
attempted to give regulations and standards for animal care.
Realistically, the AWA only
requires minimum standards, some are barely humane. A major problem with the AWA not all
animals are protected. Birds, rats, and mice, livestock used for food and clothing, reptiles, fish,
and invertebrates are the animals excluded from the AWA. According to the American AntiVivisection Society birds, rats, and mice make up ninety-five percent of test animals and
currently have very little legal protection against experimental abuse. Elizabeth Lyons, a United
States Department of Agriculture veterinarian medical officer, reported after a research lab
inspection, "During an inspection of the…freezer, I discovered a…rat that was barely
breathing…It had been in the freezer for some time, possibly a day or more…" Since rats are
excluded from legal protection; the inhumane treatment was legal.
The regulations of the AWA have little effect if not enforced. The Animal Care program
and Animal and Plant Health Inspection Service, under the USDA, are supposed to inspect and
facilities involving exhibition, research, breeding, or selling animals annually. Surprisingly, the
APHIS only hires 150 employees to inspect over 12,000 facilities. This seemingly easy task has
abruptly turned virtually impossible. It is easy to see how steps could be skipped or inspections
not thorough and animal cruelty cases go unpunished.
Another situation lacking animal protection are puppy mills, though they aren't
necessarily illegal. Puppy mills, defined by the American Society for the Prevention of Cruelty
to Animals, are "large scale commercial dog breeding operation where profit is given over
priority over the well being of the dogs." Commercial puppy mill breeders mainly sold to pet
stores. The internet has spurred a new era of inhumane large scale breeding facilities that sell
directly to the buyer. The Animal Welfare Act cites that commercial breeders must have humane
conditions and be routinely checked by the USDA. Unfortunately, what standards the AWA
consider humane are barely acceptable. For example, under the AWA a federally licensed
breeding may house a dog in a cage that is six inches wider than it in any direction, for its entire
life. Lack of enforcement from the USDA means violations often go unpunished and dogs are
kept in horrific conditions. Organizations like the ASPCA and Humane Society both help shatter
puppy mills and provide justice to criminals.
The protection of animals against cruelty is a right that humans must look at with good
morals. Humans cannot continue to use animals with disrespect. Breeders cannot continue to
use animals as an easy way to make money. Researchers cannot continue to say "in the name of
science" to excuse the abusive and terrifying situations the lab animals are put through. Leaving
laws the way they are for future generations to take of is not a solution. Although it may not
seem like one person, can't make a difference, this isn't farther from the truth. Volunteering;
especially young people, myself included, at a local animal shelter is a way to easily help in
everyday life. In the future, many others and I can vote for laws that increase animal protection.
Joining animal rights groups like People for the Ethical Treatment for Animals, strengths it and
often provides opportunities to volunteer with root problems of animal cruelty.
The right to protect animals from cruelty is not a complex idea. Simply treat others the
way you want to be treated. If the phrase and is applied to animal cruelty laws, those laws would
be defined and enforced. Humans are not the only important beings on the planet. We must
protect animals before we destroy them.