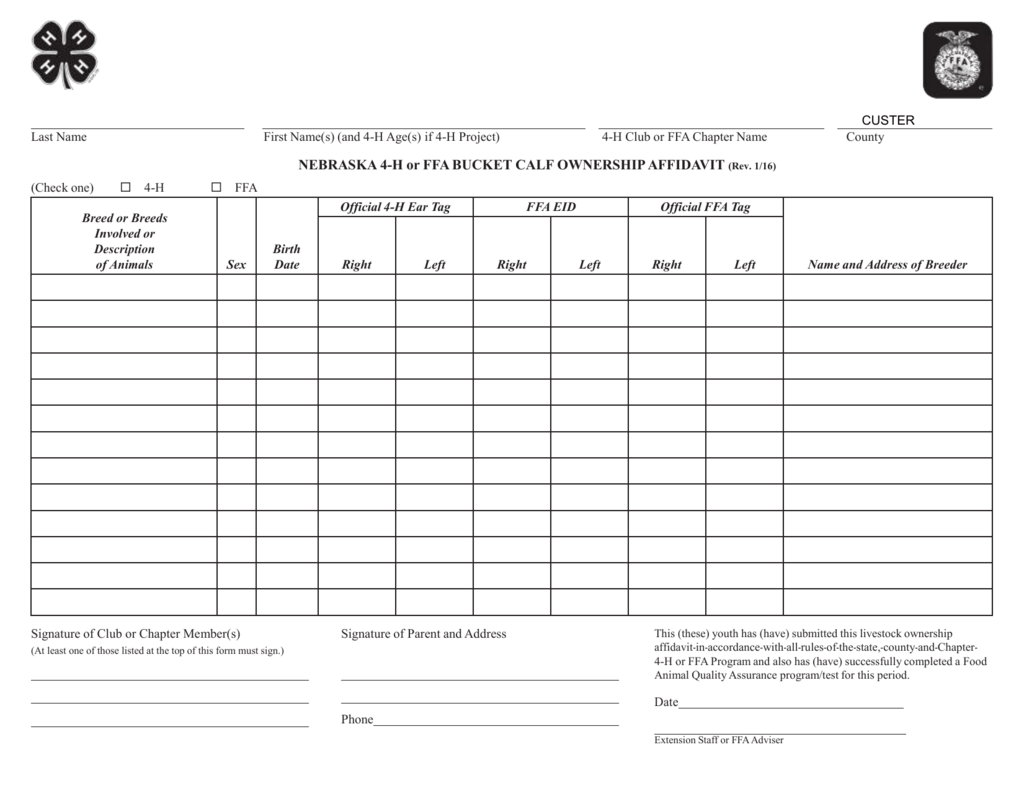 Last Name
First Name(s) (and 4-H Age(s) if 4-H Project)
4-H Club or FFA Chapter Name
CUSTER
County
NEBRASKA 4-H or FFA BUCKET CALF OWNERSHIP AFFIDAVIT (Rev. 1/16)
(Check one)4-H
Breed or Breeds
Involved or
Description
of Animals
FFA
Official 4-H Ear Tag
Sex
Birth
Date
Signature of Club or Chapter Member(s)
Right
Left
FFA EID
Right
Signature of Parent and Address
(At least one of those listed at the top of this form must sign.)
Official FFA Tag
Left
Right
Left
Name and Address of Breeder
This (these) youth has (have) submitted this livestock ownership
affidavit-in-accordance-with-all-rules-of-the-state,-county-and-Chapter4-H or FFA Program and also has (have) successfully completed a Food
Animal Quality Assurance program/test for this period.
Date
Phone
Extension Staff or FFA Adviser
4-H & FFA Animal Exhibitor and Animal Project Regulations
Age of Exhibitor
4-H — A 4-H animal owner/exhibitor 8 to 18 years old on Jan. 1 of the current calendar show year is eligible to exhibit in 4-H-sponsored events. Exhibitors who are 10 as of Jan. 1
may exhibit at the State Fair and at the AKSARBEN Livestock Exposition. 4-H members may be certified for state and interstate shows if they meet age requirements for that event
and have properly enrolled animals.
FFA — Only bona fide Nebraska FFA members that have paid dues shall be eligible for FFA Division entries. Members may retain their active membership until the 30th day of
November following the fourth National FFA Convention, which occurs after the member graduates from or leaves high school. There will be no discrimination because of race,
color, sex, religion, or national origin.
Animal Ownership
All beef, swine, sheep and goat project animals must be owned:
a) solely by the 4-H exhibitor, or FFA exhibitor
b) the exhibitor in partnership with other member(s) of his or her immediate family. Only the name of the showman can be on the show entry. Immediate family is defined as
members of a household, including parents, brothers and sisters, and youth in the care of the head of the household.
Registration Papers
For State Fair and AKSARBEN (4-H only), registration papers must show one of the following:
a) the member's name as owner, or
b) the name of the exhibitor and/or a co-owner who is a member of the exhibitor's immediate family (see immediate family definition above), or
c) the family farm or ranch name or parent's name.
Species
Number of Animals
Market Beef
Market Lambs
10 per member
20 per member
Beef Feeder Calves
20 per member
County Identification Deadline
Bucket Calves
Registered Breeding Heifers
Commercial Breeding Heifers
Registered Breeding Ewes
Commercial Breeding Ewes
Swine
Breeding Swine
40 per member
40 per member
Dairy
Dairy Goat
Meat (Market) Goats
20 per member
Identification of Animals
All animals must be individually identified, listed on the appropriate form and on file in the local extension office or with the local FFA chapter and general FFA superintendent.
State Fair/AKSARBEN Identification of Animals
DNA samples are required for market beef, lambs, swine and meat goats at both State Fair and AKSARBEN Foundation. Breeding Nomination Cards are required for Breeding Beef, Sheep, Does and FFA Swine (State
Fair only).