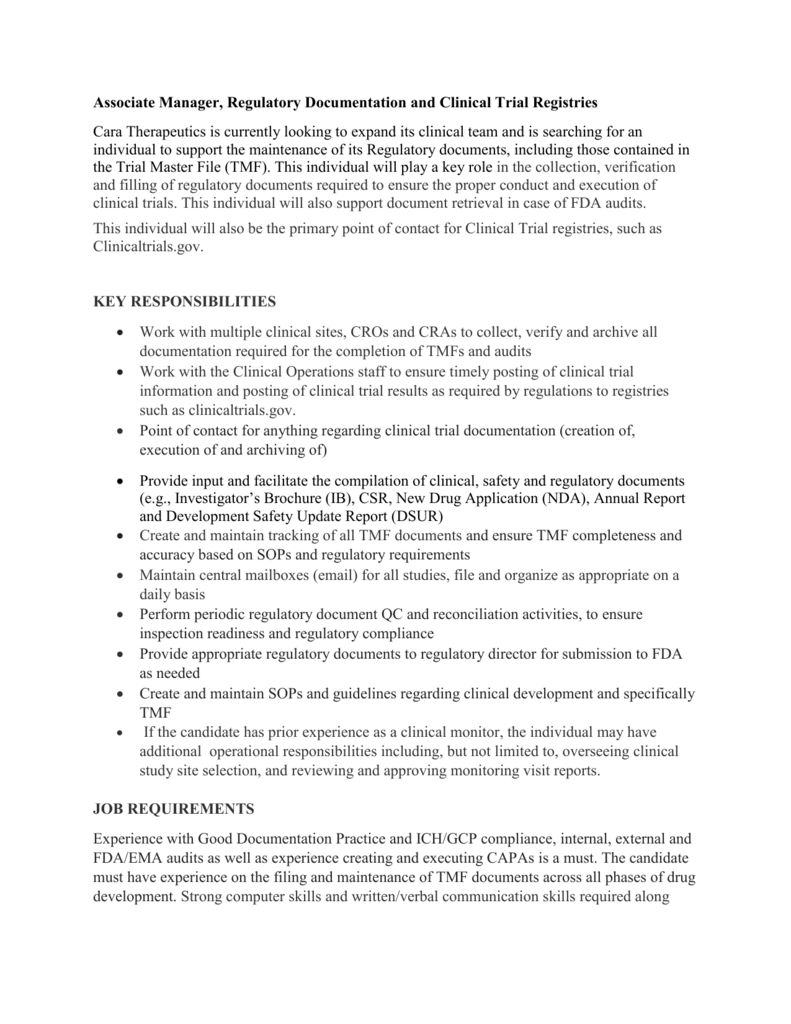 Associate Manager, Regulatory Documentation and Clinical Trial Registries
Cara Therapeutics is currently looking to expand its clinical team and is searching for an
individual to support the maintenance of its Regulatory documents, including those contained in
the Trial Master File (TMF). This individual will play a key role in the collection, verification
and filling of regulatory documents required to ensure the proper conduct and execution of
clinical trials. This individual will also support document retrieval in case of FDA audits.
This individual will also be the primary point of contact for Clinical Trial registries, such as
Clinicaltrials.gov.
KEY RESPONSIBILITIES










Work with multiple clinical sites, CROs and CRAs to collect, verify and archive all
documentation required for the completion of TMFs and audits
Work with the Clinical Operations staff to ensure timely posting of clinical trial
information and posting of clinical trial results as required by regulations to registries
such as clinicaltrials.gov.
Point of contact for anything regarding clinical trial documentation (creation of,
execution of and archiving of)
Provide input and facilitate the compilation of clinical, safety and regulatory documents
(e.g., Investigator's Brochure (IB), CSR, New Drug Application (NDA), Annual Report
and Development Safety Update Report (DSUR)
Create and maintain tracking of all TMF documents and ensure TMF completeness and
accuracy based on SOPs and regulatory requirements
Maintain central mailboxes (email) for all studies, file and organize as appropriate on a
daily basis
Perform periodic regulatory document QC and reconciliation activities, to ensure
inspection readiness and regulatory compliance
Provide appropriate regulatory documents to regulatory director for submission to FDA
as needed
Create and maintain SOPs and guidelines regarding clinical development and specifically
TMF
If the candidate has prior experience as a clinical monitor, the individual may have
additional operational responsibilities including, but not limited to, overseeing clinical
study site selection, and reviewing and approving monitoring visit reports.
JOB REQUIREMENTS
Experience with Good Documentation Practice and ICH/GCP compliance, internal, external and
FDA/EMA audits as well as experience creating and executing CAPAs is a must. The candidate
must have experience on the filing and maintenance of TMF documents across all phases of drug
development. Strong computer skills and written/verbal communication skills required along
with effective organizational skills and attention to detail. Hands-on experience with DIA TMF
reference model a plus as well as clinical monitoring experience.
The candidate must have an understanding of drug development and clinical operations with 4+
years of experience filing regulatory documents and TMFs within a pharmaceutical,
biotechnology or CRO company. Prior experience as an in-house or field based Clinical
Research Associate is acceptable.
Bachelor's degree required or demonstrated relevant work experience.
The ideal candidate will have previous experience with Clinical registries such as
Clinicaltrials.gov.
The candidate will report to the head of clinical operations and will work closely with the senior
director of regulatory affairs.