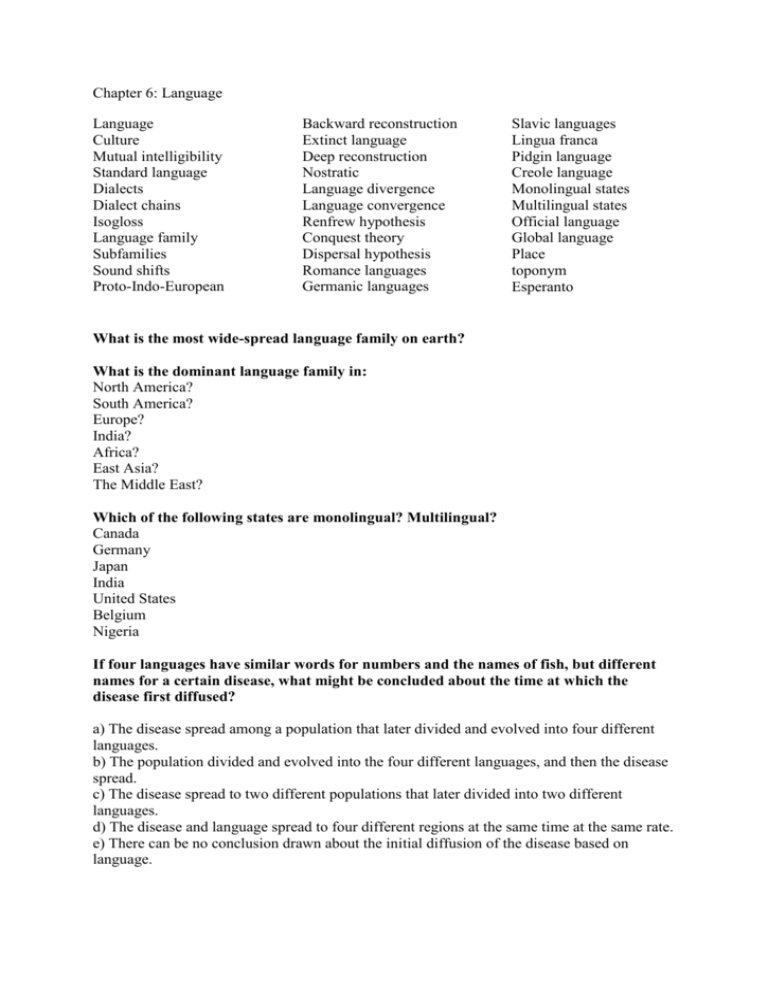 Chapter 6: Language
Language
Culture
Mutual intelligibility
Standard language
Dialects
Dialect chains
Isogloss
Language family
Subfamilies
Sound shifts
Proto-Indo-European
Backward reconstruction
Extinct language
Deep reconstruction
Nostratic
Language divergence
Language convergence
Renfrew hypothesis
Conquest theory
Dispersal hypothesis
Romance languages
Germanic languages
Slavic languages
Lingua franca
Pidgin language
Creole language
Monolingual states
Multilingual states
Official language
Global language
Place
toponym
Esperanto
What is the most wide-spread language family on earth?
What is the dominant language family in:
North America?
South America?
Europe?
India?
Africa?
East Asia?
The Middle East?
Which of the following states are monolingual? Multilingual?
Canada
Germany
Japan
India
United States
Belgium
Nigeria
If four languages have similar words for numbers and the names of fish, but different
names for a certain disease, what might be concluded about the time at which the
disease first diffused?
a) The disease spread among a population that later divided and evolved into four different
languages.
b) The population divided and evolved into the four different languages, and then the disease
spread.
c) The disease spread to two different populations that later divided into two different
languages.
d) The disease and language spread to four different regions at the same time at the same rate.
e) There can be no conclusion drawn about the initial diffusion of the disease based on
language.
Which of the following is true about language extinctions?
a) They happen suddenly and without warning.
b) They are usually the result of genocide.
c) There could be several thousand over the next century.
d) They are increasingly rare.
e) They are unrelated to cultural imperialism.
Which of the following areas has the greatest linguistic fragmentation? The least
linguistic fragmentation?
a) Korea
b) Scandinavia
c) Caucuses
d) Argentina
e) Quebec
The greatest concentration of linguistic diversity on earth is in:
a) Amazonia
b) the Congo
c) Madagascar
d) New Guinea
e) Mexico
The use of the English language by all commercial airline pilots for the purpose of airtraffic control safety would be an example of a ______________________.
People in London, Melbourne, Vancouver, and Mumbai all speak ___________.
Two mountain towns with unique languages develop a new simple language, understood
by both groups, for trade purposes. This is called ____________.
Free Response Practice:
Language extinction, both currently and throughout history, has been a major concern for
cultural geographers, linguists, anthropologists, and other academics.
(a) What are some causes of language extinction?
(b) What kind of repercussions exist as a result of the loss of linguistic diversity?
(c) Discuss some current trends to revive endangered or extinct languages around the
world.