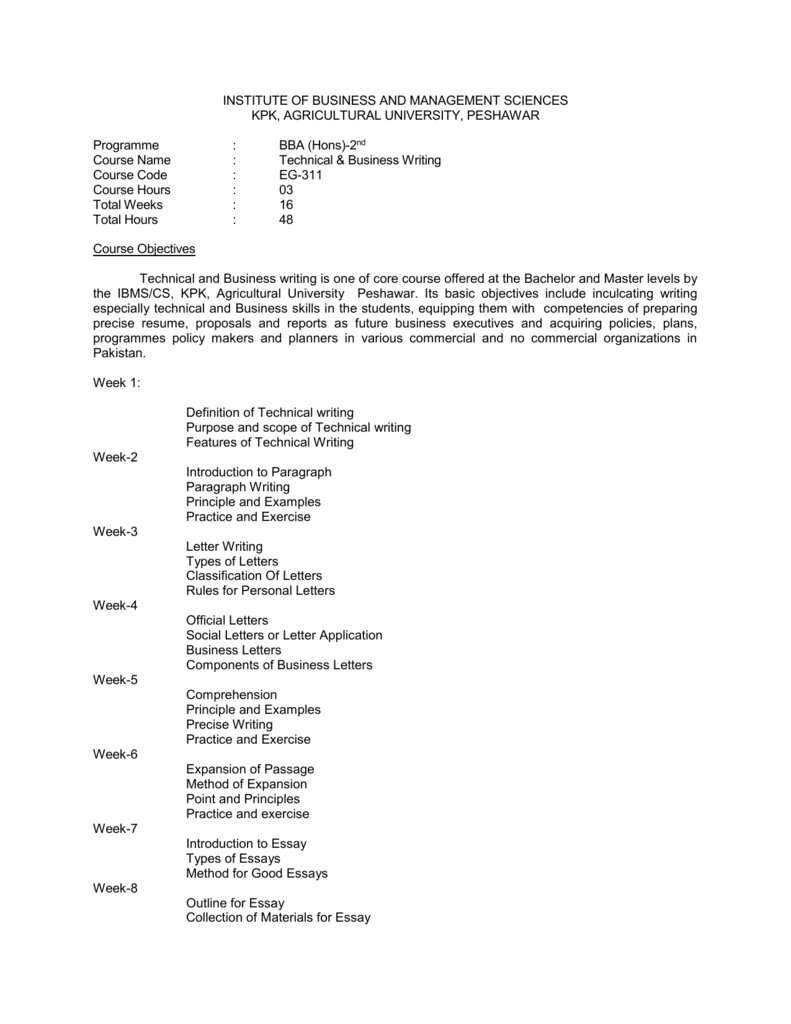 INSTITUTE OF BUSINESS AND MANAGEMENT SCIENCES
KPK, AGRICULTURAL UNIVERSITY, PESHAWAR
Programme
Course Name
Course Code
Course Hours
Total Weeks
Total Hours
:
:
:
:
:
:
BBA (Hons)-2nd
Technical & Business Writing
EG-311
03
16
48
Course Objectives
Technical and Business writing is one of core course offered at the Bachelor and Master levels by
the IBMS/CS, KPK, Agricultural University Peshawar. Its basic objectives include inculcating writing
especially technical and Business skills in the students, equipping them with competencies of preparing
precise resume, proposals and reports as future business executives and acquiring policies, plans,
programmes policy makers and planners in various commercial and no commercial organizations in
Pakistan.
Week 1:
Definition of Technical writing
Purpose and scope of Technical writing
Features of Technical Writing
Week-2
Introduction to Paragraph
Paragraph Writing
Principle and Examples
Practice and Exercise
Week-3
Letter Writing
Types of Letters
Classification Of Letters
Rules for Personal Letters
Week-4
Official Letters
Social Letters or Letter Application
Business Letters
Components of Business Letters
Week-5
Comprehension
Principle and Examples
Precise Writing
Practice and Exercise
Week-6
Expansion of Passage
Method of Expansion
Point and Principles
Practice and exercise
Week-7
Introduction to Essay
Types of Essays
Method for Good Essays
Week-8
Outline for Essay
Collection of Materials for Essay
Characteristics of a Good Essay
Principle and Examples
Week-9
Listening Skill
Aim of Listening
Active and Passive Listening
Practice and Exercise
Week-10
Reading Skill
Aim of Reading
Principle Reading
Active and Passive Reading
Week-11
Effective Speaking
Arrangement of Materials
Method and Principles
Week-12
Successful Writing
Use Of Materials for writing
Principles and Method
Practice and Exercise
Week-13
Preparing for Test and Exam
Use of Text Book's Materials
Use of Lecture Materials
Use of Dictionary
Week-14
Strategies for Preparation
Topics, Sub-topics
Main Ideas in Reading
Practice and Exercise
Week-15
Developing a positive corporate images
Understanding of the readers
Proof reading of the written materials
Practice and exercise.
Week-16
Revision and Practice
Recommended Books:
1.
2.
3.
4.
English for Modern Business. Ketteley and Thompson
Write Better, Speak Better.
Readers Digest.
EFFECTIVE BUSINESS COMMUNICATION, 7th Edition, by Herta Murphy
TECHNICAL WRITING SITUATIONS AND STRATEGIES, by Michael H. Markel, 2nd Edition.