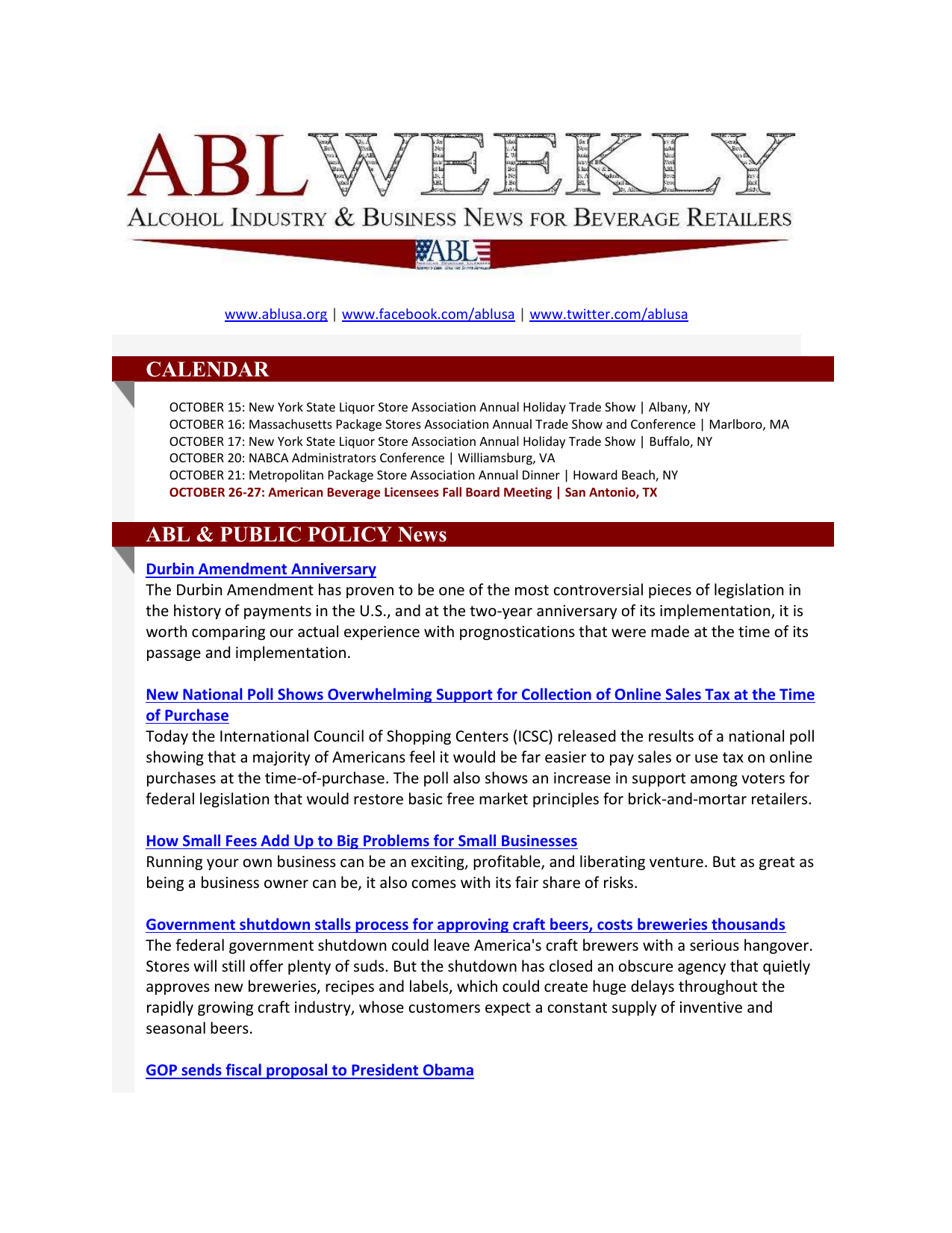 www.ablusa.org | www.facebook.com/ablusa | www.twitter.com/ablusa
CALENDAR
OCTOBER 15: New York State Liquor Store Association Annual Holiday Trade Show | Albany, NY
OCTOBER 16: Massachusetts Package Stores Association Annual Trade Show and Conference | Marlboro, MA
OCTOBER 17: New York State Liquor Store Association Annual Holiday Trade Show | Buffalo, NY
OCTOBER 20: NABCA Administrators Conference | Williamsburg, VA
OCTOBER 21: Metropolitan Package Store Association Annual Dinner | Howard Beach, NY
OCTOBER 26-27: American Beverage Licensees Fall Board Meeting | San Antonio, TX
ABL & PUBLIC POLICY News
Durbin Amendment Anniversary
The Durbin Amendment has proven to be one of the most controversial pieces of legislation in
the history of payments in the U.S., and at the two-year anniversary of its implementation, it is
worth comparing our actual experience with prognostications that were made at the time of its
passage and implementation.
New National Poll Shows Overwhelming Support for Collection of Online Sales Tax at the Time
of Purchase
Today the International Council of Shopping Centers (ICSC) released the results of a national poll
showing that a majority of Americans feel it would be far easier to pay sales or use tax on online
purchases at the time-of-purchase. The poll also shows an increase in support among voters for
federal legislation that would restore basic free market principles for brick-and-mortar retailers.
How Small Fees Add Up to Big Problems for Small Businesses
Running your own business can be an exciting, profitable, and liberating venture. But as great as
being a business owner can be, it also comes with its fair share of risks.
Government shutdown stalls process for approving craft beers, costs breweries thousands
The federal government shutdown could leave America's craft brewers with a serious hangover.
Stores will still offer plenty of suds. But the shutdown has closed an obscure agency that quietly
approves new breweries, recipes and labels, which could create huge delays throughout the
rapidly growing craft industry, whose customers expect a constant supply of inventive and
seasonal beers.
GOP sends fiscal proposal to President Obama
House Republicans were awaiting a response Friday from the Obama administration to a
proposal to lift the debt ceiling, end the government shutdown and set up six weeks of budget
talks.
AFFILIATE News
Tavern League of Wisconsin
'Brown Jug' bill continues to move through Wisconsin Legislature
INDUSTRY News
Brewers Association
CraftBeer.com Newsletter
Campaign for a Healthy Alcohol Marketplace
Participate in Public Action Management's Survey
Center for Alcohol Policy (CAP)
New Speakers Added for Sixth Annual Alcohol Law Symposium
National Beer Wholesalers Association
Three Days of Video from the 76th Annual NBWA Convention
National Restaurant Association
NRA releases 2013 food and nutrition report (PDF)
STATE News
Arizona: Alcohol popping up on dollar discount stores shelves
The Southeast Valley is getting more options for low-price beer and wine: at dollar discount
stores. Several Dollar General and 99 Cents Only stores across the region either have applied for
liquor licenses or have started selling alcohol.
Connecticut: Last Dry Town May Change Law To Allow Liquor Sales
Officials in Connecticut's last dry town have briefly talked about changing local law banning the
sale of alcohol. But Bridgewater selectmen said Tuesday that the issue should wait until after
municipal elections in November and new leaders take office.
Illinois: Chicago proposal could kill BYOB restaurants and more
Dry precincts would be drier than ever if an ordinance the City Council's Committee on Public
Safety approved Thursday passes the whole council. "Oh, my God! We would lose about 80
percent of our business," said Jeannette Dixon, owner of Pizzeria Deepo, 1742 W. 99th, about
the proposed ban on the popular practice of BYOB in affected precincts.
Maine: Despite Complaints, Marijuana Legalization Ads Will Stay on City Buses and Bus Stops
in Portland
Controversial advertisements on public transportation are a fact of life for commuters. The
American Freedom Defense Initiative's anti-Islam ads in the New York Subway are protected by
the First Amendment, as are the anti-NSA, pro-Edward Snowden ads in the D.C. Metro. You can
now add to that list the marijuana legalization ads that are currently gracing city buses in
Portland, Maine.
Maine: Voices: Pot ads on buses are sending the wrong, and incorrect, message
As has been covered by the Portland Press Herald in the past few days, the Marijuana Policy
Project has launched a new ad campaign with the Portland Metro bus system touting marijuana
as a "safer choice."
Maryland: Montgomery County task force pushes for lighter liquor laws
A task force says one thing is vital for the nightlife to thrive in Montgomery County: looser liquor
restrictions. If restaurants could derive more profit from alcohol sales, they could respond to
greater demand for higher quality alcoholic beverages
Michigan: Bill would require each beer pint have 16 ounces
A bill introduced last week would amend the Liquor Control Act to require each pint of beer have
at least 16 ounces. It would make it an offense to "advertise or sell any glass of beer as a pint in
this state unless that glass contains at least 16 ounces of beer."
Minnesota: Total Wine & More signs second Twin Cities store deal
Total Wine & More has signed its second Twin Cities lease as it prepares to enter the market
later this year. The Potomac, Md.-based company will open a 21,166-square-foot liquor
superstore at Rosedale Marketplace in Roseville. It will join tenants such as Babies"R"Us,
OfficeMax and Cost Plus World Market, bringing the center up to full occupancy.
Montana: New twist on drinking law - Council considers open container ordinance in Uptown
area only
Commissioners might limit a proposed early morning ban on open containers of alcohol to the
Uptown commercial district in hopes of making it more palatable for passage.
Nebraska: City council rejects hard liquor request
Pawnee Bar has one of the best Bloody Marys in Columbus. Customers just won't be allowed to
order one on a Sunday morning anytime soon. Columbus City Council denied a request from the
bar's longtime owners and more than a dozen other local businesses that would have extended
the Sunday hours for hard liquor sales here.
New York: Court to Decide Whether Drivers Can Be Too Drunk to be Found Guilty
New York State's highest court this week heard arguments from lawyers of three drivers who
claimed they were too drunk to understand what they were doing or the threat they posed to
others. The judges will decide whether drivers can be considered too drunk to be found guilty.
New York: Moët Hennessy USA, Charmer Sunbelt Team On "We Don't Serve Teens" Initiative
Moët Hennessy USA and The Charmer Sunbelt Group are kicking off a multi-faceted social
responsibility initiative, the "We Don't Serve Teens" campaign, in the New York City area
today. The campaign will include outdoor spots on billboards, buses and magazine kiosks as well
as print and online components, and radio PSA's from New York Governor Andrew Cuomo and
musical artist Nas.
Oregon: Liquor agency hires new enforcement officer
Oregon's liquor agency has hired a former assistant Portland police chief to head its enforcement
division.
Pennsylvania: Stalled proposal to privatize Pa. liquor system may be up for another round this
fall
The past week saw state Capitol developments in the public debate over how to reduce the cost
of public employee pensions and fund transportation infrastructure - two issues that could easily
have been abandoned after a full-court press by Republican Gov. Tom Corbett this summer failed
to win the Legislature's approval.
Washington: Grocery stores go undercover to bust liquor thieves
A surveillance team has been working behind the scenes to combat liquor theft in Washington
since voters passed a 2011 ballot initiative to allow grocery stores and other retailers to sell
liquor.
Washington: Drunk Driving: Will state of Washington lower the legal limit?
Nationwide, alcohol has been a factor in 10,000 deaths and the National Transportation Safety
Board wants to see states make a significant change.
BUSINESS & LIFESTYLE News
Stand Out Brews for Your Bar
This year's National Beer Wholesalers Association (NBWA) event had an impressive list of craft
breweries. While I did not get the chance to sample every beer at the annual event (if anyone
did, I am highly impressed), I got to as many as I could. However, I did try to gauge from each of
the brewery's which was their most popular or most unique offering. Here I highlight several that
stood out for their unique qualities.
Anheuser-Busch InBev unveils three new beers with return of 'Project 12'
Anheuser-Busch InBev has reignited its 'Project 12' initiative with the launch of three new smallbatch beers.
The Book of Bourbon: How the World's Best Whiskey Got Its Start
Just as gin in Britain and vodka in Russia, America's most renowned for its whiskey. This delicious
amber liquor once helped turn the tide of the Civil War, it survived Prohibition, and is now once
again finding its way into the tumblers of a thirsty public. In his new book, Drink More Whiskey,
Daniel Yaffe explores the fascinating history-and current state-of America's signature spirit.
Meet Monsieur, the robotic bartender: Machine learns user's moods and preferences to mix
the 'perfect' cocktail
A U.S company has created a personal robotic bartender that it claims 'serves the perfect drink'
to suit an individual's tastes.
Monsieur is an artificially intelligent robotic that can learn its user's favourite cocktails as well as
how strong they like them - and even anticipate when to include a double shot of alcohol if they
have had an especially trying day at work.
Craft Beer Increasingly Stealing Shelf Space at Major Retail Chains and C-Stores
With double-digit sales gains and an expanding consumer base, craft brews are popping up
everywhere, including trade channels that previously focused on mainstream beers.
Supermarkets, big-box chains and convenience stores are all devoting increased space and
attention to the category.
Hispanic population 'crucial' to US alcohol market
New research has revealed that Hispanic consumers are "crucial" to sustaining growth in the US
alcohol industry. Technomic researchers found that Hispanic consumers tend to spend more
money on spirits and mixers outside of their homes.
Increased Ad Spending on Tap for Beer, Liquor Makers
Beer and spirits ads have long graced the airwaves, but these days some networks are serving
drinks with a noticeable twist: beverages mixed into scripts and sets, or liquor ads that take an
extra splash of the spotlight.
US wine sales: "Nowhere to go but up"
Improving wine quality, celebrity endorsement, restaurants and demographics are driving a US
wine boom, according to Stephanie Gallo. In a discussion with the drinks business in California on
Friday last week, Stephanie Gallo, who is vice president of marketing at Gallo Family Vineyards,
expressed her confidence in the future of the wine industry in North America.