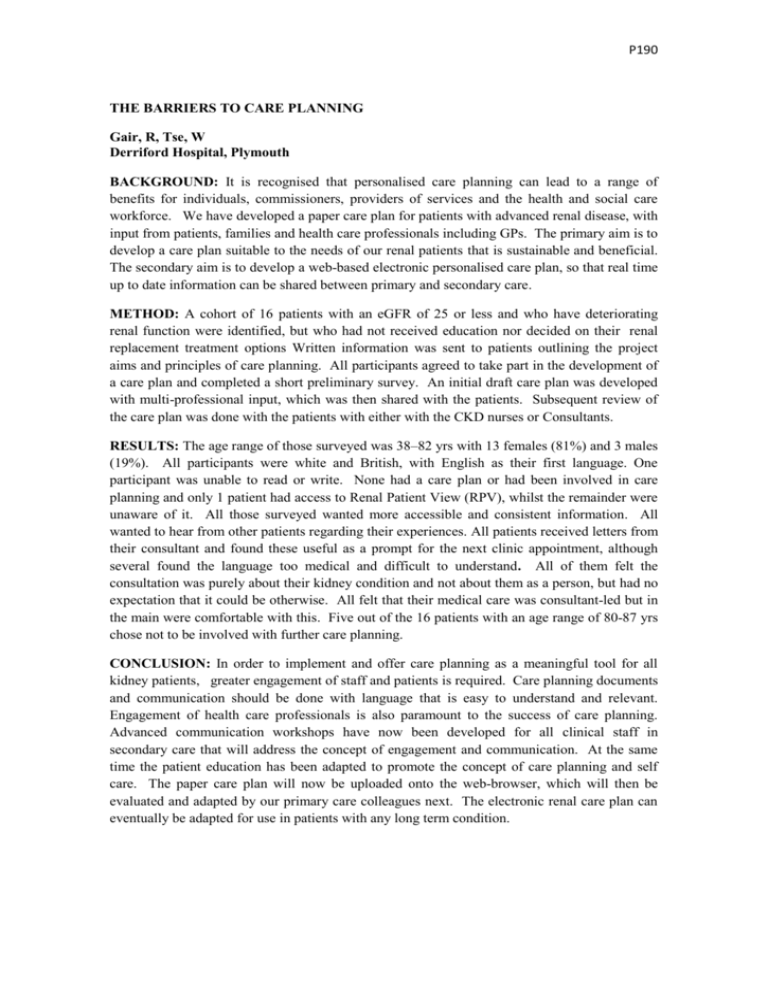 P190
THE BARRIERS TO CARE PLANNING
Gair, R, Tse, W
Derriford Hospital, Plymouth
BACKGROUND: It is recognised that personalised care planning can lead to a range of
benefits for individuals, commissioners, providers of services and the health and social care
workforce. We have developed a paper care plan for patients with advanced renal disease, with
input from patients, families and health care professionals including GPs. The primary aim is to
develop a care plan suitable to the needs of our renal patients that is sustainable and beneficial.
The secondary aim is to develop a web-based electronic personalised care plan, so that real time
up to date information can be shared between primary and secondary care.
METHOD: A cohort of 16 patients with an eGFR of 25 or less and who have deteriorating
renal function were identified, but who had not received education nor decided on their renal
replacement treatment options Written information was sent to patients outlining the project
aims and principles of care planning. All participants agreed to take part in the development of
a care plan and completed a short preliminary survey. An initial draft care plan was developed
with multi-professional input, which was then shared with the patients. Subsequent review of
the care plan was done with the patients with either with the CKD nurses or Consultants.
RESULTS: The age range of those surveyed was 38–82 yrs with 13 females (81%) and 3 males
(19%). All participants were white and British, with English as their first language. One
participant was unable to read or write. None had a care plan or had been involved in care
planning and only 1 patient had access to Renal Patient View (RPV), whilst the remainder were
unaware of it. All those surveyed wanted more accessible and consistent information. All
wanted to hear from other patients regarding their experiences. All patients received letters from
their consultant and found these useful as a prompt for the next clinic appointment, although
several found the language too medical and difficult to understand. All of them felt the
consultation was purely about their kidney condition and not about them as a person, but had no
expectation that it could be otherwise. All felt that their medical care was consultant-led but in
the main were comfortable with this. Five out of the 16 patients with an age range of 80-87 yrs
chose not to be involved with further care planning.
CONCLUSION: In order to implement and offer care planning as a meaningful tool for all
kidney patients, greater engagement of staff and patients is required. Care planning documents
and communication should be done with language that is easy to understand and relevant.
Engagement of health care professionals is also paramount to the success of care planning.
Advanced communication workshops have now been developed for all clinical staff in
secondary care that will address the concept of engagement and communication. At the same
time the patient education has been adapted to promote the concept of care planning and self
care. The paper care plan will now be uploaded onto the web-browser, which will then be
evaluated and adapted by our primary care colleagues next. The electronic renal care plan can
eventually be adapted for use in patients with any long term condition.