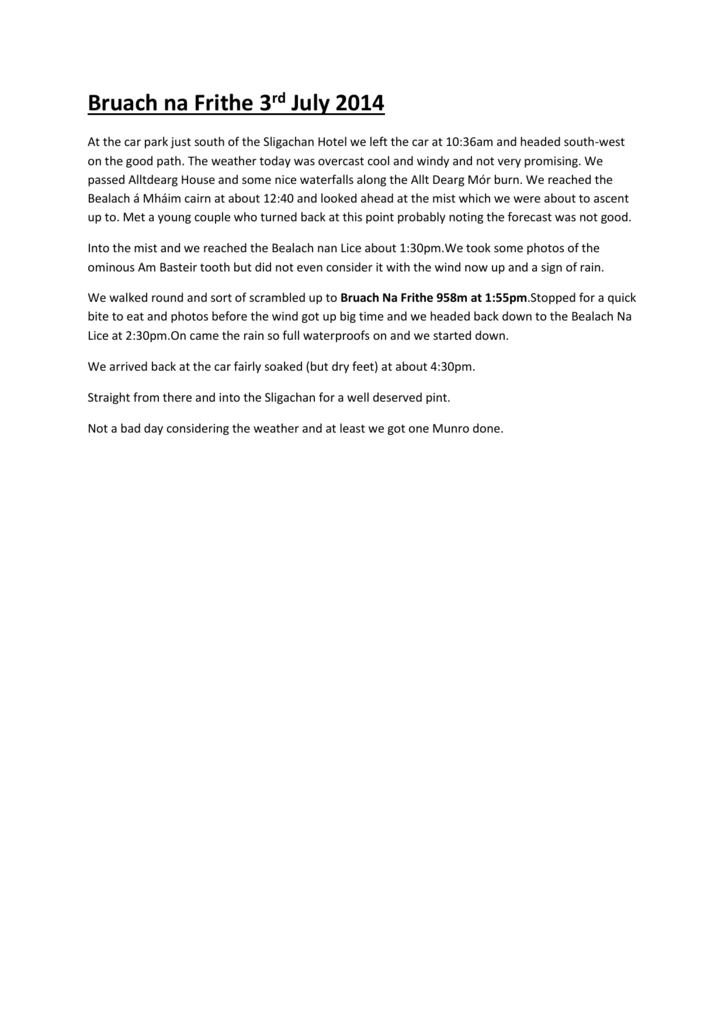 Bruach na Frithe 3rd July 2014
At the car park just south of the Sligachan Hotel we left the car at 10:36am and headed south-west
on the good path. The weather today was overcast cool and windy and not very promising. We
passed Alltdearg House and some nice waterfalls along the Allt Dearg Mór burn. We reached the
Bealach á Mháim cairn at about 12:40 and looked ahead at the mist which we were about to ascent
up to. Met a young couple who turned back at this point probably noting the forecast was not good.
Into the mist and we reached the Bealach nan Lice about 1:30pm.We took some photos of the
ominous Am Basteir tooth but did not even consider it with the wind now up and a sign of rain.
We walked round and sort of scrambled up to Bruach Na Frithe 958m at 1:55pm.Stopped for a quick
bite to eat and photos before the wind got up big time and we headed back down to the Bealach Na
Lice at 2:30pm.On came the rain so full waterproofs on and we started down.
We arrived back at the car fairly soaked (but dry feet) at about 4:30pm.
Straight from there and into the Sligachan for a well deserved pint.
Not a bad day considering the weather and at least we got one Munro done.