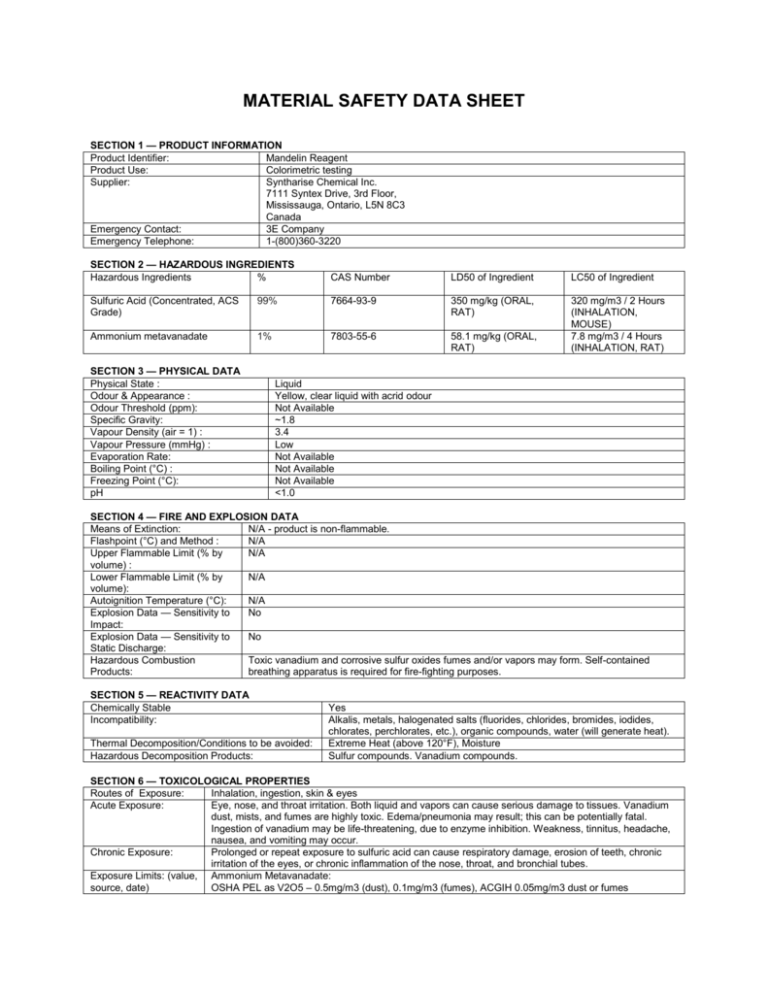 MATERIAL SAFETY DATA SHEET
SECTION 1 — PRODUCT INFORMATION
Product Identifier:
Mandelin Reagent
Product Use:
Colorimetric testing
Supplier:
Syntharise Chemical Inc.
7111 Syntex Drive, 3rd Floor,
Mississauga, Ontario, L5N 8C3
Canada
Emergency Contact:
3E Company
Emergency Telephone:
1-(800)360-3220
SECTION 2 — HAZARDOUS INGREDIENTS
Hazardous Ingredients
%
CAS Number
LD50 of Ingredient
LC50 of Ingredient
320 mg/m3 / 2 Hours
(INHALATION,
MOUSE)
7.8 mg/m3 / 4 Hours
(INHALATION, RAT)
Sulfuric Acid (Concentrated, ACS
Grade)
99%
7664-93-9
350 mg/kg (ORAL,
RAT)
Ammonium metavanadate
1%
7803-55-6
58.1 mg/kg (ORAL,
RAT)
SECTION 3 — PHYSICAL DATA
Physical State :
Odour & Appearance :
Odour Threshold (ppm):
Specific Gravity:
Vapour Density (air = 1) :
Vapour Pressure (mmHg) :
Evaporation Rate:
Boiling Point (°C) :
Freezing Point (°C):
pH
Liquid
Yellow, clear liquid with acrid odour
Not Available
~1.8
3.4
Low
Not Available
Not Available
Not Available
<1.0
SECTION 4 — FIRE AND EXPLOSION DATA
Means of Extinction:
N/A - product is non-flammable.
Flashpoint (°C) and Method :
N/A
Upper Flammable Limit (% by
N/A
volume) :
Lower Flammable Limit (% by
N/A
volume):
Autoignition Temperature (°C):
N/A
Explosion Data — Sensitivity to
No
Impact:
Explosion Data — Sensitivity to
No
Static Discharge:
Hazardous Combustion
Toxic vanadium and corrosive sulfur oxides fumes and/or vapors may form. Self-contained
Products:
breathing apparatus is required for fire-fighting purposes.
SECTION 5 — REACTIVITY DATA
Chemically Stable
Incompatibility:
Thermal Decomposition/Conditions to be avoided:
Hazardous Decomposition Products:
Yes
Alkalis, metals, halogenated salts (fluorides, chlorides, bromides, iodides,
chlorates, perchlorates, etc.), organic compounds, water (will generate heat).
Extreme Heat (above 120°F), Moisture
Sulfur compounds. Vanadium compounds.
SECTION 6 — TOXICOLOGICAL PROPERTIES
Routes of Exposure:
Inhalation, ingestion, skin & eyes
Acute Exposure:
Eye, nose, and throat irritation. Both liquid and vapors can cause serious damage to tissues. Vanadium
dust, mists, and fumes are highly toxic. Edema/pneumonia may result; this can be potentially fatal.
Ingestion of vanadium may be life-threatening, due to enzyme inhibition. Weakness, tinnitus, headache,
nausea, and vomiting may occur.
Chronic Exposure:
Prolonged or repeat exposure to sulfuric acid can cause respiratory damage, erosion of teeth, chronic
irritation of the eyes, or chronic inflammation of the nose, throat, and bronchial tubes.
Exposure Limits: (value, Ammonium Metavanadate:
source, date)
OSHA PEL as V2O5 – 0.5mg/m3 (dust), 0.1mg/m3 (fumes), ACGIH 0.05mg/m3 dust or fumes
ACGIH TWA (mg/m3); 0.05
OSHA STEL (mg/m3); 0.5/0.1
Irritancy:
Sensitization:
Carcinogenicity:
Reproductive Toxicity:
Teratogenicity:
Mutagenicity :
Synergistic Products:
Sulfuric Acid, Concentrated ACS Grade:
NIOSH TWA (mg/m3); 1.0
ACGIH TLV/TWA (ppm); 0.2
OSHA STEL (mg/m3); 1.0
May cause eye, nose, and throat irritation.
Not Available
Sulfuric Acid:
ACGIH-A2: Suspected human carcinogen
OSHA-Select carcinogen
IARC-Group 1:Carcinogenic to humans
Not Available
Not Available
Not Available
Not Available
SECTION 7 — PREVENTIVE MEASURES
Personal Protective Equipment:
Respiratory protection, Chemical resistant gloves, chemical safety goggles and lab coat.
Handling:
Avoid inhalation and contact with skin, eyes and clothing. Use approved NIOSH respirator if
TLV levels are exceeded. Always wear protective gloves while working with product. Safety
glasses are required to prevent potential eye contact, irritation or injury. Wear appropriate
protective clothing and boots as required to prevent skin contact. For field use, a rubber
apron may be worn as additional protection. Use good industrial hygiene. Work carefully with
the reagent and always wear protective equipment.
Leak and Spill Procedure:
Avoid breathing vapours. Sequester leak or spill. Use sodium bicarbonate to absorb spill. Do
not discharge into waterways or sewer systems. Treat absorbed material as a hazardous
waste. DO NOT ADD WATER TO SPILL!
Waste Disposal:
Dispose of according to local and regional authority requirements. Prevent from entering
sewers or waterways. Toxic to some aquatic life.
Engineering Controls:
If user operations generate vapour or mist, use ventilation to keep exposure to airborne
contaminants below the exposure limit.
Storage Requirements:
Store in cool, dry, place. Do not store with metals or combustible materials.
Special Shipping Information:
UN#3316 - Chemical Kit, Class 9, Packing Group II
SECTION 8 — FIRST AID MEASURES
Inhalation:
Place victim in well-ventilated area. If victim is not breathing, perform artificial respiration. Seek immediate medical
attention.
Ingestion:
Product is highly corrosive; ingestion can lead to severe injury, including death. If victim is able to swallow, give
water, then seek immediate medical help.
Skin Contact:
Product is corrosive and will damage skin and tissues. Use of appropriate gloves and thorough hand-washing with
hand cleanser is required. Remove contaminated clothing and rinse thoroughly. If skin is damaged or severely
irritated, seek medical help. Safety Showers are highly recommended for use of this product.
Eye Contact:
Material can cause severe eye irritation and burns. Flush eyes with a large quantity of water for a minimum of 15
minutes, then seek immediate medical attention. Do not medicate with "over-the-counter" eye products.
SECTION 9 — PREPARATION INFORMATION
Prepared by:
Syntharise Chemical Inc.
Telephone Number:
1(647)766-1657
Preparation Date:
Feb 27th, 2015
The above information is believed to be correct but does not purport to be complete and should be used only as a guide. The
burden of safe use of this material rests entirely with the user.