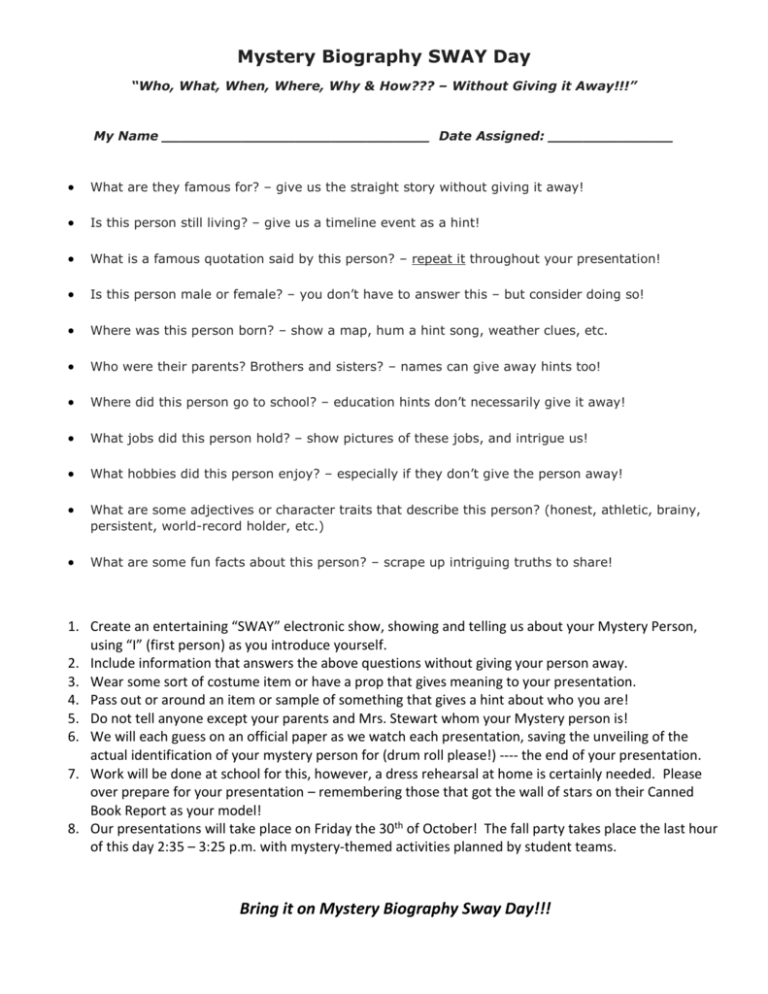 Mystery Biography SWAY Day
"Who, What, When, Where, Why & How??? – Without Giving it Away!!!"
My Name ______________________________ Date Assigned: ______________

What are they famous for? – give us the straight story without giving it away!

Is this person still living? – give us a timeline event as a hint!

What is a famous quotation said by this person? – repeat it throughout your presentation!

Is this person male or female? – you don't have to answer this – but consider doing so!

Where was this person born? – show a map, hum a hint song, weather clues, etc.

Who were their parents? Brothers and sisters? – names can give away hints too!

Where did this person go to school? – education hints don't necessarily give it away!

What jobs did this person hold? – show pictures of these jobs, and intrigue us!

What hobbies did this person enjoy? – especially if they don't give the person away!

What are some adjectives or character traits that describe this person? (honest, athletic, brainy,
persistent, world-record holder, etc.)

What are some fun facts about this person? – scrape up intriguing truths to share!
1. Create an entertaining "SWAY" electronic show, showing and telling us about your Mystery Person,
using "I" (first person) as you introduce yourself.
2. Include information that answers the above questions without giving your person away.
3. Wear some sort of costume item or have a prop that gives meaning to your presentation.
4. Pass out or around an item or sample of something that gives a hint about who you are!
5. Do not tell anyone except your parents and Mrs. Stewart whom your Mystery person is!
6. We will each guess on an official paper as we watch each presentation, saving the unveiling of the
actual identification of your mystery person for (drum roll please!) ---- the end of your presentation.
7. Work will be done at school for this, however, a dress rehearsal at home is certainly needed. Please
over prepare for your presentation – remembering those that got the wall of stars on their Canned
Book Report as your model!
8. Our presentations will take place on Friday the 30th of October! The fall party takes place the last hour
of this day 2:35 – 3:25 p.m. with mystery-themed activities planned by student teams.
Bring it on Mystery Biography Sway Day!!!