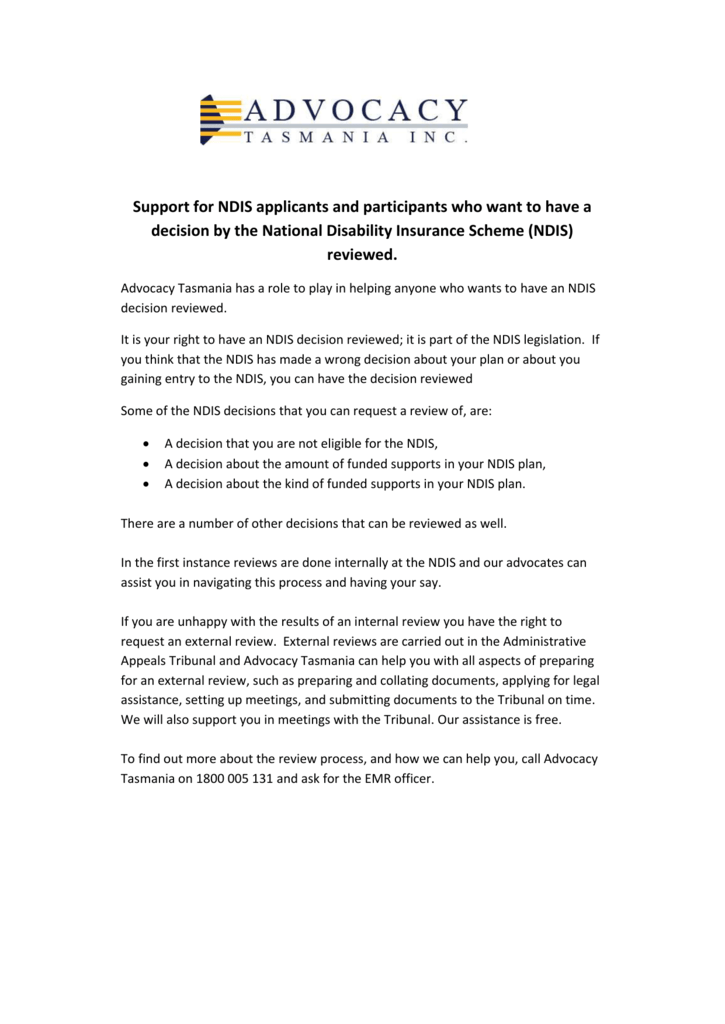 Support for NDIS applicants and participants who want to have a
decision by the National Disability Insurance Scheme (NDIS)
reviewed.
Advocacy Tasmania has a role to play in helping anyone who wants to have an NDIS
decision reviewed.
It is your right to have an NDIS decision reviewed; it is part of the NDIS legislation. If
you think that the NDIS has made a wrong decision about your plan or about you
gaining entry to the NDIS, you can have the decision reviewed
Some of the NDIS decisions that you can request a review of, are:



A decision that you are not eligible for the NDIS,
A decision about the amount of funded supports in your NDIS plan,
A decision about the kind of funded supports in your NDIS plan.
There are a number of other decisions that can be reviewed as well.
In the first instance reviews are done internally at the NDIS and our advocates can
assist you in navigating this process and having your say.
If you are unhappy with the results of an internal review you have the right to
request an external review. External reviews are carried out in the Administrative
Appeals Tribunal and Advocacy Tasmania can help you with all aspects of preparing
for an external review, such as preparing and collating documents, applying for legal
assistance, setting up meetings, and submitting documents to the Tribunal on time.
We will also support you in meetings with the Tribunal. Our assistance is free.
To find out more about the review process, and how we can help you, call Advocacy
Tasmania on 1800 005 131 and ask for the EMR officer.