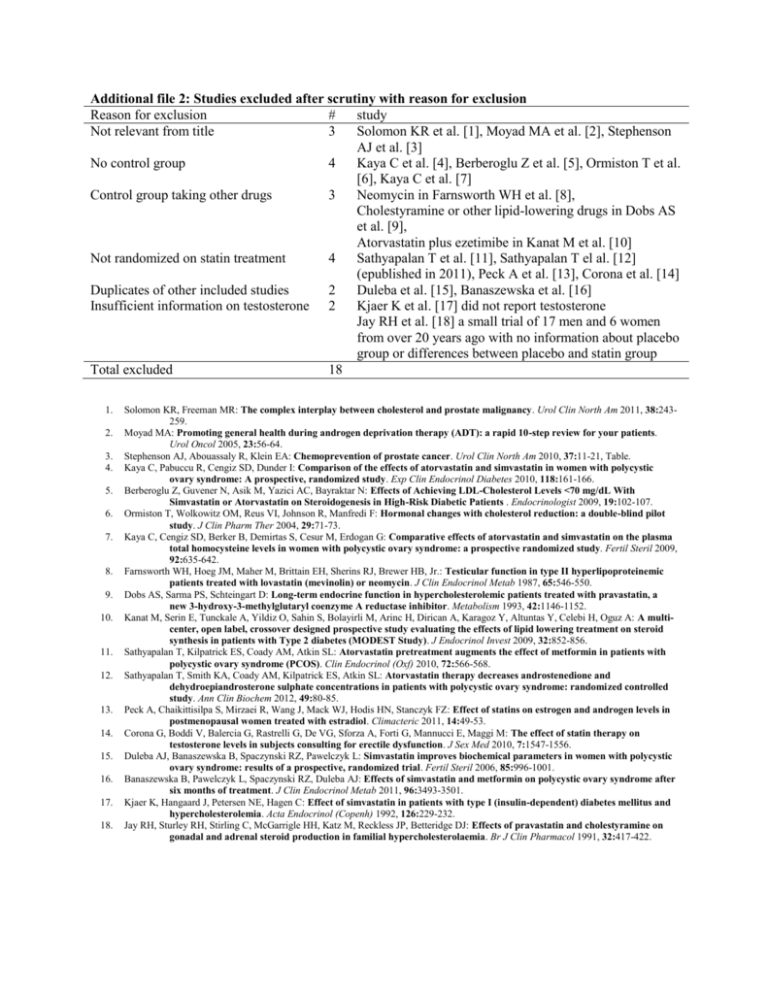 Additional file 2: Studies excluded after scrutiny with reason for exclusion
Reason for exclusion
#
study
Not relevant from title
3
Solomon KR et al. [1], Moyad MA et al. [2], Stephenson
AJ et al. [3]
No control group
4
Kaya C et al. [4], Berberoglu Z et al. [5], Ormiston T et al.
[6], Kaya C et al. [7]
Control group taking other drugs
3
Neomycin in Farnsworth WH et al. [8],
Cholestyramine or other lipid-lowering drugs in Dobs AS
et al. [9],
Atorvastatin plus ezetimibe in Kanat M et al. [10]
Not randomized on statin treatment
4
Sathyapalan T et al. [11], Sathyapalan T el al. [12]
(epublished in 2011), Peck A et al. [13], Corona et al. [14]
Duplicates of other included studies
2
Duleba et al. [15], Banaszewska et al. [16]
Insufficient information on testosterone 2
Kjaer K et al. [17] did not report testosterone
Jay RH et al. [18] a small trial of 17 men and 6 women
from over 20 years ago with no information about placebo
group or differences between placebo and statin group
Total excluded
18
1.
2.
3.
4.
5.
6.
7.
8.
9.
10.
11.
12.
13.
14.
15.
16.
17.
18.
Solomon KR, Freeman MR: The complex interplay between cholesterol and prostate malignancy. Urol Clin North Am 2011, 38:243259.
Moyad MA: Promoting general health during androgen deprivation therapy (ADT): a rapid 10-step review for your patients.
Urol Oncol 2005, 23:56-64.
Stephenson AJ, Abouassaly R, Klein EA: Chemoprevention of prostate cancer. Urol Clin North Am 2010, 37:11-21, Table.
Kaya C, Pabuccu R, Cengiz SD, Dunder I: Comparison of the effects of atorvastatin and simvastatin in women with polycystic
ovary syndrome: A prospective, randomized study. Exp Clin Endocrinol Diabetes 2010, 118:161-166.
Berberoglu Z, Guvener N, Asik M, Yazici AC, Bayraktar N: Effects of Achieving LDL-Cholesterol Levels <70 mg/dL With
Simvastatin or Atorvastatin on Steroidogenesis in High-Risk Diabetic Patients . Endocrinologist 2009, 19:102-107.
Ormiston T, Wolkowitz OM, Reus VI, Johnson R, Manfredi F: Hormonal changes with cholesterol reduction: a double-blind pilot
study. J Clin Pharm Ther 2004, 29:71-73.
Kaya C, Cengiz SD, Berker B, Demirtas S, Cesur M, Erdogan G: Comparative effects of atorvastatin and simvastatin on the plasma
total homocysteine levels in women with polycystic ovary syndrome: a prospective randomized study. Fertil Steril 2009,
92:635-642.
Farnsworth WH, Hoeg JM, Maher M, Brittain EH, Sherins RJ, Brewer HB, Jr.: Testicular function in type II hyperlipoproteinemic
patients treated with lovastatin (mevinolin) or neomycin. J Clin Endocrinol Metab 1987, 65:546-550.
Dobs AS, Sarma PS, Schteingart D: Long-term endocrine function in hypercholesterolemic patients treated with pravastatin, a
new 3-hydroxy-3-methylglutaryl coenzyme A reductase inhibitor. Metabolism 1993, 42:1146-1152.
Kanat M, Serin E, Tunckale A, Yildiz O, Sahin S, Bolayirli M, Arinc H, Dirican A, Karagoz Y, Altuntas Y, Celebi H, Oguz A: A multicenter, open label, crossover designed prospective study evaluating the effects of lipid lowering treatment on steroid
synthesis in patients with Type 2 diabetes (MODEST Study). J Endocrinol Invest 2009, 32:852-856.
Sathyapalan T, Kilpatrick ES, Coady AM, Atkin SL: Atorvastatin pretreatment augments the effect of metformin in patients with
polycystic ovary syndrome (PCOS). Clin Endocrinol (Oxf) 2010, 72:566-568.
Sathyapalan T, Smith KA, Coady AM, Kilpatrick ES, Atkin SL: Atorvastatin therapy decreases androstenedione and
dehydroepiandrosterone sulphate concentrations in patients with polycystic ovary syndrome: randomized controlled
study. Ann Clin Biochem 2012, 49:80-85.
Peck A, Chaikittisilpa S, Mirzaei R, Wang J, Mack WJ, Hodis HN, Stanczyk FZ: Effect of statins on estrogen and androgen levels in
postmenopausal women treated with estradiol. Climacteric 2011, 14:49-53.
Corona G, Boddi V, Balercia G, Rastrelli G, De VG, Sforza A, Forti G, Mannucci E, Maggi M: The effect of statin therapy on
testosterone levels in subjects consulting for erectile dysfunction. J Sex Med 2010, 7:1547-1556.
Duleba AJ, Banaszewska B, Spaczynski RZ, Pawelczyk L: Simvastatin improves biochemical parameters in women with polycystic
ovary syndrome: results of a prospective, randomized trial. Fertil Steril 2006, 85:996-1001.
Banaszewska B, Pawelczyk L, Spaczynski RZ, Duleba AJ: Effects of simvastatin and metformin on polycystic ovary syndrome after
six months of treatment. J Clin Endocrinol Metab 2011, 96:3493-3501.
Kjaer K, Hangaard J, Petersen NE, Hagen C: Effect of simvastatin in patients with type I (insulin-dependent) diabetes mellitus and
hypercholesterolemia. Acta Endocrinol (Copenh) 1992, 126:229-232.
Jay RH, Sturley RH, Stirling C, McGarrigle HH, Katz M, Reckless JP, Betteridge DJ: Effects of pravastatin and cholestyramine on
gonadal and adrenal steroid production in familial hypercholesterolaemia. Br J Clin Pharmacol 1991, 32:417-422.