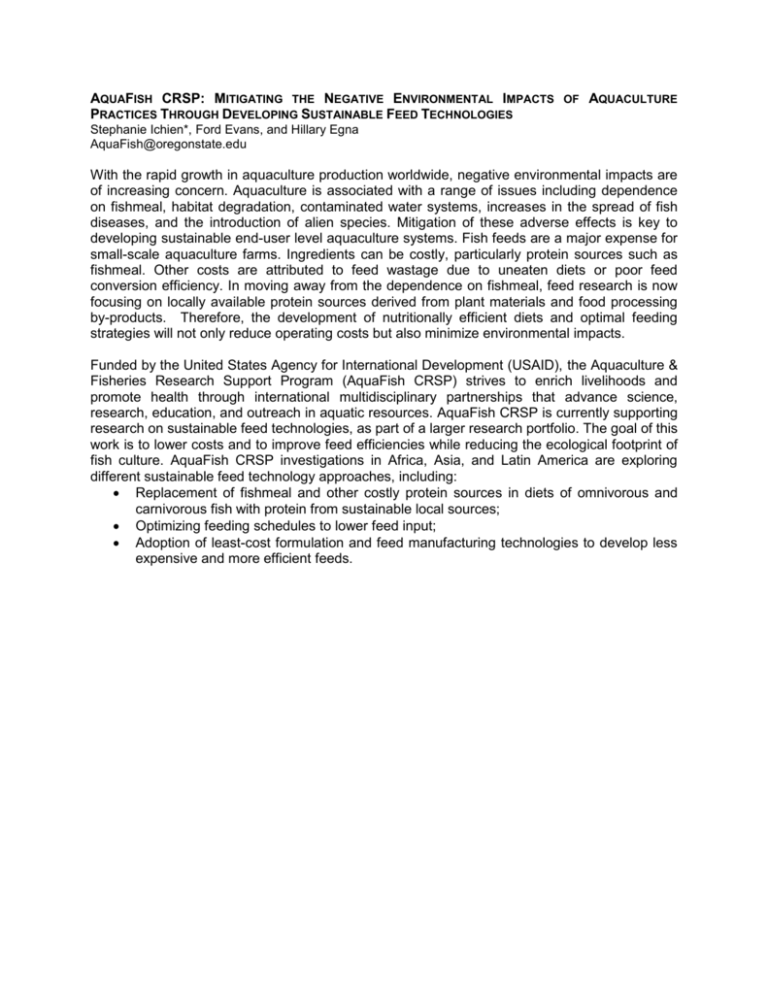 AQUAFISH CRSP: MITIGATING THE NEGATIVE ENVIRONMENTAL IMPACTS OF AQUACULTURE
PRACTICES THROUGH DEVELOPING SUSTAINABLE FEED TECHNOLOGIES
Stephanie Ichien*, Ford Evans, and Hillary Egna
AquaFish@oregonstate.edu
With the rapid growth in aquaculture production worldwide, negative environmental impacts are
of increasing concern. Aquaculture is associated with a range of issues including dependence
on fishmeal, habitat degradation, contaminated water systems, increases in the spread of fish
diseases, and the introduction of alien species. Mitigation of these adverse effects is key to
developing sustainable end-user level aquaculture systems. Fish feeds are a major expense for
small-scale aquaculture farms. Ingredients can be costly, particularly protein sources such as
fishmeal. Other costs are attributed to feed wastage due to uneaten diets or poor feed
conversion efficiency. In moving away from the dependence on fishmeal, feed research is now
focusing on locally available protein sources derived from plant materials and food processing
by-products. Therefore, the development of nutritionally efficient diets and optimal feeding
strategies will not only reduce operating costs but also minimize environmental impacts.
Funded by the United States Agency for International Development (USAID), the Aquaculture &
Fisheries Research Support Program (AquaFish CRSP) strives to enrich livelihoods and
promote health through international multidisciplinary partnerships that advance science,
research, education, and outreach in aquatic resources. AquaFish CRSP is currently supporting
research on sustainable feed technologies, as part of a larger research portfolio. The goal of this
work is to lower costs and to improve feed efficiencies while reducing the ecological footprint of
fish culture. AquaFish CRSP investigations in Africa, Asia, and Latin America are exploring
different sustainable feed technology approaches, including:
 Replacement of fishmeal and other costly protein sources in diets of omnivorous and
carnivorous fish with protein from sustainable local sources;
 Optimizing feeding schedules to lower feed input;
 Adoption of least-cost formulation and feed manufacturing technologies to develop less
expensive and more efficient feeds.