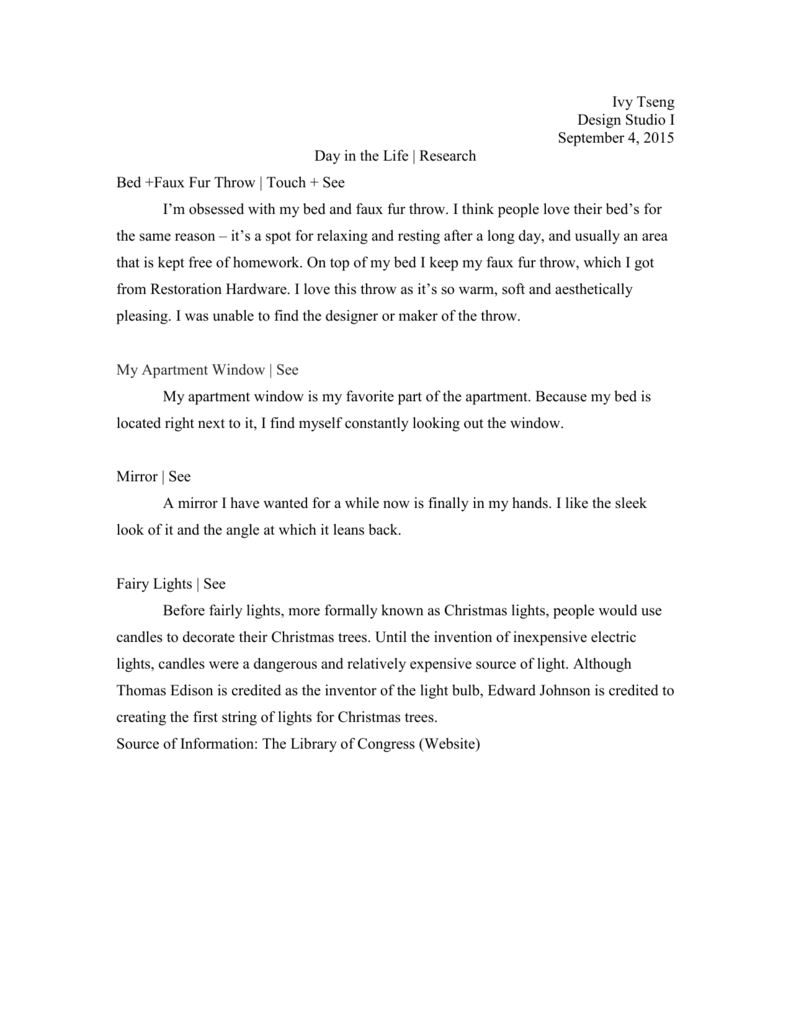 Ivy Tseng
Design Studio I
September 4, 2015
Day in the Life | Research
Bed +Faux Fur Throw | Touch + See
I'm obsessed with my bed and faux fur throw. I think people love their bed's for
the same reason – it's a spot for relaxing and resting after a long day, and usually an area
that is kept free of homework. On top of my bed I keep my faux fur throw, which I got
from Restoration Hardware. I love this throw as it's so warm, soft and aesthetically
pleasing. I was unable to find the designer or maker of the throw.
My Apartment Window | See
My apartment window is my favorite part of the apartment. Because my bed is
located right next to it, I find myself constantly looking out the window.
Mirror | See
A mirror I have wanted for a while now is finally in my hands. I like the sleek
look of it and the angle at which it leans back.
Fairy Lights | See
Before fairly lights, more formally known as Christmas lights, people would use
candles to decorate their Christmas trees. Until the invention of inexpensive electric
lights, candles were a dangerous and relatively expensive source of light. Although
Thomas Edison is credited as the inventor of the light bulb, Edward Johnson is credited to
creating the first string of lights for Christmas trees.
Source of Information: The Library of Congress (Website)
Anthropologie Celestial Coaster/Dock 6 Pottery Geode Coasters | Touch + See
These beautiful coasters are created from clay, glass, and glaze, and handmade in
Minneapolis. Dock 6 Pottery sells their geode coasters to Anthropologie. Dock 6 Pottery
was formed by 4 potters, one of whom is named Kerry Brooks. I love looking at the
intricateness of the coaster and feeling the smoothness of it's glazed surface.
Source of Information: Dock 6 Pottery
Target Socks | Touch + See
My favorite pair of socks are a pair of men's socks from Target. They involve
three of my favorite colors – bluish green, mustard yellow, and a mixture of dark and
light grey. I also like the appearance and knit texture of the socks. Knitted accessories
and garments are something that I'm interested in creating.
Hudson River Park | See
The Hudson River Park is one of my favorite places to be in Manhattan. Not only
does it offer a view that doesn't involve thousands of tall buildings, but a place of
serenity, especially at sunset. The Hudson River Park is a 4 miles long, making it "the
longest waterfront park in the United States" (Friends of Hudson River Park & Hudson
River Park Trust). Before it became a park, the space was held "decaying piers and
parking lots" (Friends of Hudson River Park & Hudson River Park Trust).
Cloud Watch | See
Watching the sky and spotting cloud creatures (animal shaped clouds) and
airplanes is something I often do with my best friend.
Friends | See
If someone asked me what my all time favorite TV show was, it would definitely
be Friends. Friends is a TV show created by David Crane and Marta Kauffman, and the
show aired from 1994 to 2004. I constantly re-watch the series because the situations that
occur in Friends are so real and relatable, and highlight the ups and downs of life and
living in New York.
Ballet | Touch + See
I grew up dancing ballet and had the opportunity to visit the New York City
Ballet costume room. The NYCB uses "many design tricks that are naked to the
audience's eye, like using a mesh net called PO2 that helps hold intricate cut-out designs
together but 'disappears on stage'" (Elle). I'm absolutely in love with ballet costumes,
including the different fabric texture and the way the costume moves and feels when
worn. Most ballet costumes are made from lycra, chiffon and netting. Tutu's are usually
constructed from layers upon layers of netting and are separate from the bodice, but are
attached to it using hooks and buttons.
Source of Information: Elle
Paris | See
Earlier this summer I went to Europe for two weeks, in which five of those days
were spent in Paris. It was my first trip there and the longer I spent there, the fonder I
grew of Paris. When I was there, I took a photo from the top of the Arc de Triomphe and
this photo has been stuck in my memory.
The Beach |Touch + See
I live on west coast when I'm not at school, so naturally, I love going to the
beach. Walking on soft sand and feeling the waves go back and forth on my skin are
some of the best feelings in the world, at least for me. Seeing a beach makes me instantly
feel relaxed.
Sunsets | See
Everyday I make sure to watch the sunset because it makes me feel at ease.
During the summer I always go to the beach or to the park near my house with my best
friend to watch the sunset and take photos, or I go on sunset runs or watch the sunset
from my room. There's something about how slowly the sun moves towards the ground,
and the colors in the sky smoothly change from blue to purple to pink to orange.
In researching the effects of sunsets on humans, I found one website that stated
that sunsets yielded "emotional wellbeing, increased prosociality, and satisfaction with
life" (Psychology Today).
Source of Information: Psychology Today
Marble | Touch + See
White marble is a look that I have liked lately. I researched the details and make
behind white marble:
"Marble is metamorphosed limestone, composed of fairly pure calcite (a
crystalline form of calcium carbonate, CaCO3).
Marble is a metamorphic rock resulting from regional or at times contact
metamorphism of sedimentary carbonate rocks, either limestone or dolostone. This
metamorphic process causes a complete recrystallization of the original rock into an
interlocking mosaic of calcite and/or dolomite crystals.
Pure white marble is the result of metamorphism of very pure limestones. The
characteristic swirls and veins of many colored marble varieties are usually due to
various mineral impurities such as clay, silt, sand, iron oxides, or chert which were
originally present as grains or layers in the limestone.
As the favorite medium for Greek and Roman sculptors and architects, marble has
become a cultural symbol of tradition and refined taste.
In folklore, marble is associated with the astrological sign of Gemini. Pure white
marble is an emblem of purity. It is also an emblem of immortality, and an ensurer of
success in education" (Graniteland).
Source of Information: Graniteland (Website)
Hair | Touch
As it's the summer, all I can feel all day is the weight of my hair on my neck and
chest and all the heat it's carrying.
Camera Strap | See + Touch
This vintage camera strap was gifted to me by my best friend. The strap is a
1970's Woven Hippie camera strap, bought from an Etsy user specializing in vintage
cameras and accessories (Etsy). I like the rust of the metal, and wear and tear of the
leather ,as well as the print and color combination of the strap. I also like the texture of
the materials it's constructed of.
Sources of Information |
1) Andrews, Linda Wasmer. "How Admiring the Sunset Changes You for the
Better". Psychology Today. https://www.psychologytoday.com/blog/minding-thebody/201407/how-admiring-the-sunset-changes-you-the-better (September 5,
2015).
2) Dock 6 Pottery. "About". Dock 6 Pottery. http://dock6pottery.com/about/
(September 4, 2015).
3) Friends of Hudson River Park & Hudson River Park Trust. "About Us". Hudson
River Park. https://www.hudsonriverpark.org/about-us (September 4, 2015).
4) The Library of Congress. "Who invented electric Christmas lights?". Everyday
Mysteries. http://www.loc.gov/rr/scitech/mysteries/christmaslights.html
(September 4, 2015).
5) "What is Marble?". Graniteland. http://www.graniteland.com/infos/home/marble
(September 4, 2015).
6) "Exclusive: Inside the New York City Ballet's Costume Shop." Elle.
http://www.elle.com/fashion/g10061/the-secrets-behind-the-new-york-cityballets-designer-costumes/?slide=3 (September 5, 2015).