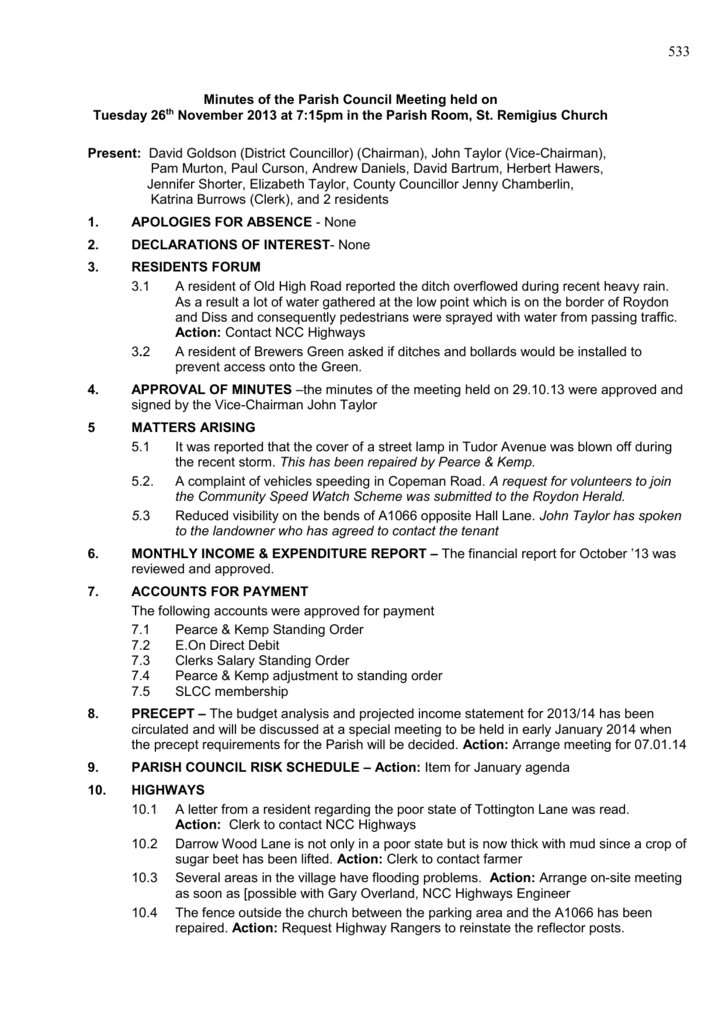 533
Minutes of the Parish Council Meeting held on
Tuesday 26th November 2013 at 7:15pm in the Parish Room, St. Remigius Church
Present: David Goldson (District Councillor) (Chairman), John Taylor (Vice-Chairman),
Pam Murton, Paul Curson, Andrew Daniels, David Bartrum, Herbert Hawers,
Jennifer Shorter, Elizabeth Taylor, County Councillor Jenny Chamberlin,
Katrina Burrows (Clerk), and 2 residents
1.
APOLOGIES FOR ABSENCE - None
2.
DECLARATIONS OF INTEREST- None
3.
RESIDENTS FORUM
3.1
A resident of Old High Road reported the ditch overflowed during recent heavy rain.
As a result a lot of water gathered at the low point which is on the border of Roydon
and Diss and consequently pedestrians were sprayed with water from passing traffic.
Action: Contact NCC Highways
3.2
A resident of Brewers Green asked if ditches and bollards would be installed to
prevent access onto the Green.
4.
APPROVAL OF MINUTES –the minutes of the meeting held on 29.10.13 were approved and
signed by the Vice-Chairman John Taylor
5
MATTERS ARISING
5.1
It was reported that the cover of a street lamp in Tudor Avenue was blown off during
the recent storm. This has been repaired by Pearce & Kemp.
5.2.
A complaint of vehicles speeding in Copeman Road. A request for volunteers to join
the Community Speed Watch Scheme was submitted to the Roydon Herald.
5.3
Reduced visibility on the bends of A1066 opposite Hall Lane. John Taylor has spoken
to the landowner who has agreed to contact the tenant
6.
MONTHLY INCOME & EXPENDITURE REPORT – The financial report for October '13 was
reviewed and approved.
7.
ACCOUNTS FOR PAYMENT
The following accounts were approved for payment
7.1
Pearce & Kemp Standing Order
7.2
E.On Direct Debit
7.3
Clerks Salary Standing Order
7.4
Pearce & Kemp adjustment to standing order
7.5
SLCC membership
8.
PRECEPT – The budget analysis and projected income statement for 2013/14 has been
circulated and will be discussed at a special meeting to be held in early January 2014 when
the precept requirements for the Parish will be decided. Action: Arrange meeting for 07.01.14
9.
PARISH COUNCIL RISK SCHEDULE – Action: Item for January agenda
10.
HIGHWAYS
10.1 A letter from a resident regarding the poor state of Tottington Lane was read.
Action: Clerk to contact NCC Highways
10.2 Darrow Wood Lane is not only in a poor state but is now thick with mud since a crop of
sugar beet has been lifted. Action: Clerk to contact farmer
10.3 Several areas in the village have flooding problems. Action: Arrange on-site meeting
as soon as [possible with Gary Overland, NCC Highways Engineer
10.4 The fence outside the church between the parking area and the A1066 has been
repaired. Action: Request Highway Rangers to reinstate the reflector posts.
534
11.
STREET LIGHTS
11.1 Two street light failures were reported. Action: Report to Pearce & Kemp
11.2 Two replacement street lights were ordered in May 2013 but to date have not been
installed. Action: Request update from Pearce & Kemp
12.
BREWERS GREEN – Paul Curson read the minutes of the Brewers Green Management
Committee meeting held on 30.10.13. There had been a successful tree management working
party and another is planned early in the New Year. The edges of the Green will be flailed
when the weather is suitable. The Committee will meet again on 20.11.13
13.
ALLOTMENTS
A request from an allotment tenant for a reassessment of rent paid was denied.
The plot was rented to the tenant as seen and the Council sees no reason to re-evaluate the
rent which has been paid in previous years.
14.
FOOTPATHS – Nothing to report
15.
PLANNING
15.1
15.1.1
15.2
16.
APPLICATIONS
2013/1949 4 Horner Close. Installation of dormer to give another bedroom
above garage door and second dormer to extend bathroom.
Approved by Parish Council Planning Committee
DECISIONS – None received
CORRESPONDENCE – OUTGOING
16.1
16.2
16.3
16.4
8 x Agenda, Minutes & Finance Report
New allotment tenant with agreement etc
Anglian Water with payment
2 x Allotment rent letters & tenancy agreements to tenant who have moved
17.
CORRESPONDENCE – INCOMING
17.1 Norfolk Constabulary Crime Stats (Oct)
17.2 South Norfolk Local Plan Documents
17.3 War Memorials Trust
17.4 The Clerk (November)
17.5 Norfolk Age UK request for donation
17.6 SLCC Membership 2014 renewal
17.7 Norse Grass cutting contract 2014
17.8 South Norfolk Community Awards 2013
19.
REPORT FROM DISTRICT COUNCILLOR DAVID GOLDSON
Planning permission has been granted for a Gypsy and Traveller transit site at Bawburgh and
the site is expected to be ready for use by Easter 2014. This should give the Police and
District Councils greater powers to move illegal campments quickly. A second site will be
sought in the Waveney Valley area. The South Norfolk District Councils Leisure Centre in Diss
needs improvement. There is a shortage of space and limited parking the search is on to find
a new site on which to build and develop a new fitness centre. The full report was circulated
and a copy is on file
20.
REPORT FROM COUNTY COUNCILLOR JENNY CHAMBERLIN
Norfolk and Suffolk County Council have signed up to a partnership agreement to commit both
authorities to work more closely together and improve Health and Social Care Services.
There has been a major overhaul of Norfolk's Children's Services for both safeguarding
children and school improvement. There is also a campaign for more local involvement of
Governors for local schools. The full report was circulated and a copy is on file
21.
DATE AND TIME OF NEXT MEETING: Tuesday 28.01.14 at 7:15pm in the Parish Room
The Vice-Chairman thanked everyone for attending and closed the meeting at 8:40pm.