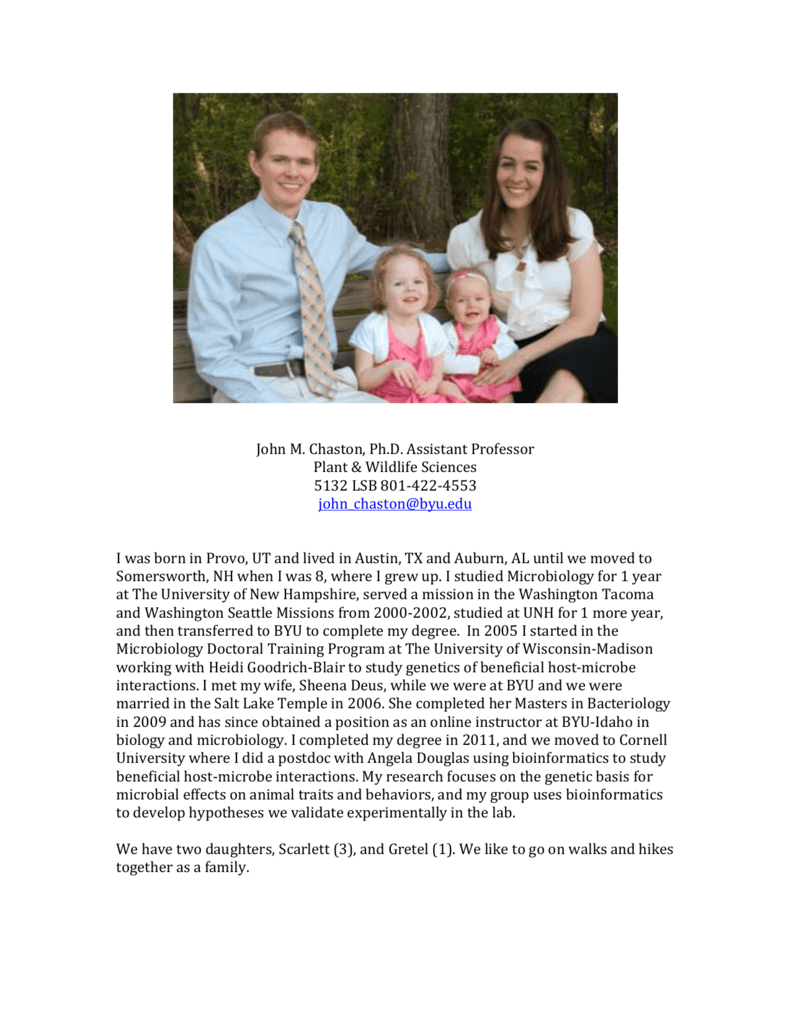 John M. Chaston, Ph.D. Assistant Professor
Plant & Wildlife Sciences
5132 LSB 801-422-4553
[email protected]
I was born in Provo, UT and lived in Austin, TX and Auburn, AL until we moved to
Somersworth, NH when I was 8, where I grew up. I studied Microbiology for 1 year
at The University of New Hampshire, served a mission in the Washington Tacoma
and Washington Seattle Missions from 2000-2002, studied at UNH for 1 more year,
and then transferred to BYU to complete my degree. In 2005 I started in the
Microbiology Doctoral Training Program at The University of Wisconsin-Madison
working with Heidi Goodrich-Blair to study genetics of beneficial host-microbe
interactions. I met my wife, Sheena Deus, while we were at BYU and we were
married in the Salt Lake Temple in 2006. She completed her Masters in Bacteriology
in 2009 and has since obtained a position as an online instructor at BYU-Idaho in
biology and microbiology. I completed my degree in 2011, and we moved to Cornell
University where I did a postdoc with Angela Douglas using bioinformatics to study
beneficial host-microbe interactions. My research focuses on the genetic basis for
microbial effects on animal traits and behaviors, and my group uses bioinformatics
to develop hypotheses we validate experimentally in the lab.
We have two daughters, Scarlett (3), and Gretel (1). We like to go on walks and hikes
together as a family.