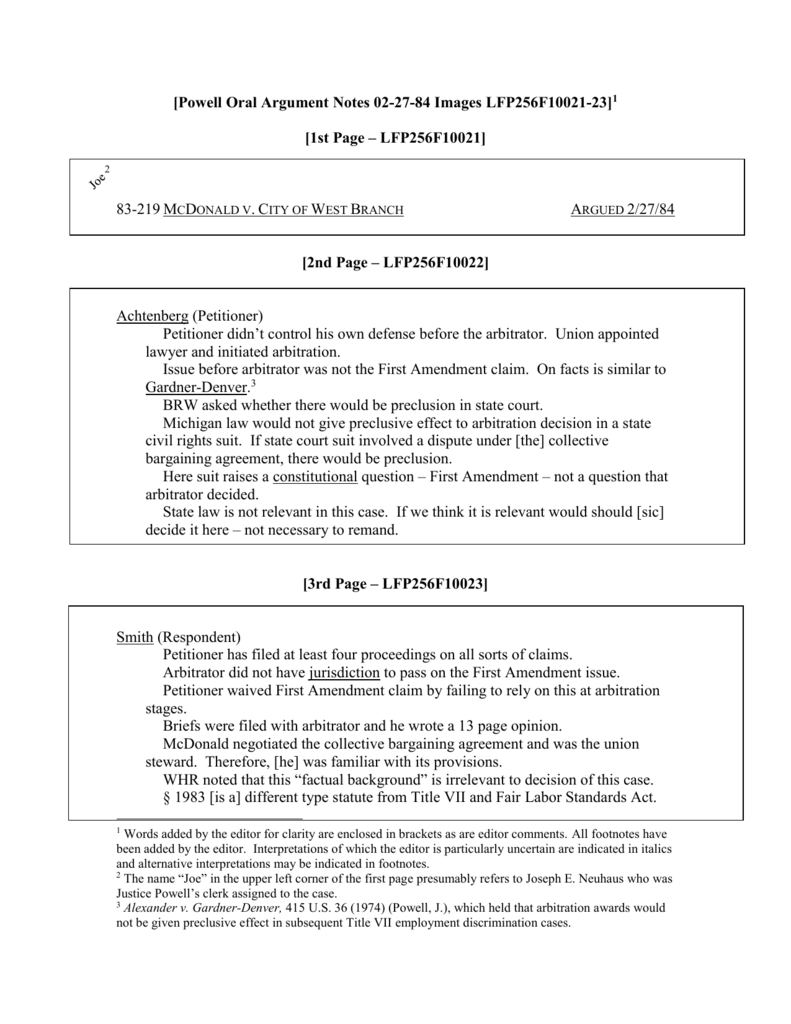 [Powell Oral Argument Notes 02-27-84 Images LFP256F10021-23]1
[1st Page – LFP256F10021]
2
83-219 MCDONALD V. CITY OF WEST BRANCH
ARGUED 2/27/84
[2nd Page – LFP256F10022]
Achtenberg (Petitioner)
Petitioner didn't control his own defense before the arbitrator. Union appointed
lawyer and initiated arbitration.
Issue before arbitrator was not the First Amendment claim. On facts is similar to
Gardner-Denver.3
BRW asked whether there would be preclusion in state court.
Michigan law would not give preclusive effect to arbitration decision in a state
civil rights suit. If state court suit involved a dispute under [the] collective
bargaining agreement, there would be preclusion.
Here suit raises a constitutional question – First Amendment – not a question that
arbitrator decided.
State law is not relevant in this case. If we think it is relevant would should [sic]
decide it here – not necessary to remand.
[3rd Page – LFP256F10023]
Smith (Respondent)
Petitioner has filed at least four proceedings on all sorts of claims.
Arbitrator did not have jurisdiction to pass on the First Amendment issue.
Petitioner waived First Amendment claim by failing to rely on this at arbitration
stages.
Briefs were filed with arbitrator and he wrote a 13 page opinion.
McDonald negotiated the collective bargaining agreement and was the union
steward. Therefore, [he] was familiar with its provisions.
WHR noted that this "factual background" is irrelevant to decision of this case.
§ 1983 [is a] different type statute from Title VII and Fair Labor Standards Act.
1
Words added by the editor for clarity are enclosed in brackets as are editor comments. All footnotes have
been added by the editor. Interpretations of which the editor is particularly uncertain are indicated in italics
and alternative interpretations may be indicated in footnotes.
2
The name "Joe" in the upper left corner of the first page presumably refers to Joseph E. Neuhaus who was
Justice Powell's clerk assigned to the case.
3
Alexander v. Gardner-Denver, 415 U.S. 36 (1974) (Powell, J.), which held that arbitration awards would
not be given preclusive effect in subsequent Title VII employment discrimination cases.