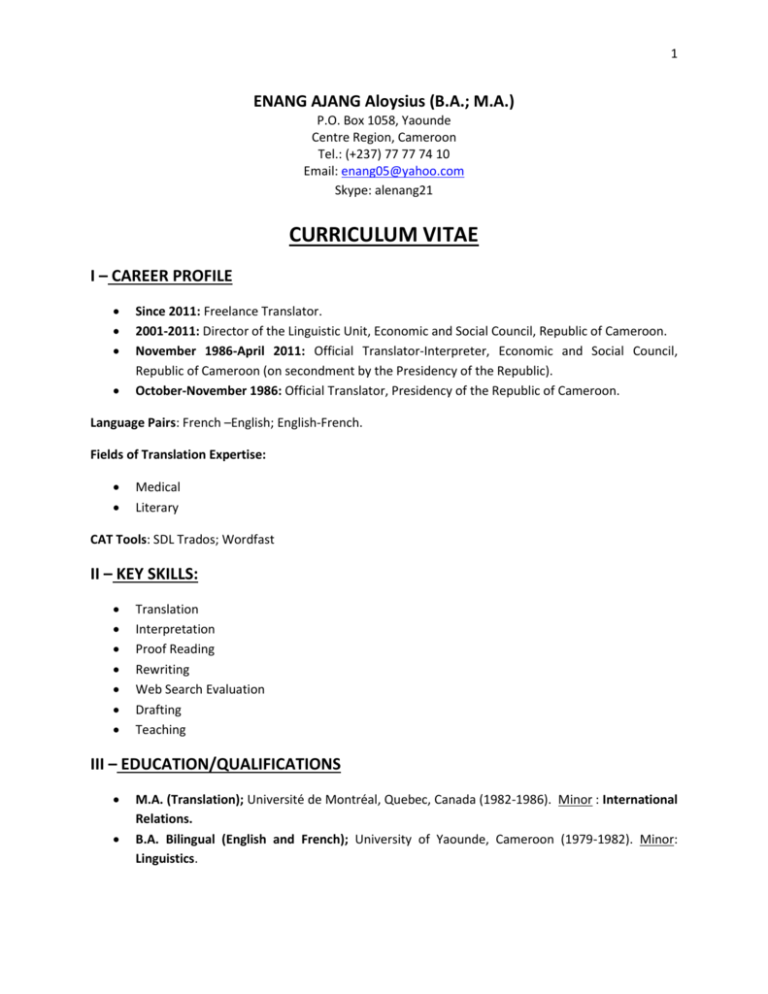 1
ENANG AJANG Aloysius (B.A.; M.A.)
P.O. Box 1058, Yaounde
Centre Region, Cameroon
Tel.: (+237) 77 77 74 10
Email: enang05@yahoo.com
Skype: alenang21
CURRICULUM VITAE
I – CAREER PROFILE




Since 2011: Freelance Translator.
2001-2011: Director of the Linguistic Unit, Economic and Social Council, Republic of Cameroon.
November 1986-April 2011: Official Translator-Interpreter, Economic and Social Council,
Republic of Cameroon (on secondment by the Presidency of the Republic).
October-November 1986: Official Translator, Presidency of the Republic of Cameroon.
Language Pairs: French –English; English-French.
Fields of Translation Expertise:


Medical
Literary
CAT Tools: SDL Trados; Wordfast
II – KEY SKILLS:







Translation
Interpretation
Proof Reading
Rewriting
Web Search Evaluation
Drafting
Teaching
III – EDUCATION/QUALIFICATIONS


M.A. (Translation); Université de Montréal, Quebec, Canada (1982-1986). Minor : International
Relations.
B.A. Bilingual (English and French); University of Yaounde, Cameroon (1979-1982). Minor:
Linguistics.
2
Training Courses and Internships:
2001: The Management of Credit and Savings Cooperatives with Computer Usage; People's International
Institute for Solidarity and Development (Histradut); Levinson College, Beit Berl, Kfar Sava, Israel.
1987: Integrated Management Course (PRIMA); Higher Institute of Public Management (ISMP), National
Center for Administration and Management (CENAM), Yaounde, Cameroon.
1984 (Summer): Internship with the Canadian Government Translation Bureau, Montreal, Canada.
1983 (Summer): Internship with the Translation Bureau of the Canadian Government Secretary of State,
Ottawa, Canada.
1981-1982: Intensive Course in the French Language, Culture and Civilization; CERCLEF, Université de
Paris XII, Créteil, Val-de-Marne, France.
IV – PROFESSIONAL AND ADMINISTRATIVE EXPERIENCE
1. ECONOMIC AND SOCIAL COUNCIL (1986-2011).
Official Translator-Interpreter/Director of the Linguistic Unit.
2. CONSULTANCIES
2.1.
UNION OF COUNCILS AND CITIES OF CAMEROON (UCCC), an Association of
Local Government Authorities (1997-2003)
Linguistic Officer/National Administrative Secretary
2.2.
WORLD CONFERENCE OF RELIGIONS FOR PEACE (WCRP) – CAMEROON
CHAPTER, an international NGO with Observer Status at the UNO (1997-2006)
Chief Translator-Interpreter/Chapter Secretary General.
3. TEACHING CONSULTANCIES
3.1. Preparatory Center for Administrative Competitive Examinations (CPCA), Yaounde (Since
October 2012)
 Teacher of English as a Foreign Language to University and High School Graduate
Candidates.
3.2. National School of Administration and Magistracy (ENAM), Yaounde (1995-2000)
 Language Examiner for incoming and graduating candidates (both English and French
speaking).
 Three times Chief Examiner of the Language Jury.
3
3.3. University of Yaounde I, Cameroon (1995-2000)
 Part-time Lecturer, Bilingual Training Program.
3.4. Saint Joseph's College, Sasse-Buea, Cameroon (1977-1979)
 Teacher of French as a Foreign Language
4. OTHER CONSULTANCIES
4.1. 9th Nuremberg Forum on the theme : "Evaluating Concepts of Interreligious and Intercultural
Learning" (Nuremberg, Germany; September 2006)
 Represented the African Continent.
 Presented a Paper entitled "Political Enculturation through Intercultural Appreciation:
An Imperative for Global Peace and Development".
4.2. National Pre-Colloquium on "Africa faced with the Challenges of Globalization" (Ministry of
External Relations, Cameroon; August 2000)
 Presented a Paper on the theme: "The Environment, Sustainable Development and
Urbanization in Africa faced with the Challenges of Globalization".
V – ASSOCIATIONS




Association of Professional Translators and Interpreters of Cameroon (APTIC).
African Association for Public Administration and Management (AAPAM).
World Conference of Religions for Peace (WCRP).
National Association of Cameroon Language Committees (NACALCO).
PUBLICATION:
Transition, Inherent Possession and the French Pronominal Construction in META
(Translators' Journal), Vol. 39, Montreal University Press; 1994.