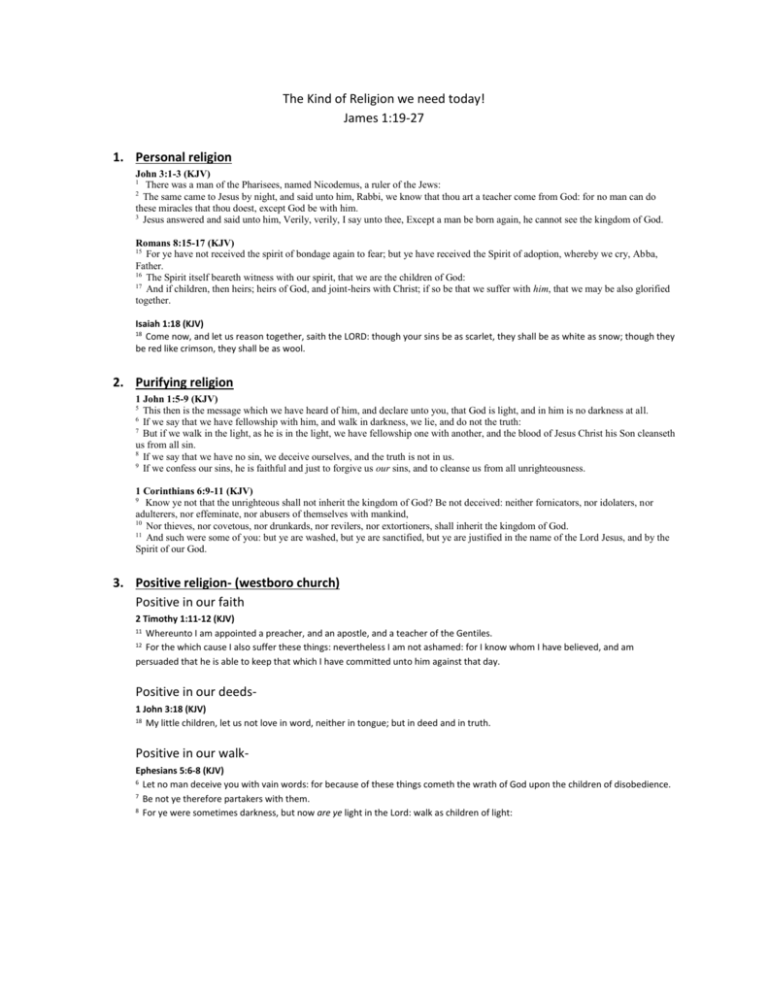 The Kind of Religion we need today!
James 1:19-27
1. Personal religion
John 3:1-3 (KJV)
1
There was a man of the Pharisees, named Nicodemus, a ruler of the Jews:
2
The same came to Jesus by night, and said unto him, Rabbi, we know that thou art a teacher come from God: for no man can do
these miracles that thou doest, except God be with him.
3
Jesus answered and said unto him, Verily, verily, I say unto thee, Except a man be born again, he cannot see the kingdom of God.
Romans 8:15-17 (KJV)
15
For ye have not received the spirit of bondage again to fear; but ye have received the Spirit of adoption, whereby we cry, Abba,
Father.
16
The Spirit itself beareth witness with our spirit, that we are the children of God:
17
And if children, then heirs; heirs of God, and joint-heirs with Christ; if so be that we suffer with him, that we may be also glorified
together.
Isaiah 1:18 (KJV)
18 Come now, and let us reason together, saith the LORD: though your sins be as scarlet, they shall be as white as snow; though they
be red like crimson, they shall be as wool.
2. Purifying religion
1 John 1:5-9 (KJV)
5
This then is the message which we have heard of him, and declare unto you, that God is light, and in him is no darkness at all.
6
If we say that we have fellowship with him, and walk in darkness, we lie, and do not the truth:
7
But if we walk in the light, as he is in the light, we have fellowship one with another, and the blood of Jesus Christ his Son cleanseth
us from all sin.
8
If we say that we have no sin, we deceive ourselves, and the truth is not in us.
9
If we confess our sins, he is faithful and just to forgive us our sins, and to cleanse us from all unrighteousness.
1 Corinthians 6:9-11 (KJV)
9
Know ye not that the unrighteous shall not inherit the kingdom of God? Be not deceived: neither fornicators, nor idolaters, nor
adulterers, nor effeminate, nor abusers of themselves with mankind,
10
Nor thieves, nor covetous, nor drunkards, nor revilers, nor extortioners, shall inherit the kingdom of God.
11
And such were some of you: but ye are washed, but ye are sanctified, but ye are justified in the name of the Lord Jesus, and by the
Spirit of our God.
3. Positive religion- (westboro church)
Positive in our faith
2 Timothy 1:11-12 (KJV)
11 Whereunto I am appointed a preacher, and an apostle, and a teacher of the Gentiles.
12 For the which cause I also suffer these things: nevertheless I am not ashamed: for I know whom I have believed, and am
persuaded that he is able to keep that which I have committed unto him against that day.
Positive in our deeds1 John 3:18 (KJV)
18 My little children, let us not love in word, neither in tongue; but in deed and in truth.
Positive in our walkEphesians 5:6-8 (KJV)
6 Let no man deceive you with vain words: for because of these things cometh the wrath of God upon the children of disobedience.
7 Be not ye therefore partakers with them.
8 For ye were sometimes darkness, but now are ye light in the Lord: walk as children of light:
4. Powerful religion
Read first kings 18:21-40 (the worlds gods have no power)
Matthew 28:18 (KJV)
18 And Jesus came and spake unto them, saying, All power is given unto me in heaven and in earth.
(Man brought in through roof)
Luke 5:24 (KJV)
24 But that ye may know that the Son of man hath power upon earth to forgive sins, (he said unto the sick of the palsy,) I say unto
thee, Arise, and take up thy couch, and go into thine house.
There is power in his nameActs 4:12 (KJV)
12
Neither is there salvation in any other: for there is none other name under heaven given among men, whereby we must be saved.
There is power in his word- Creation, Lazuras come forth, demoned possed man!
5. Productive Religion
We should be fruitful
John 15:16 (KJV)
16 Ye have not chosen me, but I have chosen you, and ordained you, that ye should go and bring forth fruit, and that your fruit
should remain: that whatsoever ye shall ask of the Father in my name, he may give it you.
We should be witnesses
Acts 1:8 (KJV)
8 But ye shall receive power, after that the Holy Ghost is come upon you: and ye shall be witnesses unto me both in Jerusalem, and
in all Judaea, and in Samaria, and unto the uttermost part of the earth.
We should have a desire to reach the Lost
Romans 9:3 (KJV)
3 For I could wish that myself were accursed from Christ for my brethren, my kinsmen according to the flesh:
Romans 10:1-4 (KJV)
1
Brethren, my heart's desire and prayer to God for Israel is, that they might be saved.
2
For I bear them record that they have a zeal of God, but not according to knowledge.
3
For they being ignorant of God's righteousness, and going about to establish their own righteousness, have not submitted themselves
unto the righteousness of God.
4
For Christ is the end of the law for righteousness to everyone that believeth.