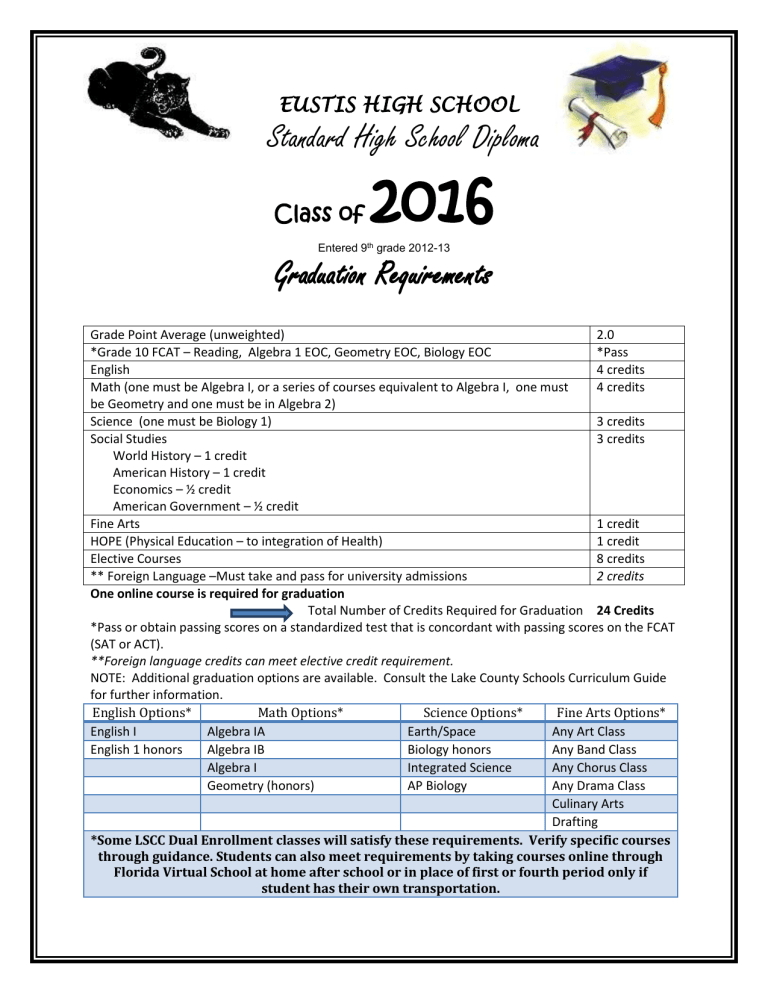 EUSTIS HIGH SCHOOL
Standard High School Diploma
Class of
2016
Entered 9th grade 2012-13
Graduation Requirements
Grade Point Average (unweighted)
2.0
*Grade 10 FCAT – Reading, Algebra 1 EOC, Geometry EOC, Biology EOC
*Pass
English
4 credits
Math (one must be Algebra I, or a series of courses equivalent to Algebra I, one must
4 credits
be Geometry and one must be in Algebra 2)
Science (one must be Biology 1)
3 credits
Social Studies
3 credits
World History – 1 credit
American History – 1 credit
Economics – ½ credit
American Government – ½ credit
Fine Arts
1 credit
HOPE (Physical Education – to integration of Health)
1 credit
Elective Courses
8 credits
** Foreign Language –Must take and pass for university admissions
2 credits
One online course is required for graduation
Total Number of Credits Required for Graduation 24 Credits
*Pass or obtain passing scores on a standardized test that is concordant with passing scores on the FCAT
(SAT or ACT).
**Foreign language credits can meet elective credit requirement.
NOTE: Additional graduation options are available. Consult the Lake County Schools Curriculum Guide
for further information.
English Options*
Math Options*
Science Options*
Fine Arts Options*
English I
Algebra IA
Earth/Space
Any Art Class
English 1 honors
Algebra IB
Biology honors
Any Band Class
Algebra I
Integrated Science
Any Chorus Class
Geometry (honors)
AP Biology
Any Drama Class
Culinary Arts
Drafting
*Some LSCC Dual Enrollment classes will satisfy these requirements. Verify specific courses
through guidance. Students can also meet requirements by taking courses online through
Florida Virtual School at home after school or in place of first or fourth period only if
student has their own transportation.